Power bank Ravpower Turbo+ RP-PB043 (20100mAh)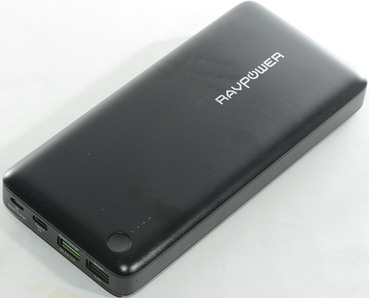 This is a fairly large power bank from Ravpower with multiple outputs using different usb standards.
Official specifications:
Capacity: 20100mAh/74.32Wh
Input: Micro-USB QC3 5V~12V 2A max.
Input: USB-C 5V 3A max.
Output: USB 5V 2.4A
Output: USB QC3 5V 2.4A, 6.5V~9V 1.5A, 9V~12V 1.2A
Output: USB-C 5V 3A
How does it look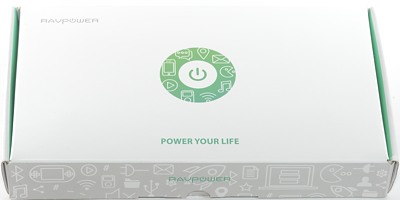 The charger arrived in fairly generic Ravpower a cardboard box.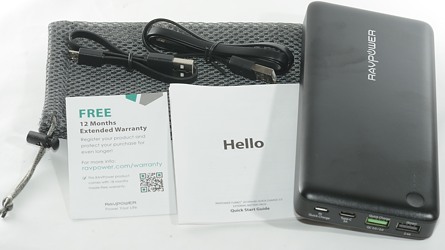 The box contained the power bank, two usb cables (Both with micro and USB-A connectors), a pouch, a manual and a warranty card.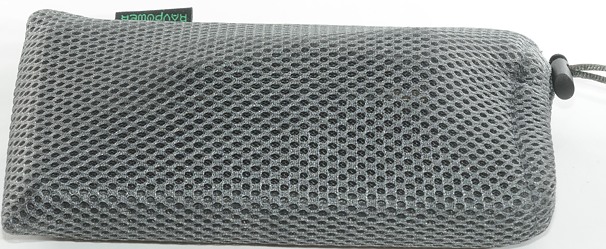 Power bank and cable in pounch.





The power bank can handle many standards.
The Quick Charge input can be charged from any usb charger, from a Quick Charge 2.0 or a from a Quick Charge 3.0 charger.
The Type-C (USB-C) connector can be used to charge from a USB-C charger/power supply, but it can also be used as output to charge USB-C equipment (Cable/device contains coding to say what function is required).
Quick Charge connector can charge any Quick Charge device, but also any normal usb device.
iSmart can charge any normal usb device.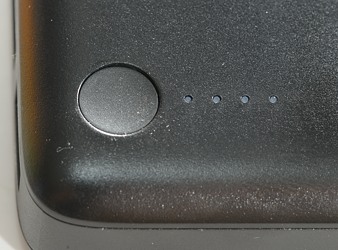 The button will turn the outputs on and show charge status.
Usual the outputs will also turn on when connected.





Measurements



Device can work as ups without limits on connectors used, input current respect same limits as when charging.
Will turn off output after 30 seconds with less than about 65mA load
Blue led strip on top will flash one led while charging.
Blue led strip on top will show charge level.
2.4A output is auto detect.
QC3 output is QC2, QC3 and auto detect.
All 3 output can be used simultaneous (Tested at 2A+1A@12V+2A)
USB-C is rated for 3A and probably also coded for it.
It is not possible to draw rated power from all outputs simultaneous.
Minimum QC3 voltage is 3.7 volt
Size: length: 173mm x 81mm x 22mm
Weight: 374g (Accessories not included)


The Ismart output has a overload protection at 3.5A, this looks good.




USB-C do also have an overload protection at 3.5A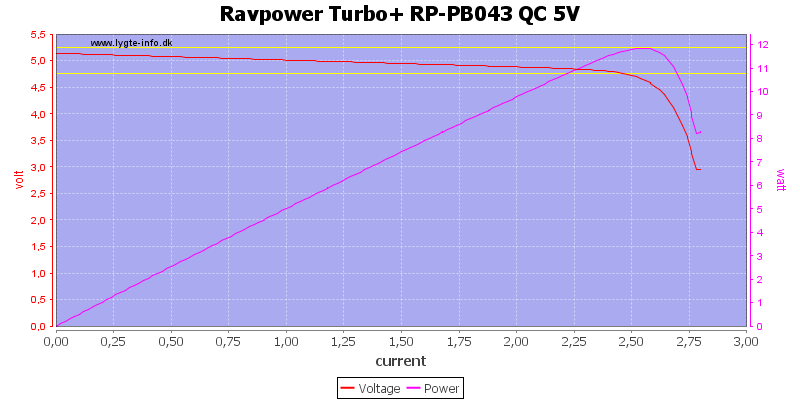 The Quick Charge output can "only" deliver 2.5A.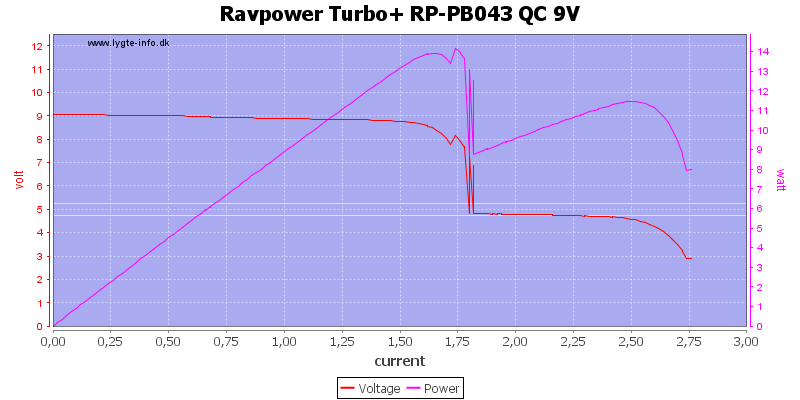 When voltage goes up, current goes down. At 9V the rating says 1.5A, this looks correct.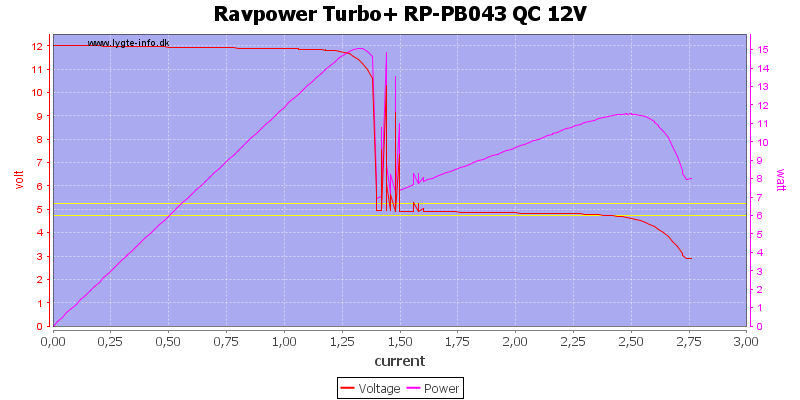 At 12V the rating is 1.2A, this also looks correct.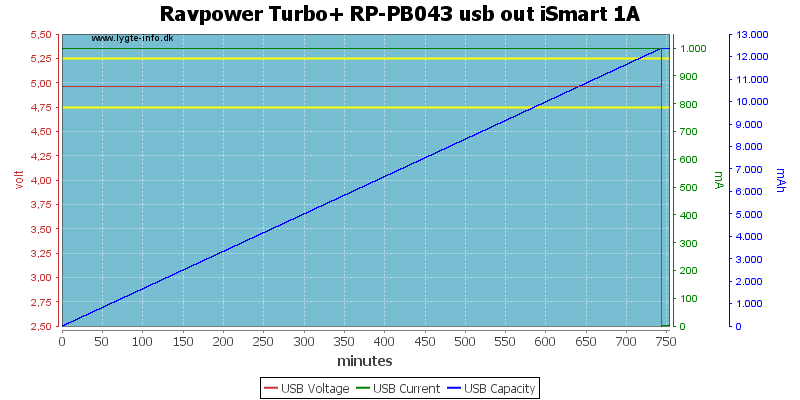 The 5 volt output can deliver about 12500mA, this is as expected (See Capacity table).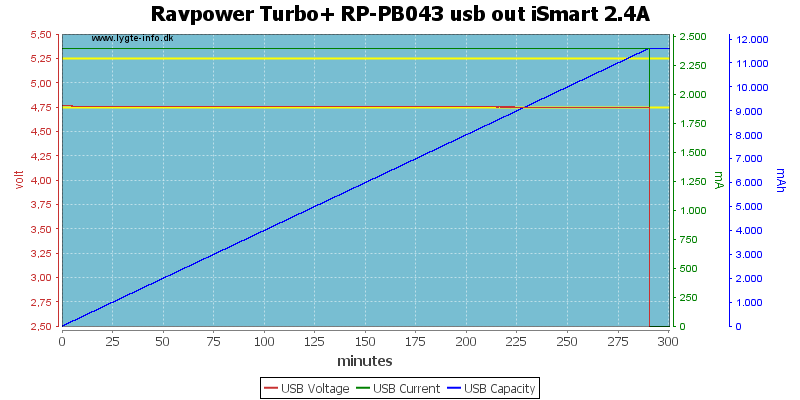 Increasing the load to 2.4A reduces the output voltage and the capacity (Efficiency will go down at higher loads).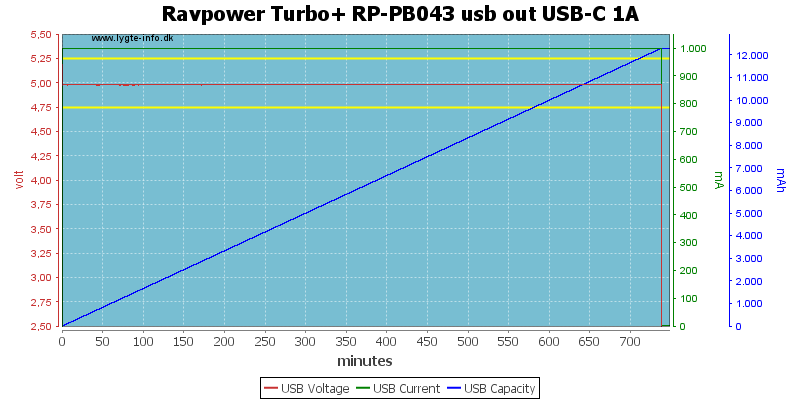 USB-C output curve looks about the same as iSmart output.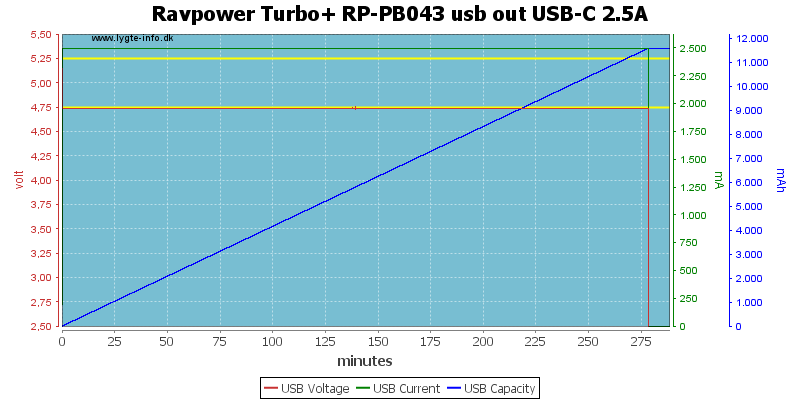 This is also the case at 2.5A.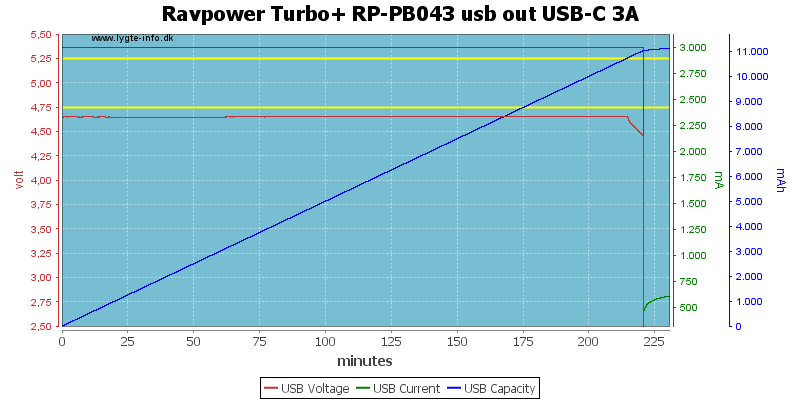 The USB-C output is rated to 3A, the power bank can mostly deliver that, but the voltage is a bit low and output cannot be maintained when the power bank is nearly empty. I do not see any of this as a problem, devices charging on USB-C will either work at the low voltage or reduce charge current, both solutions are perfectly acceptable.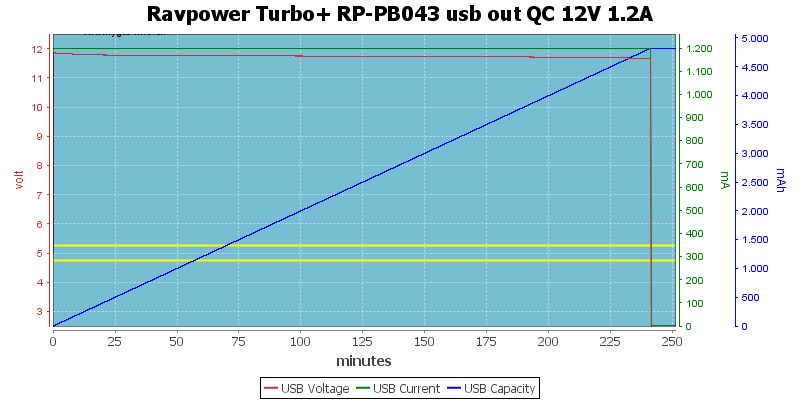 When boosting voltage using Quick Charge the capacity will drop, at 12V I will expect about 5/12 of the 5 volt capacity and this is what it delivers.





Noise is 11mV rms and 72mVpp at 0.5A load.





Noise is 11mV rms and 76Vpp at 1A load.





Noise is 50mV rms and 220mVpp at 2A load.






Noise is 7mV rms and 56mVpp at 0.5A load.





Noise is 8mV rms and 67mVpp at 1A load.





Noise is 17mV rms and 90mVpp at 2.5A load.





Noise is 8mV rms and 63mVpp at 0.5A load.





Noise is 17mV rms and 94mVpp at 2.5A load.





Noise is 46mV rms and 200mVpp at 1.8A load.





Noise is 52mV rms and 214mVpp at 1.2A load.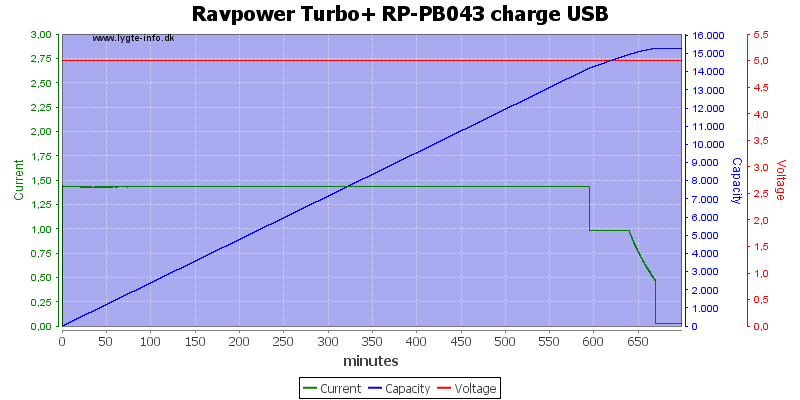 On standard usb the charger will charge with 1.5A and it takes about 11 hours to fully charge the power bank.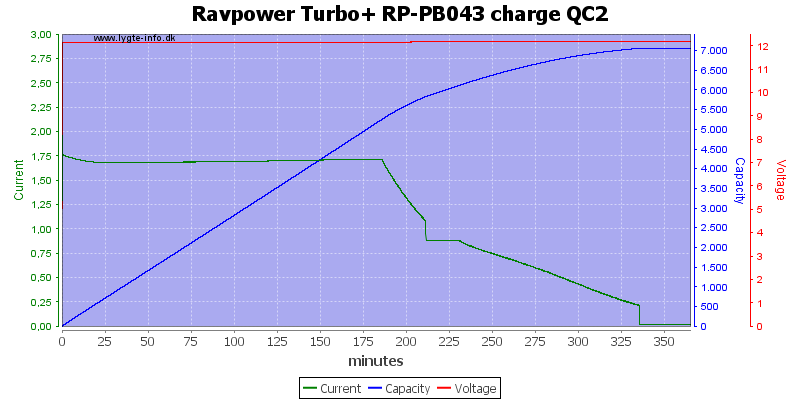 Using a QC2.0 charger makes it considerable faster at 5½ hour. The power bank tells the charger to use 12V and then it draws about 1.7A.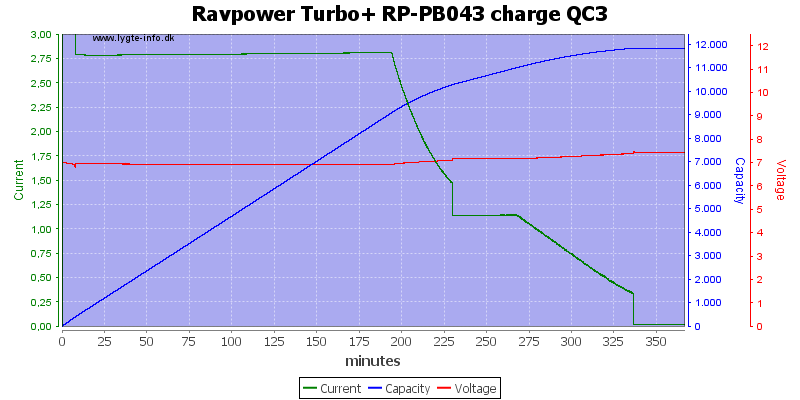 With QC3 the power bank prefer about 7V and uses 2.8A current, the charger time is exactly the same as QC2.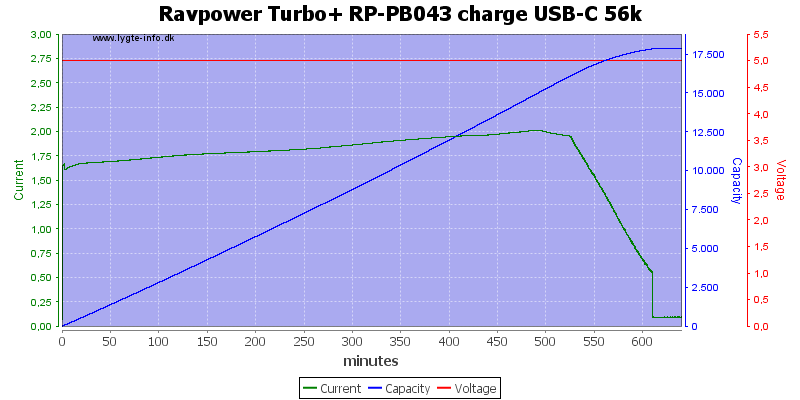 Charging on USB-C with a "legal" cable, the current is up to about 2A, that is way to high for this coding of the cable, but will usual be very practical.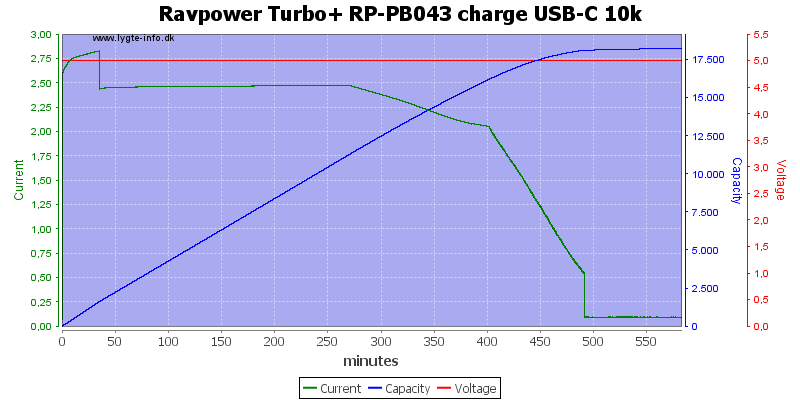 Using a 3A cable (This is not really legal according to usb standards, the legal USB-C way is to use a USB-C charge, not a USB charger with a special cable), the current goes up to 2.5A for a total charge time of 7.5 hours.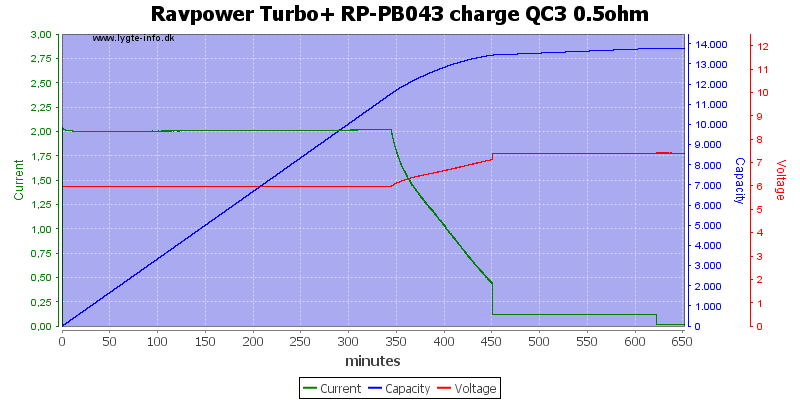 Using a long (or thin) cable with QC3.0 the current goes down, and the time goes up, but the power bank it fully charged.





Conclusion



This power bank can be used to charge just about any usb device and will do it as fast as the device wants. The power bank is a bit on the large side due to the high capacity, it will not fit in a normal pocket, but requires a coat pocket or a handbag.
For charging the power bank the best option is a QuickCharger, but any usb charger can be used, if you have the time.

Overload protection on all outputs and fairly low noise is good details. I would have liked the usb voltage slightly higher, but that is just because some of my LiIon chargers are very picky, the voltage is within usb limits.

I will call this a very good power bank, this is based on a good performance and the very good versatility of the device.





Notes



The power bank was supplied by Ravpower for a review.

Both my QC charge test was done with real QC chargers and they may have limited the charge speed.

Read more about how I test USB power supplies and chargers