TENOZEK Dual USB Power Bank 13000mAh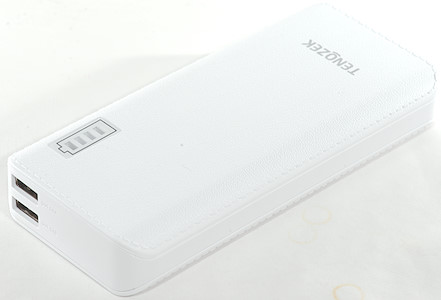 Official specifications:
Material: PC & ABS
Color: White
Output Interface: Dual USB
Output: 1:5V 1A, 2:5V 2A
Battery Type: Lithium Battery
Dimensions: (5.51 x 2.56 x 0.98)" / (14 x 6.5 x 2.5)cm (L x W x H)
Weight: 9.88oz / 280g
Input: DC 5V 1A/2A
Type: Emergency/Portable
Battery Capacity(mAh): 13000

I got it from tmart.com



How does it look






The power bank is delivered in a clam shell, this looks to be a fairly universal box, that is used for multiple models.




Contents was the charger and a usb cable, no instruction sheet.




On this end is the two usb output connectors, they are marked A and B




On top of the power bank is the fuel gauge, it is 4 blue leds.




The micro usb charging input and the fuel gauge on button is placed on the side.


Measurements
Both Usb output is coded as usb charger (DCP)
Both outputs are in parallel.
Output is always on, except when charging.
The gauge turns on when output is loaded.
Size: 140 x 63.6 x 22.5mm
Weight: 280g (Accessories not included)


Both outputs can deliver about 1.4A, not 1A and 2A as the specifications on the bottom says.




Running the two output in paralle do not show more power.




Nice stable voltage when running at low load.




At 1A the voltage starts to drop the last few minutes, this means the power bank will not be able to provide much more power.




Noise is 13mV rms and 106mVpp





Noise is 20mV rms and 246mVpp, this is low values.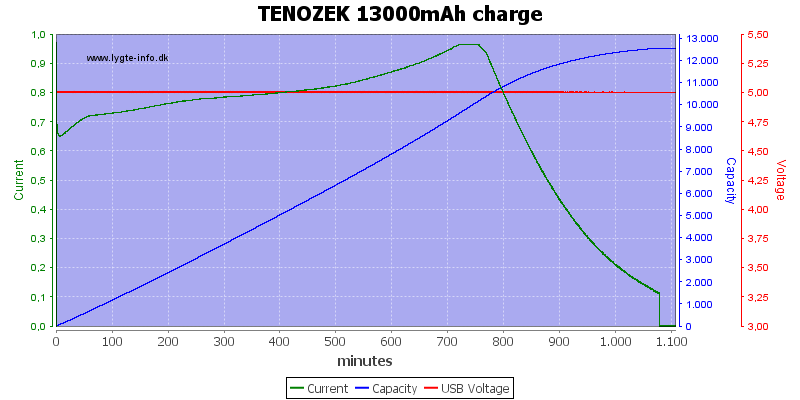 Charging requires a lot of patience, it takes about 18 hours! The good thing is that it will work with a fairly weak (1A) usb power supply.




A 0.5ohm resistor in series with the usb supply to simulate a weak power supply or long cable do not prevent the box from charging. It even chargers a bit faster.





Tear down



This power bank stopped working exactly when I was finished with testing, the reason is probably a faulty chip and not something with the power bank.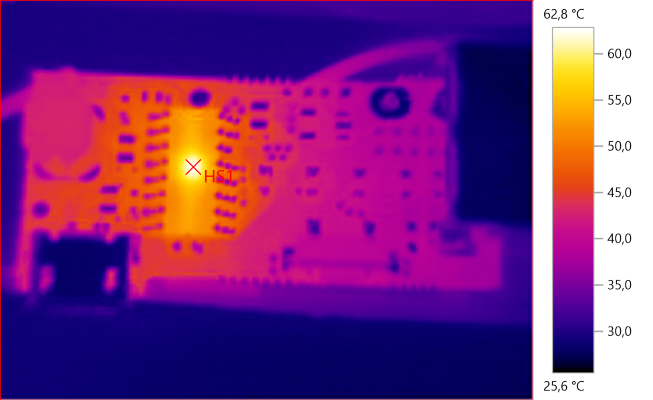 HS1: 62,8
The first I noticed was that I could not turn the power bank on, but when I touched it there was some heat. I opened it and as can be seen the chip is generating heat, and the power bank is not connected to anything. A clamp meter showed about 100mA was used from the batteries.




The batteries are 2600mAh, but do not have any brand names on them.




The circuit uses a single chip designed for power bank usage, it can either charger or discharge the batteries








Conclusion



The power bank has lots of capacity, low noise and can deliver about 1A. With this large power bank I would have liked the rated 2A or even 2.5A.
Due to the lower capacity batteries used, the power bank is a bit on the heavy side compared to capacity.

Assuming the break down was a freak accident, I will rate it as fairly good.





Notes



The power bank was supplied by tmart for a review.

Read more about how I test USB power supplies and chargers