Performance test and review of 0.9V-5V to 5V 600mA boost converter


Official specifications:
0.9 V ~ 5 V DC voltage, to stable output 5V DC voltage.
single AA battery power can be output as high as 200 ~ 300 ma current.
two AA batteries can output current of 500 ~ 600 ma.products.
The temperature range of industrial-grade: - 40°C - + 85°C
The conversion efficiency is high, up to 96%.
Bring the USB female, wide range of USES.
The ultra small size 25x18 mm (PCB), installed in a variety of small equipment with indicator light.
I found this module on ebay at whatwears-fr




Module ready to be tested.





5 volt output






Load sweep with different input voltages



The at 4.5V test killed a converter, i.e. I have used two different converters to perform all tests.




The converter can deliver 5 volt with 1 volt in, but only about 10mA.




The converter works much better with 1.5 volt input, but the output voltage is on the high side.




This test stopped because the converter died.





Input voltage sweep with constant current load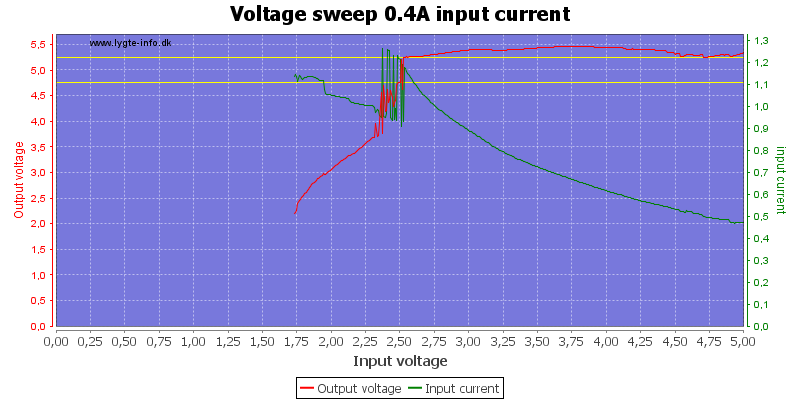 Load test



This test is done with 2.5 volt input and 0.3A load.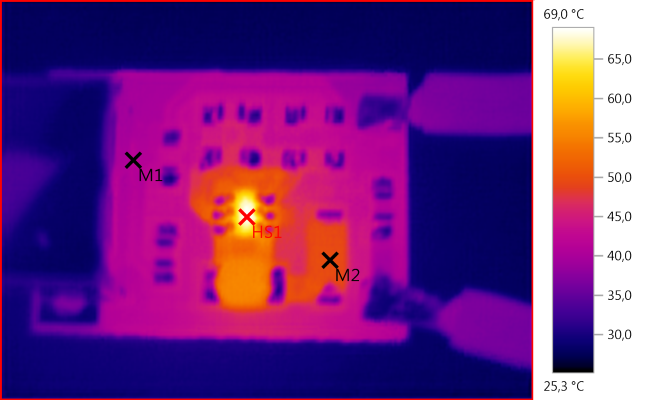 M1: 41,7°C, M2: 49,7°C, HS1: 69,0°C
Temperature looks fine.




M1: 42,7°C, M2: 46,6°C, HS1: 51,9°C





Output test






2.5 volt input and unloaded output.




2.5 volt input and output loaded with 50mA




2.5 volt input and output loaded with 300mA




2.5 volt input and output 300mA load switched on.




Power turned on with 2.5 volt input and 20 ohm load




Power turned off with 2.5 volt input and 20 ohm load





Conclusion



The output voltage is not very stable, depending on load it is often to high. Adjustment of voltage divider resistors might get it within 5V +/-5%.
Due to the noise on the output it will probably be a good idea to add a extra capacitor.

This converter can be used to boost two AA cells to about 5 volt with 250mA output current or 3 AA cells/one LiIon cell to about 5 volt with 400mA output current (At these current levels NiMH cells are recommended).





Notes



The yellow lines are placed +/-5% from nominal voltage.

All the curves are made with a programable power supply and a electronic load.

Index to other tests