AC to DC Car Power Adapter


Official specifications:
Input: 220V, 50HZ
Output: DC 12V, 500mA
Max. Current: 500mA
Size: 8.6cm x 4.8cm x 3.4cm
Color: Black
Material: Plastic
I got it from ebay dealer annychan




This cheap adapter arrived in small unmarked white box.


Measurements
Power consumption when idle is 0.9 watt on both 120VAC and 0.4W on 230VAC
Unloaded output voltage is 14V, this is within range of car power.
Weight: 45.5g
Size: 75 x 50 x 33mm


The converter is marked for 120VAC, but it do not really work with only about 0.1A output current.




At 230VAC it is better with up to 0.4A output current.




Running the power supply with 0.4A current for one hour worked and the temperature was not that high.
The output voltage increased when the internal circuit got warm.
The temperature photos below are taken between 30 minutes and 60 minutes into the one hour test.




M1: 37.9°C, M2: 50.3°C, HS1: 67.5°C




HS1: 51.1°C




M1: 45.0°C, HS1: 57.8°C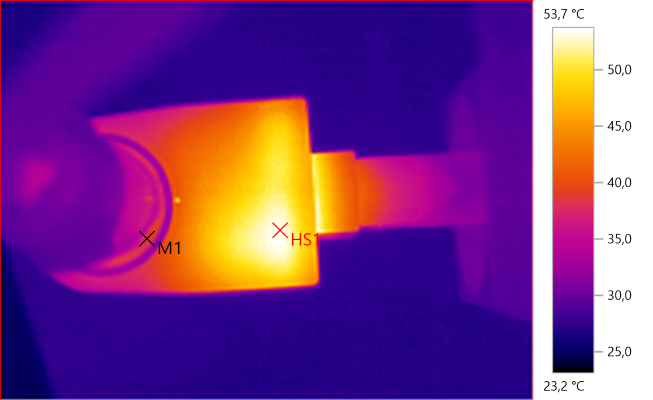 M1: 38.8°C, HS1: 53.7°C




HS1: 66.2°C





There is a lot of noise in the output, even without any load.
The values is 52mVrms and 600mVpp




With 40ohm load there is also ripple.
The values is 592mVrms and 2270mVpp





At 230VAC the output has some spikes in it.
The values is 35mVrms and 2315mVpp





And adds ripple when loaded. The ripple is not mains related, this means the frequency will vary.
The values is 255mVrms and 2259mVpp




And the ripple increases with higher load.
The values is 636mVrms and 3105mVpp




Tear down






I only needed to remove a single screw to open it.




Electronic, socket and plug is connected with thin wires, this is not very good mains isolation, because output wires can touch input side and input wires can touch output side.




This is a very simple design with a input fuse and a single transistor (D1). There is no safety capacitor, neither real or fake.




The mains input is rectified with a single diode (D1). The output is also rectified with a single diode (D4). There is no chip to control the switching.




The distance between mains and low volt side is about 3.5mm, this is way below requirements.


The power supply passed the 2830 volt and 4242 volt test between mains and low volt side.





Conclusion



The output power is very low at 120VAC, somewhat better at 230VAC, but in both cases has a lot of noise in it. Even though it survived the high voltage test, the safety is not very good.





Notes



The power supply was supplied by a reader for review.

Index of all tested USB power supplies/chargers
Read more about how I test USB power supplies/charger
How does a usb charger work?