USB battery box 4x18650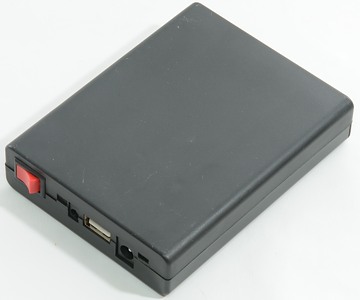 This usb box is from ebay and without a name (Look at photos of front panel and electronic to reconize it).
Specifications:
Output voltage: 5V
Output current: 2.5A (MAX Dual outputs total 3A)
Charge voltage: DC 5V,1A (recommended more than 1A ). the center PIN of Charging port is +.
Battery protection: full auto stop, protection against overcharge, the battery voltage is below 2.9V start protection, turn off the output, you can perfect or protect the lithium polymer battery 18650! !
Charging time: 4pcs 18650 would take about 15 hours
Box size: 105 x 82 x 23mm
You can use 1 to 4 battery. Use four 18650 2600MAH battery, Capacity up to 10000MAH.
Please use the 18650 battery without protection. because this power box Circuit built-in protection. otherwise would burn the power box.
How does it look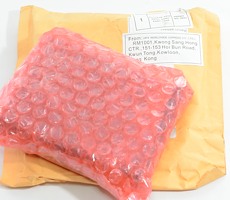 No fancy packing for this unit.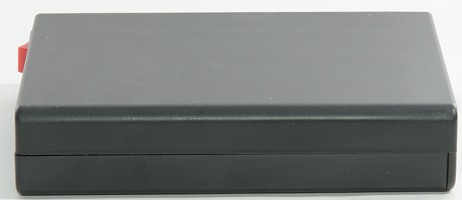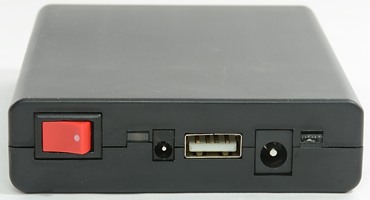 Every control and connector is place in one end of the box.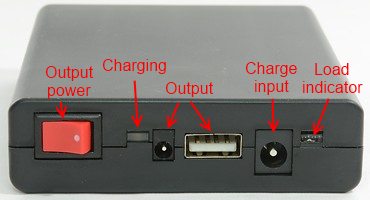 The placement is not strictly logical, I would have prefered the charging led, next to the charging connector and load indicator next to the output connectors.
To charge this box a charger/cable with a DC connector is needed (none is supplied).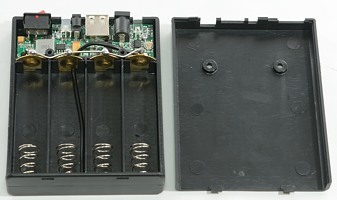 Two screws must be removed to open the box.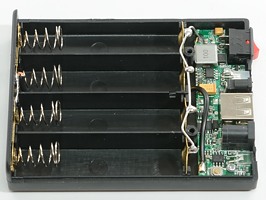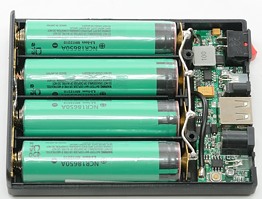 Up to four 18659 batteries can be mounted in the box, it will work with both button top and flat top batteries, but not longer than 67.8 mm. This is fine for unprotected batteries.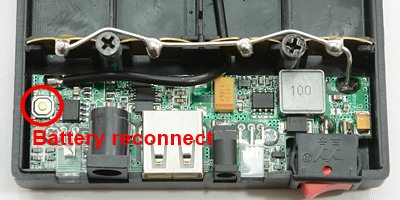 When replacing the batteries the "reconnect" button must be pressed or a charger connected.





Looking at the PCB, there is a few interesting details.
The charger is a TP4056 chip.
There is a 0.3 ohm resistor in series with the DC output connector.
It is running two transistors in paralle.



The bottom side is just connections, no components.



Measurements
The blue led will glow weekly when output in on without current drain. The brightness will increase with a small current drain, at 10 mA it has a good brightness.
In battery disconnected state the box use less than 1uA from the battery.
With battery connected but output turned off the box uses about 3.5uA (This is many years with a load of 3100mAh batteries).
With battery connected and output turned on the box uses about 100uA (This is more than 10 years with a load of 3100mAh batteries).
While charger is connected the output voltage is between 4 and 5 volt.
Unknown coding on usb output (D+:2.3 volt, D-:3.4 volt).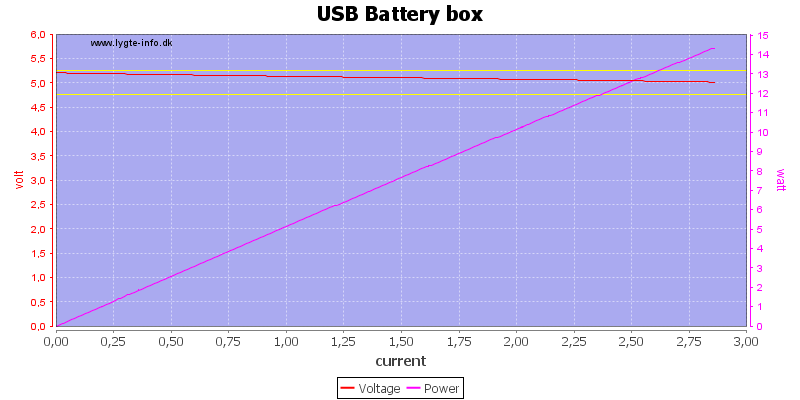 The sweep shows that the box can supply up to 2.8A, before turning off.




Running a test with 2.5A load does work, but only for 40 minutes.




Reducing the load to 2.0A works much better, here the output is stable for 2.5 hours and the box has a efficiency between 70% and 90%.




Going down to 1.7A increases the output time to 3.7 hours and the box has a efficiency above 80% most of the time.




At 0.5A load the efficiency is well above 90% and it can run for 15 hour.
The box will discharge to about 2.9 volt, this puts some restrictions on what LiIon batteries can be used, but works very well with 2900/3100/3400mAh batteries.




A single 3400mAh battery.




A single 3100mAh battery.




A single 2600mAh battery.





There is some noise in the output at 2.5 A (About 57mV rms).





Reducing the load to 0.5A will eliminate most of the noise (About 14mV rms).




Charging 4 3100mAh batteries takes 20 hours. The charge chip is low on cooling and cannot deliver full charge current.




Due to the higher voltage of the 2600mAh battery the charge current is higher and it is charged faster.





Conclusion



This box is very good up to about 2A, with low noise in the output, but I am not happy with the charge connector and I have no use for the round output connector.
The long charge time due to the "low" charge current means that it can be used with weaker power supplies, but a more constant 900mA charge current would have been faster and also work with smaller supplies.
With the impressive low idle current, there is no problem with forgetting to turn the box off.




Notes



Read more about how I test USB power supplies and chargers