Blitzwolf Mini power bank 3350mAh BW-P2


The Blitzwolf brand covers many different products, this time it is a small power bank I am looking at.
The specifications are:
Model: BW-P2
Capacity: 3350mAh/12.06Wh
Battery Type: SANYO/Panasonic Li-ion Battery * 1
Input: 5V/1.5A (Rated), 5V/2A (Max)
Output: 5V/1A (Rated), 5V/2A (Max)
Size: 3.98x0.87*0.87in/10.1*2.2*2.2cm
Color: Black,Silver,Blue
Weight: 80±10g
Certification: CE,FCC,Rohs
I got it from Banggood





How does it look






The power bank is delivered in the usual Blitzwolf brown cardboard box, but this time it has a Lithium sticker on it.




It contains the power bank, a usb cable, a instruction sheet and a warranty card.




Both input and output usb connector is placed at one end. The micro is for charging the power bank and the USB-A for charging other devices from the power bank.




The other end has some specifications.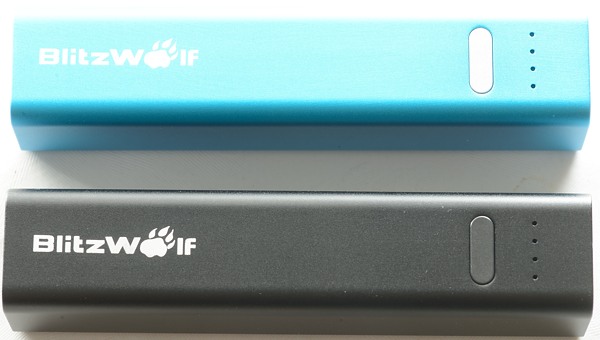 On top is the on button and the four charge status led behind some small holes.


Measurements
The power bank do not turn on automatic, but requires a press on the button.
When the load is below 50mA for 40seconds the output will turn off.
The usb output has automatic coding.
The power gauge is only on for a few seconds when the button is pressed.
The usb output can be used while charging.
It cannot be used as a UPS, when input power is switched off, the output will turn off.
Size: 101mm x 22.1mm x 22.1mm
Weight: 83.3g (Accessories not included)


The output is very stable up to 2.5A and then the overload protection kicks in.




The cyan copy has slight lower current cut-off, but well above the specified 2A maximum.




With 0.5A load it will last nearly 4 hours. With about 2000mAh output capacity, the efficiency is about 83% (Assuming 3340mAh used from battery).




The output can deliver 1A for nearly 2 hours with full voltage, due to the higher current the efficiency goes slightly down.




At 2A the output is straining to keep the voltage up, it do not fully succeed, but the result is very good for a 1 cell power bank.




The above tests was done on the black unit, for comparison I also did a 1A run with the cyan unit.




At 0.5A load the noise is very low with 3mV rms and 42mVpp.





At 1A the noise is 5mV rms and 50mVpp.




At 2A the noise is 11mV rms and 63mVpp. This is very impressive noise figures.




The charge curves looks mostly like a CC/CV curve with a fairly high termination current and it taks about 3 hours to charge the box.




Adding some series resistance, equivalent to a long cable or a weak charger reduce the charge rate, this means longer charge time.





Conclusion



For a single cell power bank this looks very good, it can deliver a lot of current and it has very low noise.





Notes



The power bank was supplied by Banggood for review.

Read more about how I test USB power supplies and chargers