USB battery box Blitzwolf QC3 power bank 5200mAh BW-P4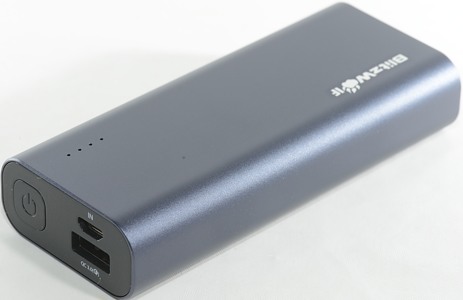 The box has two 2600mAh 18650 cells and with one usb output that can do quick charge.
The specifications are:
Brand: BlitzWolf®
Model: BW-P4
Capacity: 5200mAh/19.24Wh
Power: 18W
Battery Type: 3.7V 2600mAh 18650 Battery Cell *2
Input: 5V/2A (max)
Output:: 3.6-6.5V/3A,6.5-9V/2A,9-12V/1.5A (QC3.0)
Charging time: About 3.5 hours (with 5V/2A Charger)
Size: 108.15*46.20*21.30mm
Weight: 156.3g (not include package)
Certification: CE,FCC,RoSH,Qualcomm Quick Charge 3.0
I got this battery box from Banggood.





How does it look






The power bank is delivered in a brown cardboard box.




It contains the power bank, a usb cable and a instruction sheet.




Connectors and switch is placed at one end:
On and status button.
Micro usb for charge input.
A usb output that can do quick charge v3.0.


Leds for charge status is placed on the top of the power bank beneath some small holes.




On the back of the box is the specifications and approval marks.


Measurements
One or more of the led in the strip is light when output is on.
Outputs is coded as USB charger DCP and support Quick Charge 2.0 & 3.0
Lowest voltage for QC3 is 4.53V (This is a bit high).
Output will turn on when loaded, only a very weak load is needed to turn the output on.
Output will turn off when load is below 65mA for 30 seconds.
When charging the leds shows charge state.
A short press on the button will turn on output and show the charge state.
Output turns off when input power is connected.
Weight: 156.3g without accessories.
Size: 108 x 46 x 21.2mm


The output is rated for 3A and can deliver 3.2A before it starts dropping, overload kicks in at 3.5A, this looks good.




QC at 9V is rated for 2A and can deliver 2.2A before it starts dropping.




QC at 12V is rated for 1.5 and can deliver 1.7A.




The power bank can deliver 0.5A for about 6˝ hour.




At 1A the runtime is down to 3 hours and some minutes.




At 2A it is 1 hour and 15 minutes and the output is stable until the power bank is empty.




Quick charge at 9V and 0.9A can be delivered for nearly 2 hours.




Drawing 1.2A at 12V works for about 1 hour, then the output drops to 5 volt.




The noise is 18mV rms and 95mVpp




The noise is 22mV rms and 110mVpp





The noise is 45mV rms and 190mVpp




The noise is 66mV rms and 278mVpp




The noise is 111mV rms and 366mVpp





The input current is a bit abouve the rated 2A, at the peak it is nearly 2.3A. This means less than 2˝ hour for charging.




Using a charge with less current, low output voltage or a long charge lead requires a lot of patience because the charger turns the current way down. With 0.5ohm in series with the 5V power supply it took more than 6 hours to charge.





Conclusion



The power bank can deliver rated current, has fairly low noise and has quick charge, I would have liked higher capacity batteries and less voltage sensitivity when charging.

I will call it a good power bank.





Notes



The power bank was supplied by Banggood for review.

Read more about how I test USB power supplies and chargers