Chuwi Q-Power USB-C power bank 10000mAh M10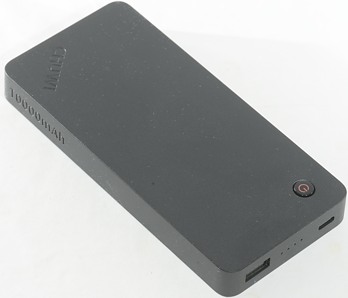 Chuwi has a lot of products, here I am testing on of their power banks. It supports Quick Charge 2 on a USB-A connector and 5V on a USB-C connector, it is charged with a USB-C charger.

The specifications are:
Model: Q-Power
Capacity: 10000mAh/37Wh
Batteries: High Density Lithium Polymer
Input C: 5V 2.6A
Output QC: 5V/3A 9V/2A 12V/1.5A
Output C: 5V 3A
Quick Charge 3.0
Size: 145*68*15.6mm/5.7in*2.68in*0.61in
Weight: 221g
I got it from Chuwi





How does it look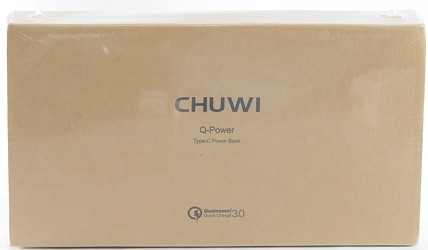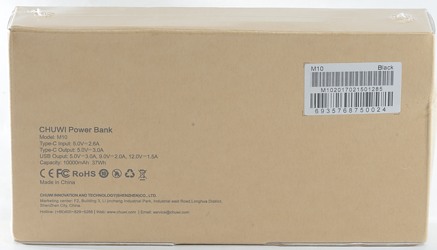 The power bank is delivered in a brown cardboard box.




It contains the power bank, a usb cable (C to A), a pouch and a instruction sheet.




Charge and cable in the pouch.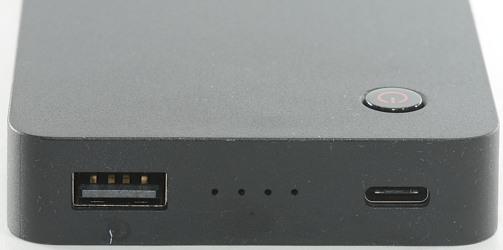 Both USB-A and USB-C connector is at the same end, together with a 4 led power gauge. The usb-C can be used for for charging the power bank and for charging equipment.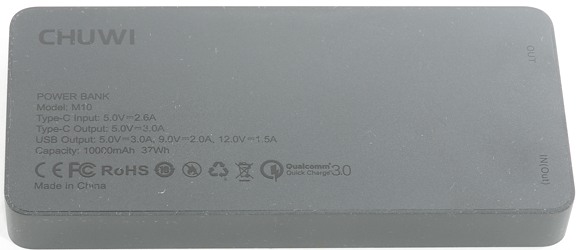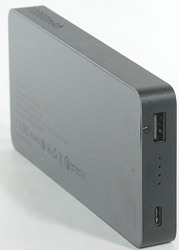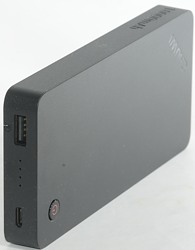 Measurements
The power bank usual turns automatic on when something is connected.
The power bank can be turned on with the button.
The power gauge leds is on while the output is on.
When load is below 70mA output will turn off after about 30 seconds.
Coding is automatic with Apple 2.4A as maximum.
Size: 145mm x 68mm x 16mm
Weight: 223g (Accessories not included)
Usb output will turn off when charging.
QC3 minimum output voltage is 4.5volt.
The support for QC3 is bad, it is possible to request voltages below 4.5V, but it will reset the power bank!
QC is disabled if both outputs are used.


The usb-A output is rated for 3A at 5V and can deliver 3.5A, this is fine.




At 9V it is rated for 2A and can deliver about 2.3A before dropping to 5V.




The 12V setting is rated for 1.5A and can deliver about about 1.8A.




The USB-C output can also deliver 3.5A.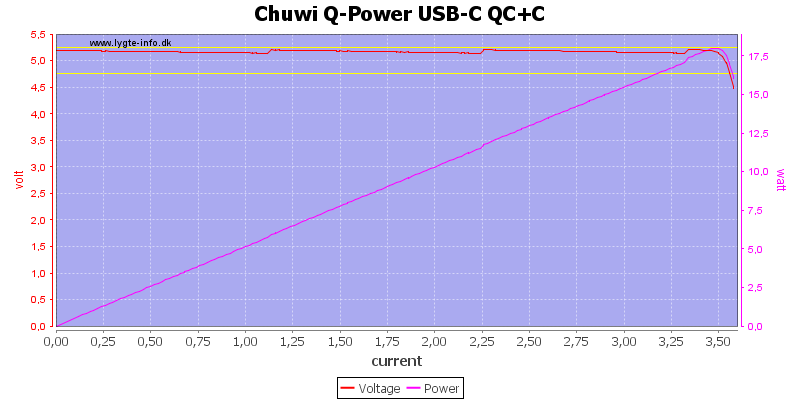 Running both outputs in parallel looks exactly the same, except a bit less voltage drop in connections and cables.
This makes me believe that the power bank only has one boost converter, when usb-c is used it only runs at 5V, when only usb-A is used it can do quick charge.




About 13 hours with 0.5A output current. The total output is about 34Wh




With 1A load the time is about half of that.




And with 2.5A load the time is down to 2½ hour, the voltage is stable until the pack is empty.




It also works nicely with 9V quick charge.




And with 12V, but here the time is down to 2 hours. At this load the total output is 31Wh.




Even at 12V output it will maintain a good efficiency, output energy is about 30Wh




Here I am running both outputs in parallel at 1A and 2A, i.e. a total of 3A, it can do that for a bit above 2 hours.




At 0.5A the noise is 6mV rms and 55mVpp.




At 1A the noise is 7mV rms and 53mVpp.




At 2.5A the noise is 17mV rms and 74mVpp.




At 0.9A at 9V QC the noise is 22mV rms and 129mVpp.




At 1.2A at 12V QC the noise is 31mV rms and 134mVpp.




At 2.5A on the usb-c connector the noise is 11mV rms and 74mVpp.





At 2.5A the noise is 11mV rms and 66mVpp.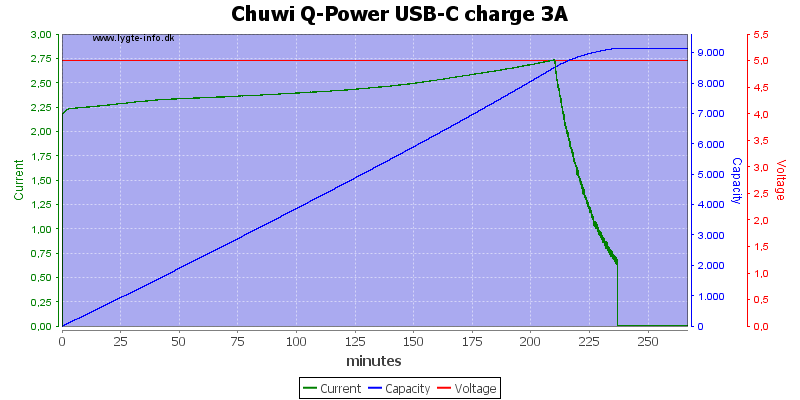 First charge was from a 3A coded cable (This cable is not legal according to usb-c specifications, but is very useful for testing). The charger uses a maximum of about 2.8A and it looks like the charging is a CC/CV type charge with a switching regulator.




Lets try a standard usb-c cable without fake high current coding. This power bank obvious ignores the coding and always chargers at full current, this is against usb-c specifications but very useful when used with non usb-c chargers.




What happens if the charger drops in voltage or a long cable is used? My usual 0.5ohm resistor shows it clearly: The charger will reduce charge current to a much lower value. This means much longer charge time.





Conclusion



The power bank can deliver rated power and capacity, it has low noise, auto coding, quick charge and supports both USB-A and USB-C, but it has a couple of limits:
Total output current is 3A.
Quick Charge can not be used when both outputs are used.
Quick Charge cannot reduce voltage very much, before the output resets.
It do not follow usb-c current specifications (For now it can be an advantage, if used correctly).
All in all I will rate it as a fairly good power bank.





Notes



The power bank was supplied by Chuwi for review.

Read more about how I test USB power supplies and chargers