Power bank Ravpower RP-PB33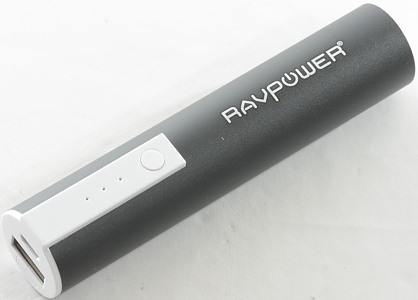 This is a simple and fairly small power bank.

The specifications are:
Input: DC 5V/1A
Output: DC 5V/1A max
Capacity: 3350mAh 12.4Wh
I got it from ebay dealer: eshop4deal.worldwide




How does it look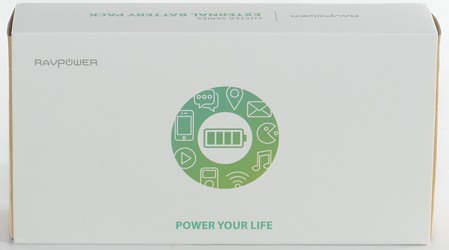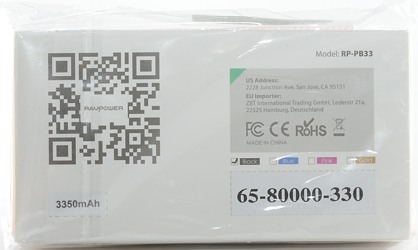 The power bank is delivered in a white cardboard box.




It contained the power bank, a usb cable and a instruction sheet.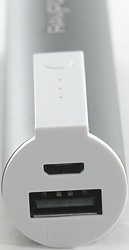 At one end is the two connectors: usb A for output and mini usb for charging input.




The power button and led gauge is on the side of the power bank.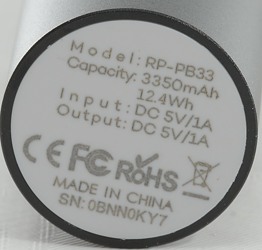 The specifications are on the back of the power bank.





Measurements



Usb output is coded as Apple 1A
Output will turn off about 30 seconds after the load goes below 60mA
Power bank cannot be used as UPS, when charging voltage is removed output will turn off.
Switch must be pressed to turn output on.
Size: 102 x 23mm
Weight: 72g (Accessories not included)


The power bank can deliver about 1.2A, but the overload protection do not really work.




When connected to power there is even less over current protection.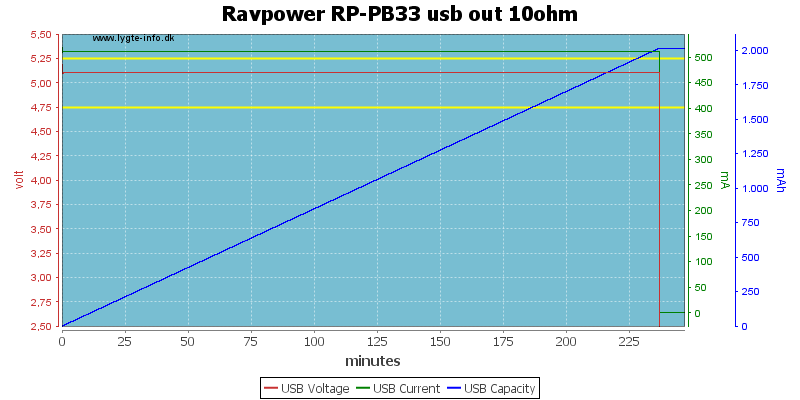 It can deliver 0.5A for nearly 4 hours. The 2000mAh output capacity matches fairly well with a 3350mAh battery




At higher current the output capacity will be slightly lower. The voltage is stable until the power bank is empty (nice).




Noise is 4mV rms and 83mVpp





Noise is 15mV rms and 92mVpp, this is very good results.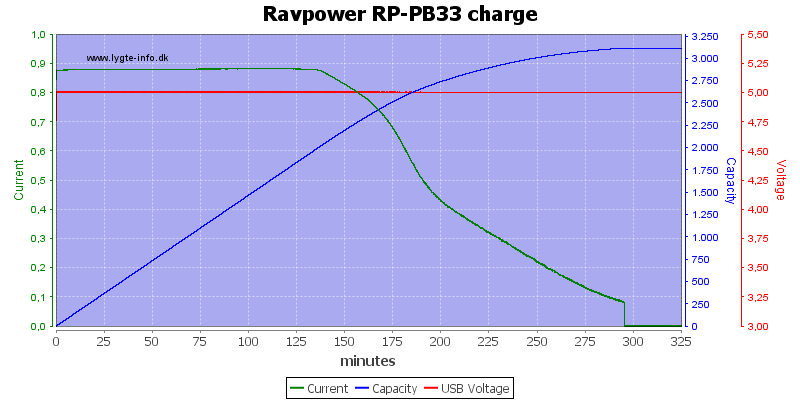 The power bank uses 0.9A when charging and it takes about 5 hours.




Simulating a weak charger or long cable will slow down the charging, but not that much. Here it takes 6 hours.




Conclusion



This power bank fairly looks good, it has low noise, can deliver rated capacity and current. I would have prefered a DCD coding, instead of Apple coding and a better overload protection.





Notes



Read more about how I test USB power supplies and chargers