Power bank Tech Armor ActivePower 12000


This is a medium sized power bank from Tech Armor with two outputs and a flashlight function.
Official specifications:
Battery type: Li-ion
Capacity: 12000mAh/19.2Wh Wh specification is not correct
Input: Micro-USB 5V/1.5A
Output: USB 1:5V/2.1A USB 2:5V/1.3A
Dimension: 95mm x 82.6mm x 27mm
Weight: 210g + 10g
How does it look


The power bank is delivered in a cardboard box with a list of all models on the backside.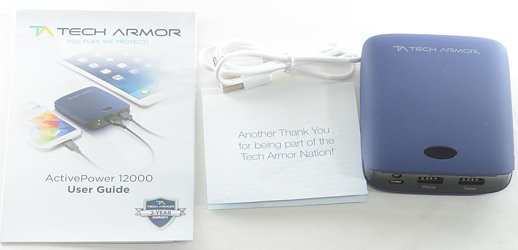 It contains the power bank, a usb cable and a user guide.




All connectors is placed at one end
Micro usb: Charge input.
2.1A usb output with Apple 2.1A coding.
1.3A usb output with Samsung coding.
Led for flashlight usage, it is not a great flashlight, but more than enought for seeing how to connecting a device to the power bank.


The power bank as one button, a short press will turn the output on (Mostly it turns on automatic).
Holding the button down will turn the flashlight led on or off.




This looks like a lanyard hole, but none was included with the charger.


Measurements
Device can work as ups.
When using usb output with power connected, it is drawn directly from usb input.
Will turn off output after 30 seconds with less than 70mA load
Blue led strip on top will flash one led while charging.
Blue led strip on top will show charge level.
Outputs are in parallel.
2.1A usb output with Apple 2.1A coding.
1.3A usb output with Samsung coding.
Size: length: 95mm x 84mm x 27.5mm
Weight: 240g (Accessories not included)


Output starts to drop at 2.3A and will turn off at 2.5A. The two outputs are in parallel, this means if you draw 2A from one output, there will only be 0.3A left for the other output, before they both drops.




Doing the same sweep with charge current connected. Output voltage is lower, it looks like the power is supplied directly from the usb input and the overload protection will kick in at exactly 2.1A.




It maintains output voltage nicely with a 0.5A load and it turns completely off when the battery is empty. Output capacity is slightly below 8000mAh, this is as expected (See Capacity table).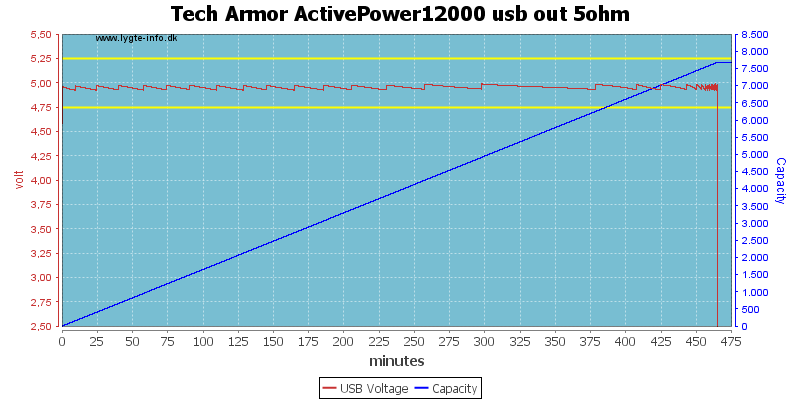 Everything looks as expected at 1A load.




At 2A load the capacity is dropped a bit (As expected), but it maintains voltage nicely until the battery is empty.




There is some noise even at 0.5A load at 55mV rms and 250mVpp.





It increases with load: 100mV rms and 400mVpp.




And is a bit high at full load: 170mV rms and 490mVpp




The rating with 1.5A charge current is fairly correct. The power consumption looks like a good CC/CV charge. The charged capacity is only 11000mAh, this means it is using a switching charge regulator (The measured output capacity requires 12000mAh battery capacity).




The charge circuit is smart enough to handle a weak charger or long cable.






Conclusion



I like the rounded shape of the power bank, it is easy to stuff into a pocket or bag.
The power bank works very well with both power output and charging, but the noise is a bit on the high side. The two connectors is not really designed for charging two current hungry devices, but instead to get optimal charging for different devices (A auto coding ship could also have done that).





Notes



The power bank was supplied by Tech Armor for a review.

Read more about how I test USB power supplies and chargers