USB battery box mi Power bank 10000mAh PLM02ZM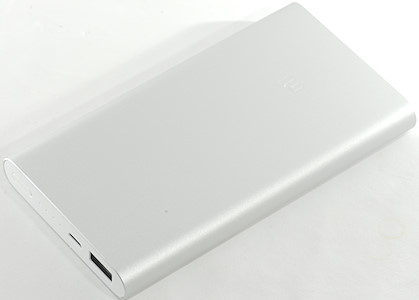 The power bank can use quick charge both for input and output, the energy storage is based on a Lithium Polymer pack.
The specifications are:
Brand: Xiaomi
Model: PLM02ZM
Material: Aluminium Alloy
Capacity: 10000mAh 3.85V ( 38.5Wh )
Product weight: 0.250 kg
Dimensions: 130 * 71 * 14.1mm
Battery Type: Lithium polymer batteries
Input: 5.0V2.0A, 9V/12V18W
Output: 5.1V2.4A 9V/12V15W MAX
Unique Tech: Quick Charge 2.0
I got it from Banggood




How does it look






The power bank is delivered in a white cardboard box.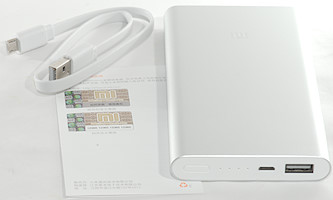 It contains the power bank, a usb cable and a manual in Chinese (I believe).




All connectors and some indicators are placed on one side of the box.
4 led strip for power gauge
A button to activate the power gauge and turn the output on (Usual it will turn on automatic when loaded).
Micro usb: Charge input.
Usb output.


The specifications are on the back of the power bank, I believe the text is in Chinese.



Measurements
Usb output is auto coding with Apple 2.1 and QC
Usb output will usual turn on automatic when loaded.
Output will turn off about 100 seconds after the load goes below 60mA
Output will turn off when input power is connected
Charge indicator will flash when output is on.
Size: 130 x 71 x 13.9mm
Weight: 215g (Accessories not included)


The 5V output can deliver about 2.6A before the overload protection trips, this is fine for a 2.4A rated output.




The QC output is rated for 15W, not for any current, as can be seen it can deliver about 20W and 2.2A at 9V




And about 1.6A at 12V (Check the runtime test below, it cannot sustain this power level).




The output looks very nice at 0.5A




At 1A the power banks is rated to give 6900mAh at 5.1V, it can easily do that.




At 2.5A, i.e. absolute maximum load the power bank can deliver slightly less.




Here I am running at 12V output with 1.2A load, it works for two hours, then the boost converter has trouble delivering enough power. In my opinion it would be better to disable QC when the power bank is near empty.
It delivers about 29Wh, before the output starts jumping up and down (Total energy is around 37Wh).




Noise is 4mV rms and 50mVpp




Noise is 8mV rms and 81mVpp





Noise is 3mV rms and 59mVpp, all values are very low.




Charge current is about 2A, but the power bank stops and starts all the time, is this on purpose?




It works the same with Quick Charge, it also looks like my charger drops out of QC mode a few time, but the power bank puts it back again.




Simulating a long cable or a weak power supply, shows that the power bank will reduce charge speed very significantly (It takes more than 3 times as long).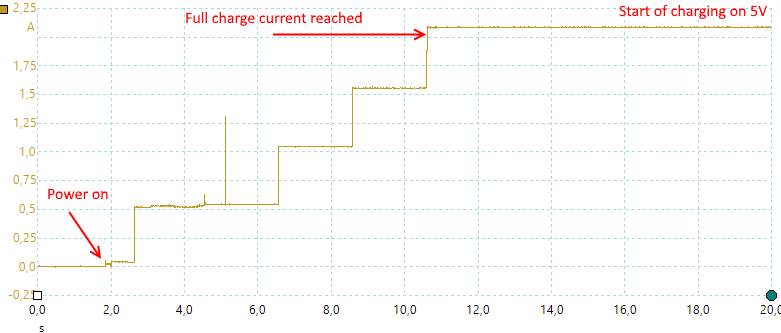 When starting a charge the power bank will ramp up the current in steps. I expect this is done to detect voltage drops on the usb power supply and then limit the maximum current draw.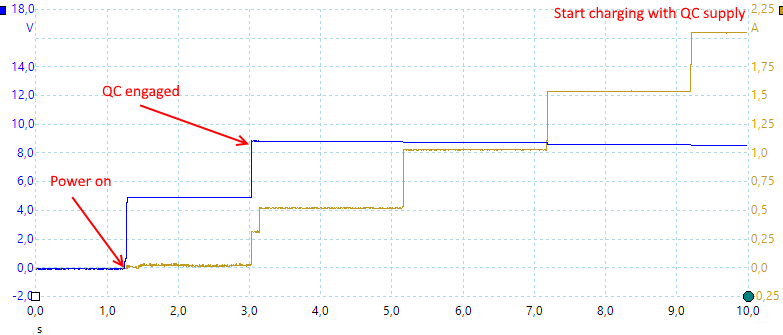 Quick charge works the same way.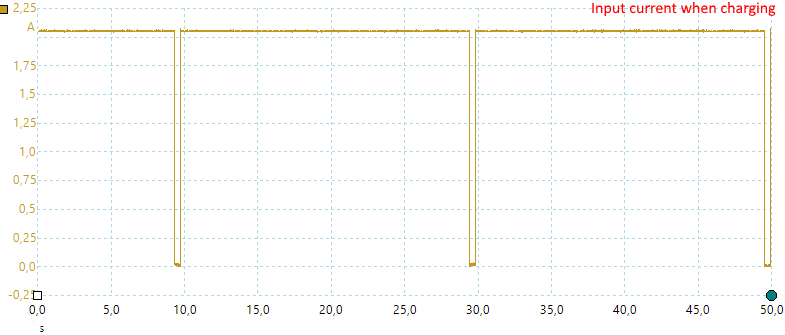 The pauses looks very regular, i.e. they must be on purpose.





Conclusion



This power bank looks fairly good, it has low noise, can deliver rated capacity and current, has quick charge. With a good charger, it will charge fairly fast (4 hours) for its capacity.

I only see one small detail, the QC output cannot deliver full power when the power bank is near empty.





Notes



There has been some rumor that this charger has damaged phones. The only questionable behavior I can see is when the power bank is nearly empty during a quick charger and the voltage jumps up/down. I do not know if this can be the reason, but I would not expect it.

Read more about how I test USB power supplies and chargers