Xedain 4 port QC usb charger KeKe-QC-4


Official specifications:
Brand Name: XEDAIN
Support Quick Charge Technology: Qualcomm Quick Charge 3.0
Quality Certification: RoHS,CE,FCC
Output Interface: USB
USB Ports: 4
Power Source: A.C. Source
Input: 100-240V/0.5A
Output: 5V/2.4A
Model Number: 3.0XD4USB
color: White / Black
Output voltage current: 12V(1.5A)- 9V(2A)- 5V(3A) 5V(2.4A)
plug charger: US / EU
A reader send it to me.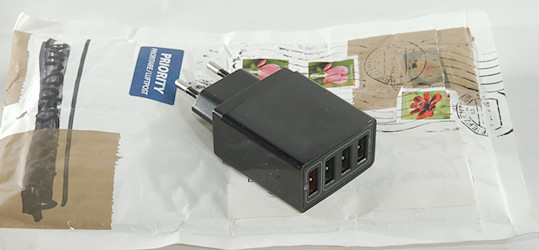 i did not get a box or anything with it.




There is some text on the side, but it is very hard to read, it list the outputs as 5V:2.4A, 9V:1.8A, 12V:1.5A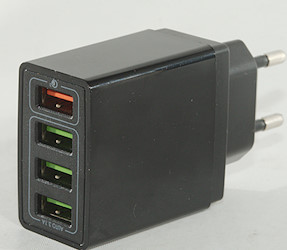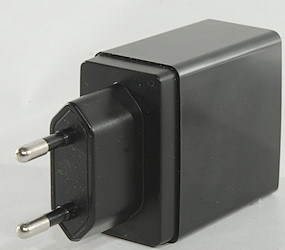 Measurements
Power consumption when idle is 0.22 watt
There is a blue led behind the usb connectors.
Regular USB outputs are coded as usb charger (DCP)
QC USB output is auto coding with QC3, DCP, Apple 2.4A, Huawei-FCP
Minimum QC3 output is 3.7V
2.4A outputs are in parallel.
QC and regular outputs share minus connection.
Weight: 57.8g
Size: 88.2 x 45 x 26.8mm.


The regular usb ports can delvier about 2.2A




All of them.




Also when working together.




With QC 5V the maximum output current is slightly above 3A.




At 9V it drops to 2.2A




And 1.7A at 12V




At 120VAC it is about the same.




First I did a test with 2.1A on 5V and 1.5A on 12V, the charger could supply that for about 10 minutes before the 12V broke down.




Reducing the 12V to 1.2A helped a bit, now I could run for 23 minutes.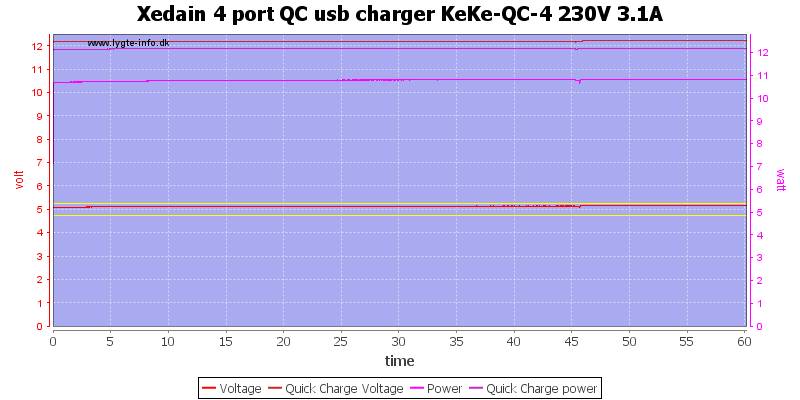 Reducing to 1A on 12V and still 2.1A on 5V I could run a one hour test.
The temperature photos below are taken between 30 minutes and 60 minutes into the one hour test.




HS1: 89.1°C




M1: 42.0°C, HS1: 68.1°C



M1: 59.8°C, M2: 57.6°C, HS1: 65.6°C
HS1 is the transformers getting warm.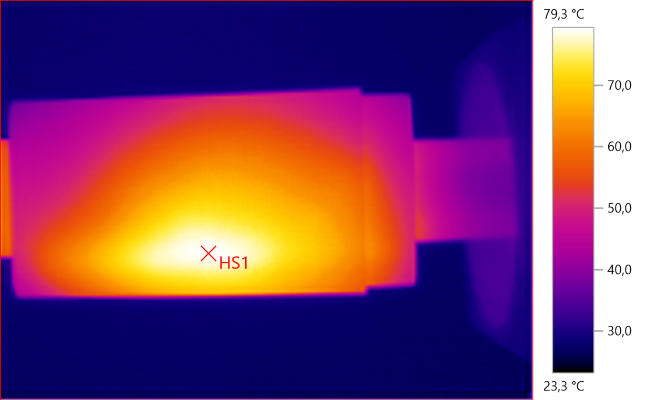 HS1: 79.3°C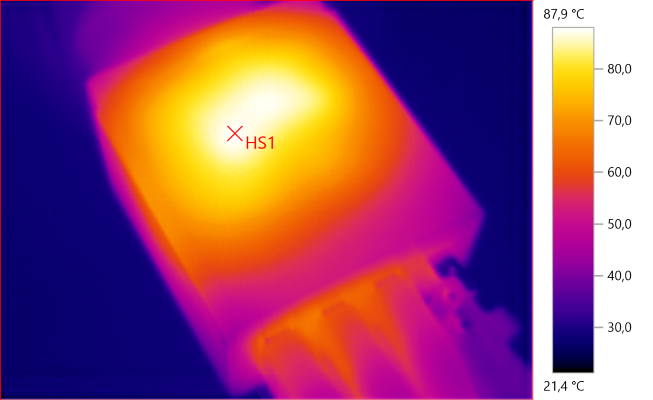 HS1: 87.9°C




Noise at 0.5A load is: 41mV rms and 1571mVpp.





Noise at 1A load is: 41mV rms and 1535mVpp.




Noise at 2A load is: 50mV rms and 1871mVpp.




Noise at 0.5A QC load is: 143mV rms and 2321mVpp.




Noise at 12V 1.2A QC load is: 95mV rms and 2374mVpp





Tear down






Mounting it in my vice and whacking it with my mallet popped the lid off.




In this side of the circuit board is a input fuse (F1), one switcher for QC with an opto coupler, two mains transformers and a blue 1kV capacitor (It was supposed to be safety capacitor). A led can also be seen between two usb connectors.




Here the 1kV can be seen, for the circuit to be safe a 8kV safety capacitor must be used.




This side has the bridge rectifier and the switcher for the regular usb outputs. Both switchers uses normal rectifier diodes (D4, D5 and D6), the regular usb output do not need any feedback, but on the QC side is a QC controller (U6) and a reference (U5: 431)




The distance between mains and low volt side is less than 3.5mm, this is way to low.

It failed both the 2830 volt and 4242 volt between mains and low volt side, this makes it unsafe to use anywhere in the world.





Conclusion



The power supply has lower than rated output current and lots of noise.
This is a rather bad and dangerous usb power supply, stay away.





Notes



The charger was supplied by a reader for review.

Index of all tested USB power supplies/chargers
Read more about how I test USB power supplies/charger
How does a usb charger work?