USB Load 4-13V 3A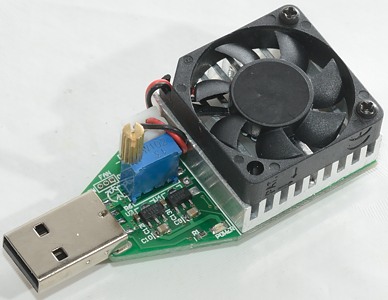 Official specifications:
For the intelligent start and stop of fans, the temperature control is around 40 Celsius degrees.
Applicable voltage range: DC3.7V-13V
Current regulation range: 0.15A-3.00A
Continuous discharging with 15W
I bought from ebay dealer: wishyou-happy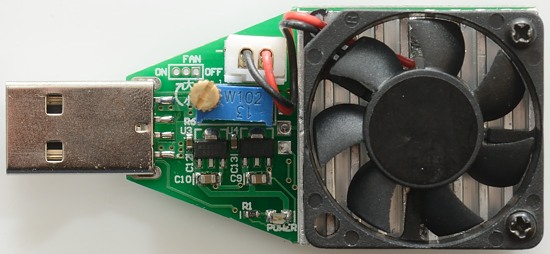 The two chips on this side is 5 volt regulators, probably one for the fan and one for the electronic.
The adjustment is a multiturn trimpot with a handle on it.
Above the text "POWER" is a red led.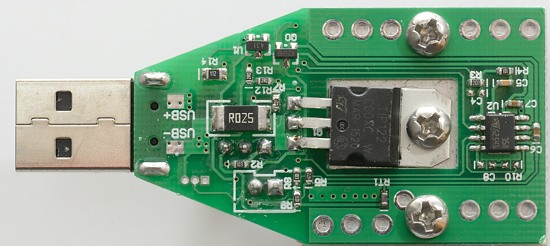 The load transistor is a NPN darlington transistor rated for 65 watt. The R025 is the resistor used to measure the current accross. The actual regulation is done by U2 (LM358 OpAmp), this also handles the temperature control and control Q0 that turns the fan on/off.
U1 is a reference used for the current measurement.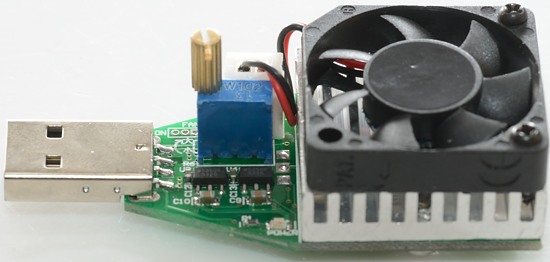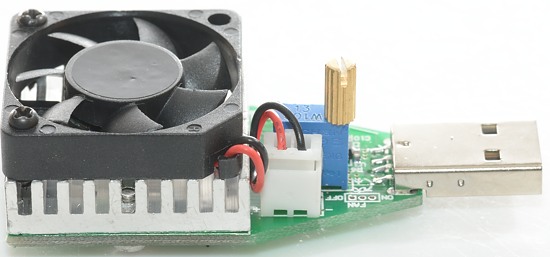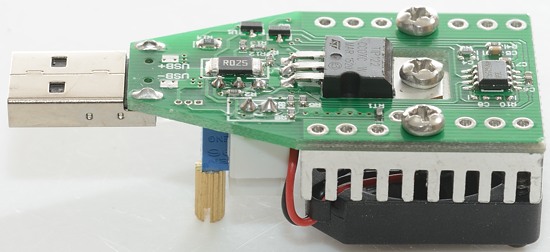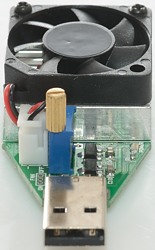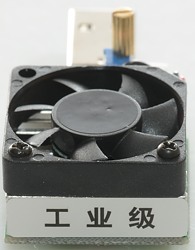 Load testing
Current change during 30 minutes with 1A load at 5V is 0.015A, i.e. 1.5%
Current change during 30 minutes with 3A load at 5V is 0.029A, i.e. 0.9%
Maximum current is 3.06A
The adjustment is a multiturn pot.
The fan is audible, but not louad.
I did check for oscillations, but there was none.


The load is rated from 3.7 volt to 13 volt, the minimum voltage looks correct. The load is fairly stable over voltage, but there is a small change during startup (I did all curves from 13V to 0V).




The minimum current is very low, because the fan turns off when the heatsink is cool, but it is not really stable enough to use. With the fan on minimum load is about 100mA.




A about 30mA load looks much better, for this to work temperature must be low enough not to start the fan.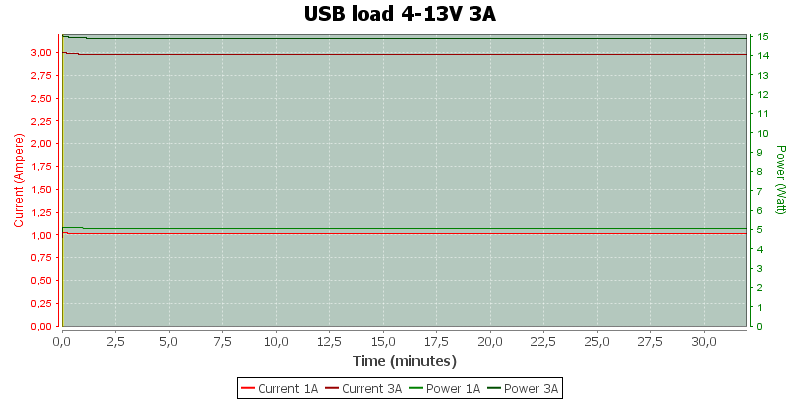 The 3A trace is maximum power for the load, except for the initial drop it stays very stable.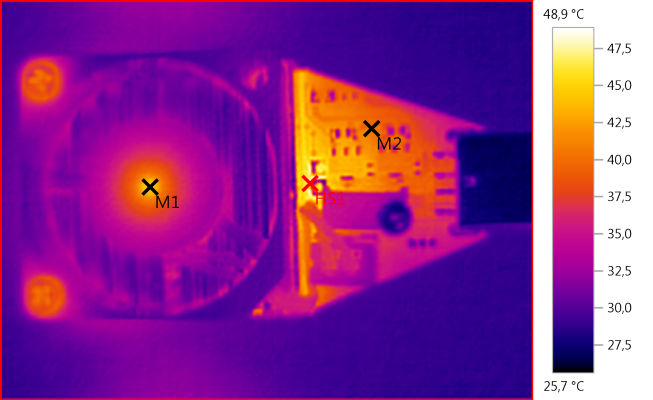 M1: 43,7°C, M2: 40,6°C, HS1: 48,9°C
The fan keeps the temperature down, this is from the 1A test.




M1: 37,8°C, HS1: 45,6°C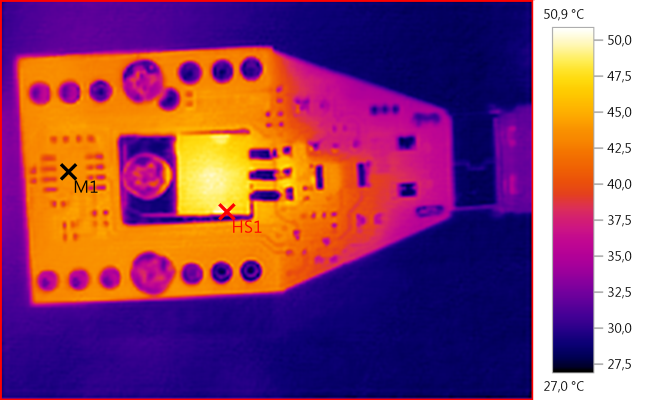 M1: 43,6°C, HS1: 50,9°C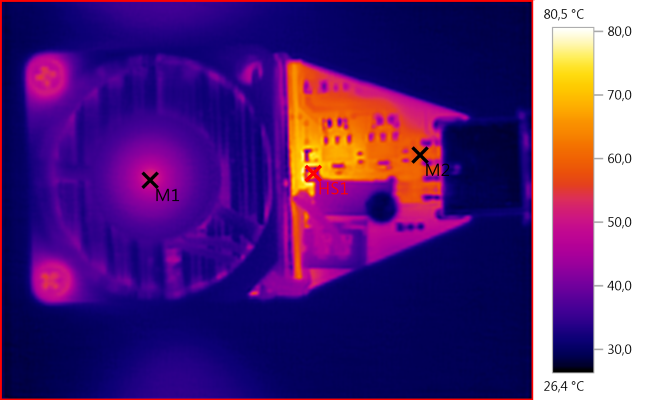 M1: 51,8°C, M2: 59,3°C, HS1: 80,5°C
With full power (15W/3A) the temperature is higher.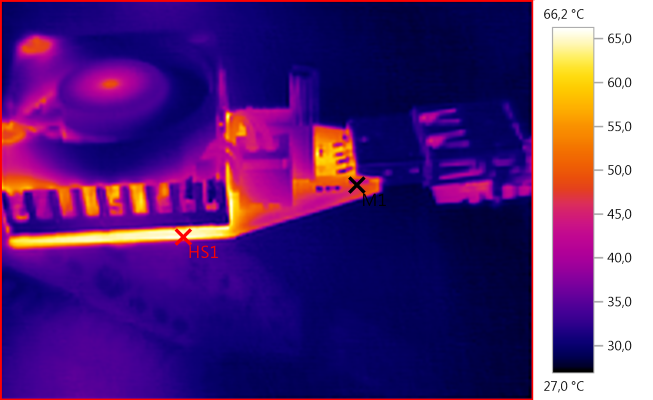 M1: 46,8°C, HS1: 66,2°C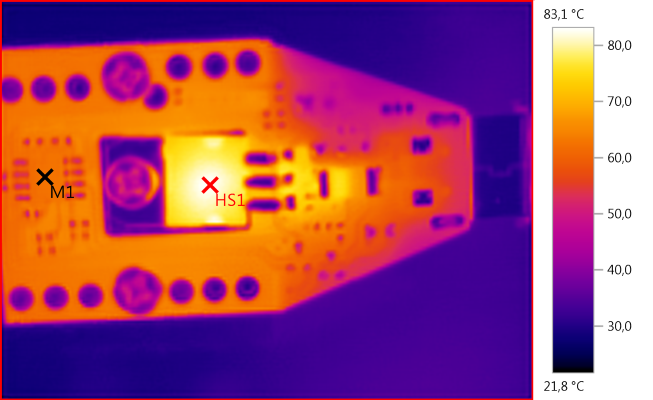 M1: 62,6°C, HS1: 83,1°C
The transistor is not very hot for a transistor.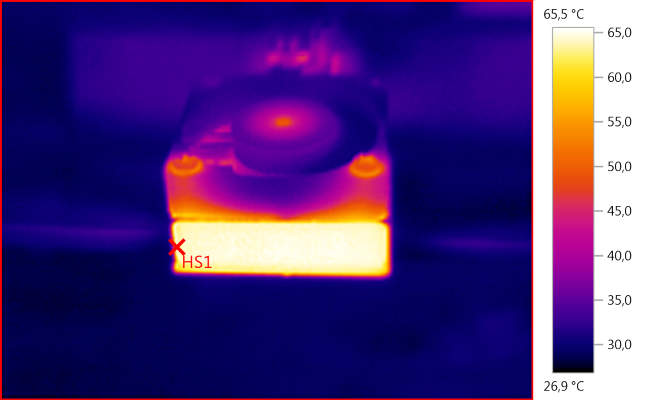 HS1: 65,5°C





Conclusion



This load works fine for testing normal usb outputs, but it cannot activate quick charge.
I like the current adjustment, it is easy to fine tune and it works without tools.