2USB Charger XKY-029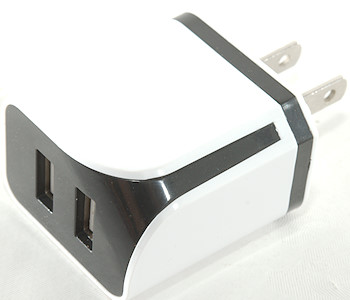 Official specifications:
Dual port: 1.5A
Input: DC 12V - 24v What? I did not test this, but I doubt it
Output: DC 5V 1.5A
Charge two devices at once, including the latest generation Apple devices, while on the road.
Works with: iPad mini 1/2, iPhone 5/6/6, iPod ,iPad Air 1/2
The USB 2.0 Ports are universal, is 1.5A
Bulit-in protect chip, overcurrent protection, overtemperature protection
I got it from ebay dealer smile_cc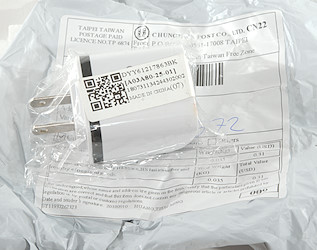 This cheap charger arrived in a plastic bag in a plastic envelope without any accessories.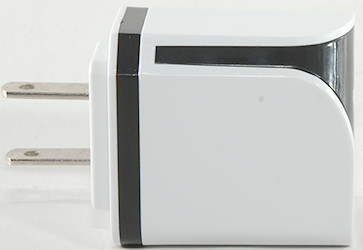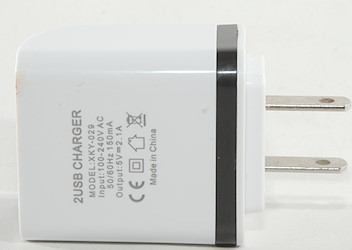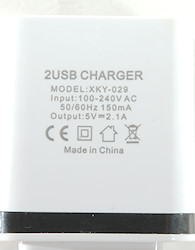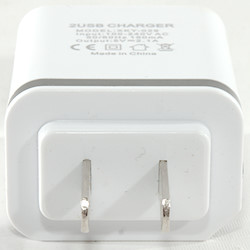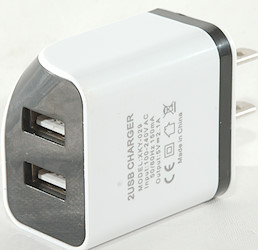 Measurements
Power consumption when idle is 0.08 watt at both 120VAC and 230VAC
Both USB outputs is coded with usb charger (DCP)
Both USB outputs are in parallel
Weight: 29.6g
Size: 64 x 40 x 28mm


Specifications says 1.5A (in listing) or 2.1A (On charger), but the charger has trouble delivering 1A on this port.




And also on this port.




Even with both ports together the current is the same.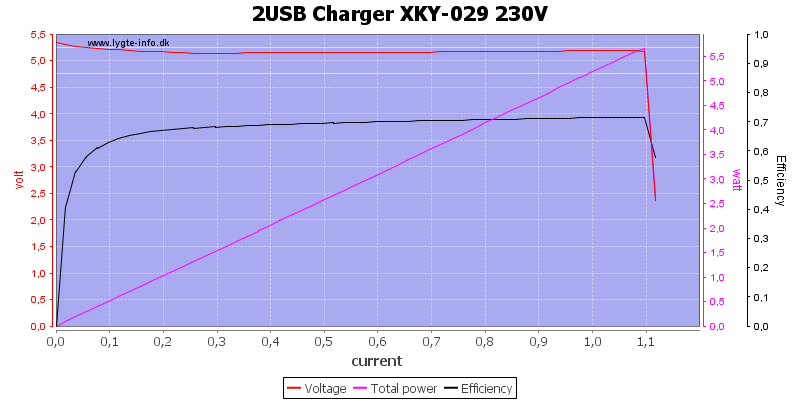 At 230VAC it is better at maintaining output voltage, but the 1.1A current is still way below specifications.




Running the charger with 1A total output worked fine.
The temperature photos below are taken between 30 minutes and 60 minutes into the one hour test.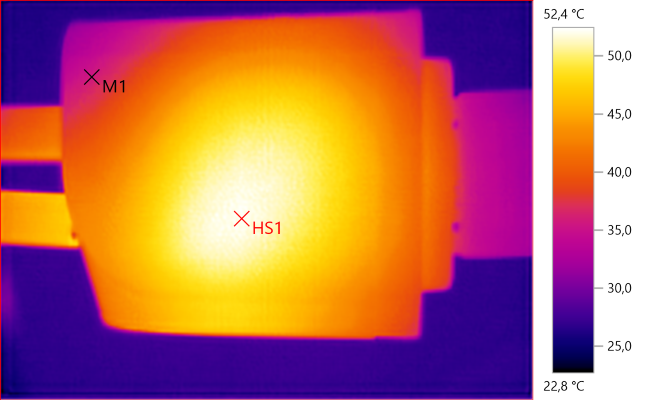 M1: 35.6°C, HS1: 52.4°C
HS1 is the transformer.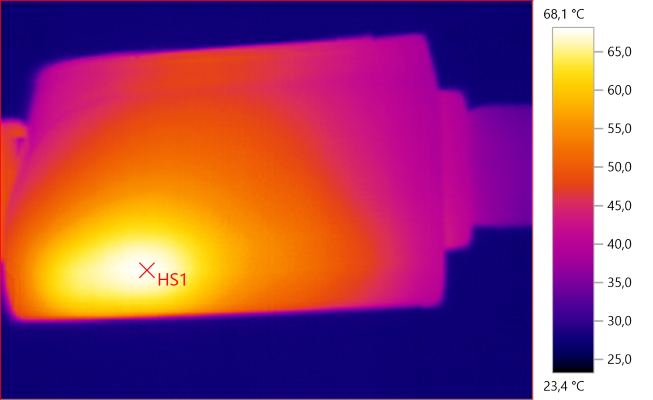 HS1: 68.1°C
Here HS1 is the rectifier diode.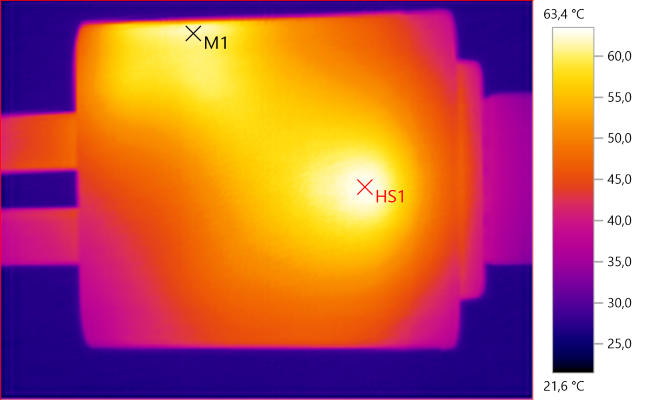 M1: 61.5°C, HS1: 63.4°C
On this side it must be the switcher IC.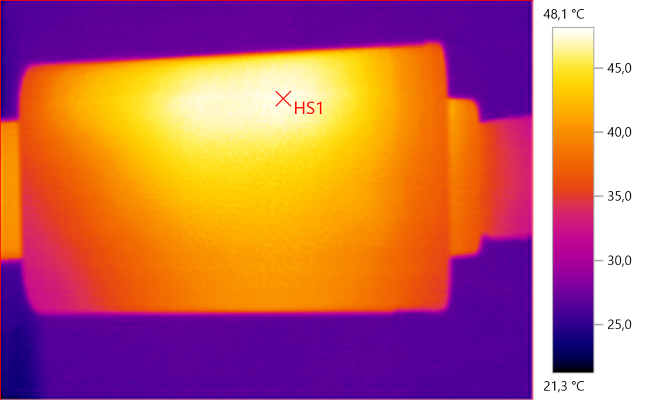 HS1: 48.1°C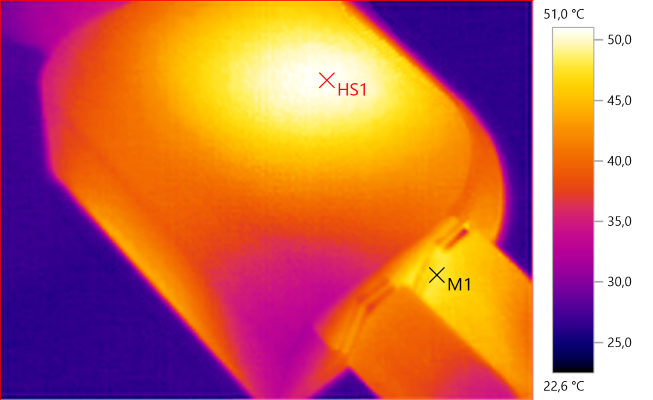 M1: 48.2°C, HS1: 51.0°C





At 0.5A the noise is 129mV rms and 1233mVpp.





At 1A the noise is 153mV rms and 1931mVpp.






Tear down






Some pressure on the enclosure with my vice and the bottom popped off.




This looks to be a very simple charger, there is only a bridge rectifier, a fake safety capacitor (1kV rated) and a rectifier diode.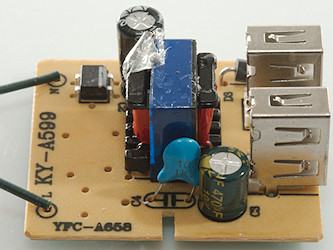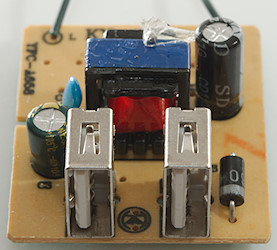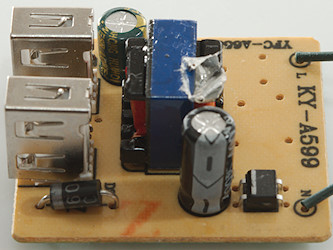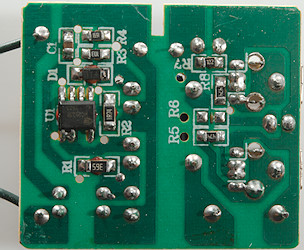 On this side is the main switcher IC (U1: Marked HC2523B).
The USB connectors are not soldered correctly, they will easily break loose.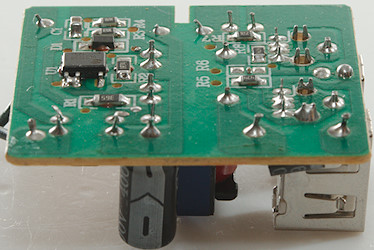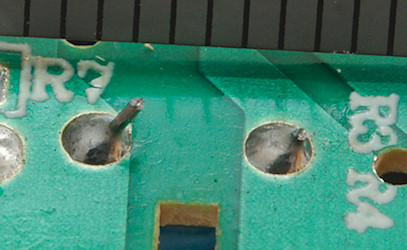 The distance between mains and low volt side is about 3mm over the circuit board, this is way to low.
I wonder why there is a slot in the circuit board, it do not improve safety in any way.


The charger passed the 2830 volt test, but failed the 4242 volt test between mains and low volt side, this makes it unsafe for 230VAC countries.





Conclusion



The charger cannot deliver more than 1A with lot of noise, it is missing a fuse, isolation to mains is way to bad.

Stay away from it.





Notes



The charger was supplied by a reader for review.

Index of all tested USB power supplies/chargers
Read more about how I test USB power supplies/charger
How does a usb charger work?