5V 3A USB charger BY-D0500200C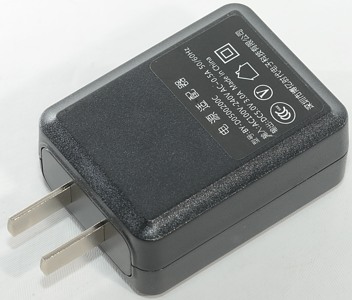 Official specifications:
Input: 100-240VAC 50/60Hz
Output: 5.0V 3A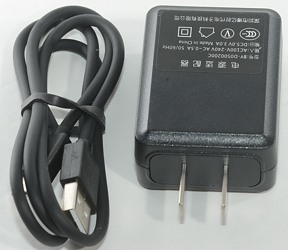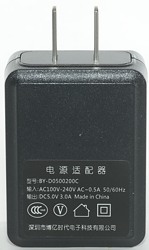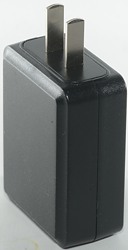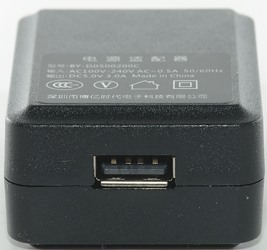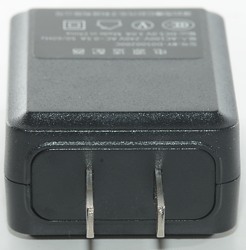 Measurements
Power consumption when idle is 0.07 watt
USB output is coded as usb charger (DCP)
Weight: 57.5g
Size: 74.8 x 44.0 x 26.0mm


The charger is rated at 3A, but can deliver more than 4A. The output voltage is on the high side.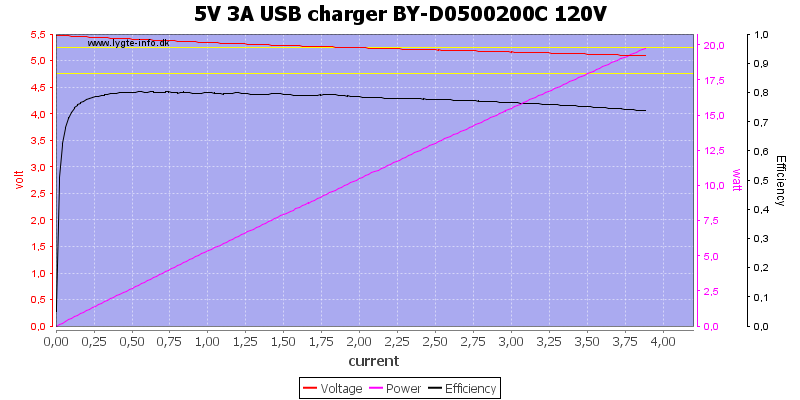 When running on 120VAC the maximum current drops a bit.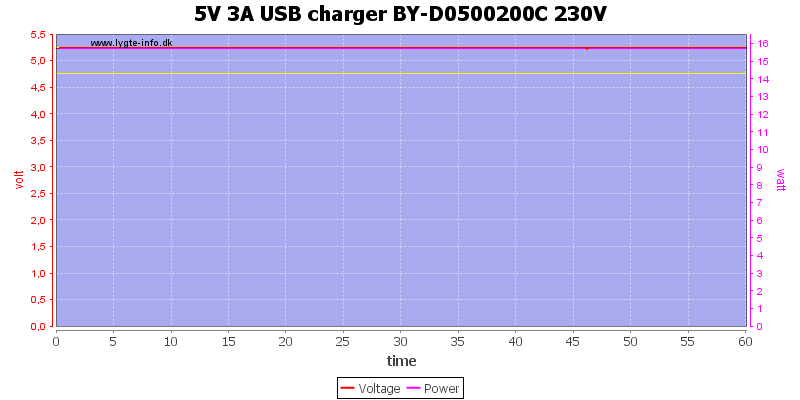 No problems running one hour at 3.0A.
The temperature photos below are taken between 30 minutes and 60 minutes into the one hour test.




M1: 75,2°C, HS1: 77,6°C
HS1 is probably the transformer, M1 is the rectifier diodes.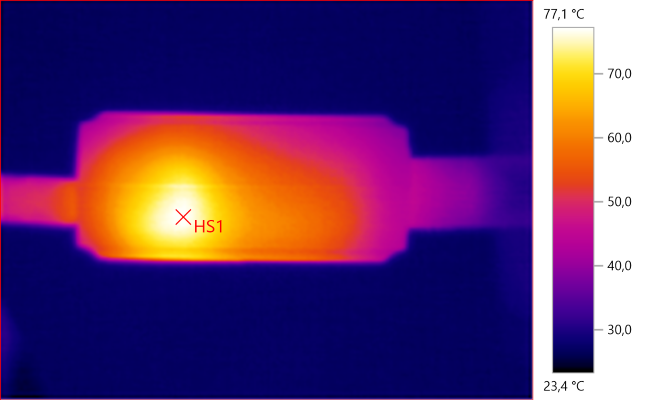 HS1: 77,1°C
Here HS1 is the two rectifier diodes.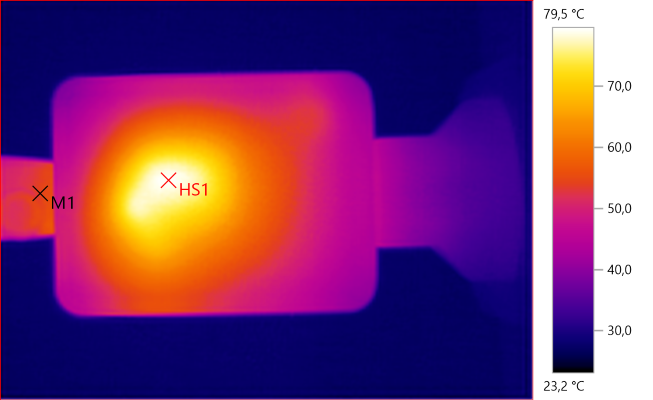 M1: 54,2°C, HS1: 79,5°C
HS1 is the transformer.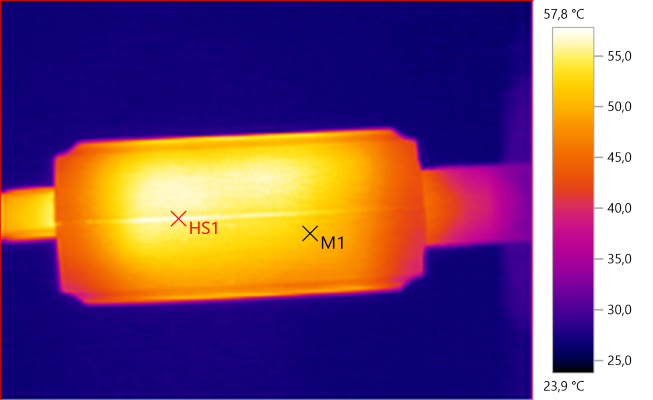 M1: 51,5°C, HS1: 57,8°C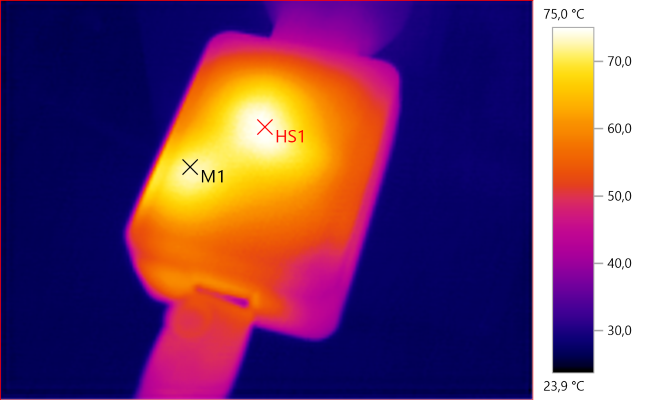 M1: 72,7°C, HS1: 75,0°C




At 0.5A the noise is 10mV rms and 133mVpp.





At 1A the noise is 10mV rms and 100mVpp.




At 2.5A the noise is 8mV rms and 97mVpp. generally the noise is very low.





Tear down






Some pressure from my vice made the seam crack and I could break it open.




At the mains input is a fusible resistor (FR1 gives that away) covered in heatshrink. There is a common mode coil (LF1) and the switcher is a CR5244Y.
At one side of the tranformer is the blue safety capacitor and a inductor, on the other side is the opto coupler and two rectifier diodes in parallel.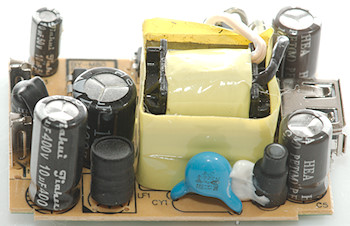 One this image the common mode coil, the safety capacitor and the output inductor can be seen.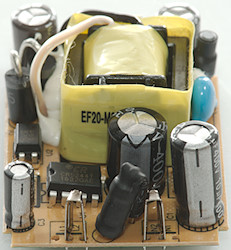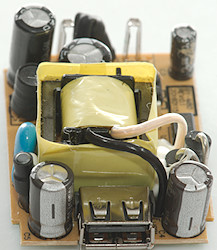 On the first image the fusible resistor can be seen between the two input connectors. The switchers is not mounted flat on the circuit board.
On the second image the flying leads from the transfor is easy to see.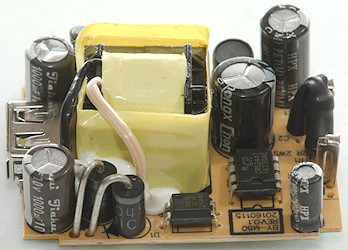 Here the two rectifier diodes and the opto coupler can be seen. The switcher ic is just below the revision mark.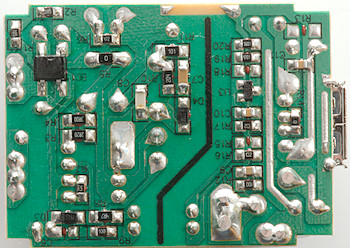 On this side of the circuit board is the bridge rectifier (BD1) and the voltage reference (U3).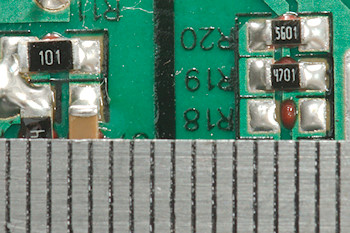 Safety distance is good.

Testing with 2830 volt and 4242 volt between mains and low volt side, did not show any safety problems.





Conclusion



This power supply looks fairly good, with low noise and lots of current, but I would have like the current limit a bit closer to the 3A mark. The high voltage is nice for some application, but it would have been better if it was closer to 5.25V





Notes



Index of all tested USB power supplies/chargers
Read more about how I test USB power supplies/charger
How does a usb charger work?