6 port 30 watt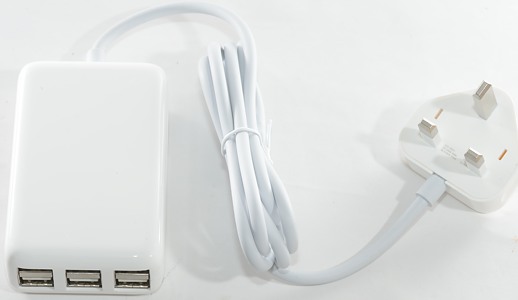 Official specifications:
High efficiency and low energy consumption.
Provides standard USB 5V and Max 6A output.
Compatible with iPad iPad2/3/4, iPad Mini,iPhone 3G/3GS/4/4S and iPod Touch and other devices that support recharging via USB port.
Input: AC 100-240V 50-60Hz
Output: DC 5V 6A
Plugs: EU/US/UK Plug
USB Port Number: 6 Port
Cable Length: 1.53m
Color: White
Dimension: 95*58*25mm
I got it from Ebay dealer hillfly3389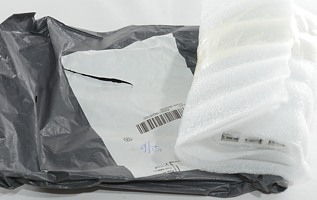 I got this charger in a plastic bag.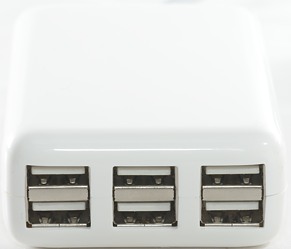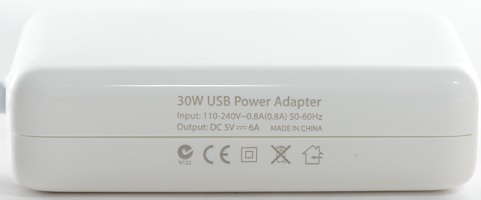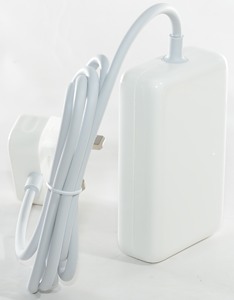 Measurements
Standby power is 0.2W
All outputs are in parallel
Two ports are coded as Apple 2.1A
Two ports are coded as Apple 1A
One port is coded as Samsung tablet
One port is coded as USB charger (DCP)
No individually protection on the ports.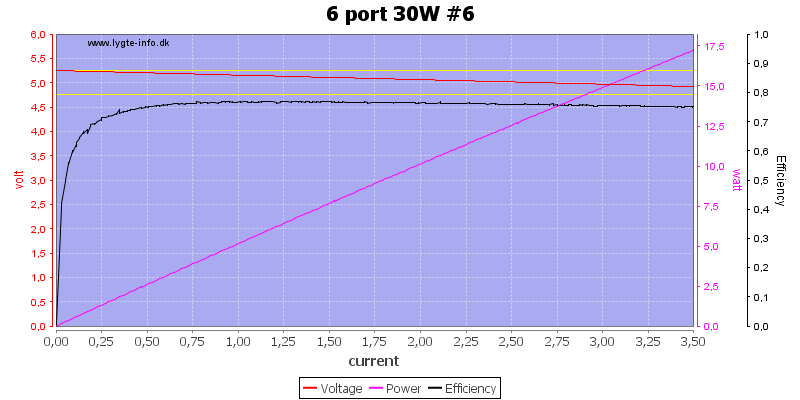 The output is very stable, the voltage drop is due to cable and contact resistance. There is no trace of an overload protection on this port, it looks like all ports are in parallel.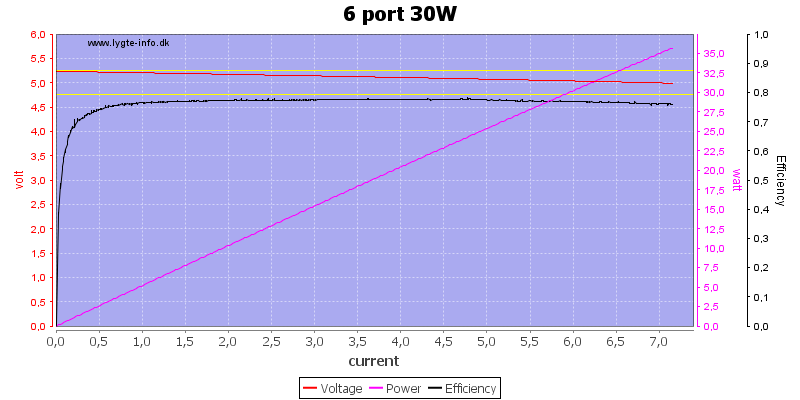 Using all port in paralle makes it possible to draw full current without damaging the usb connector. The overload protection kicks in at 7A.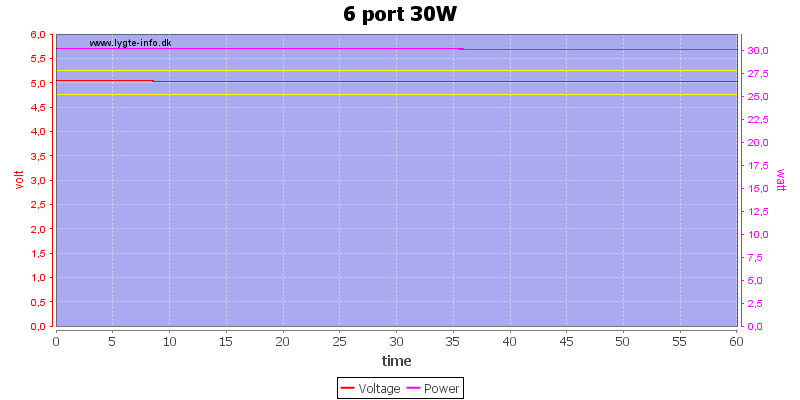 No problem running at 6A for one hour.
The temperature photos below are taken between 30 minutes and 60 minutes into the one hour test.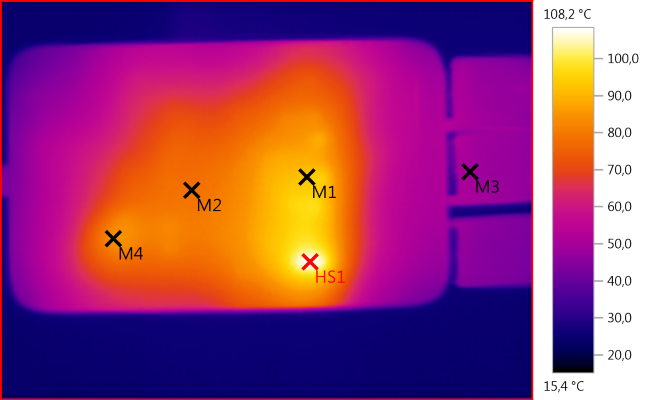 M1: 92,7°C, M2: 78,9°C, M3: 49,7°C, M4: 83,6°C, HS1: 108,2°C
My guess is that HS1 is the circuit board side of the rectifier diode.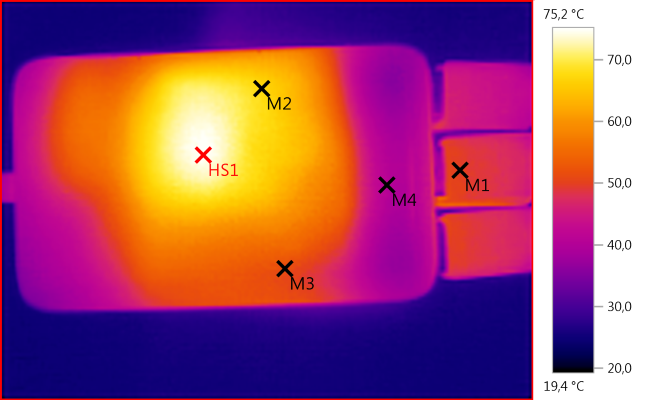 M1: 49,9°C, M2: 67,4°C, M3: 51,5°C, M4: 40,9°C, HS1: 75,2°C
Here HS1 looks to be the transformer.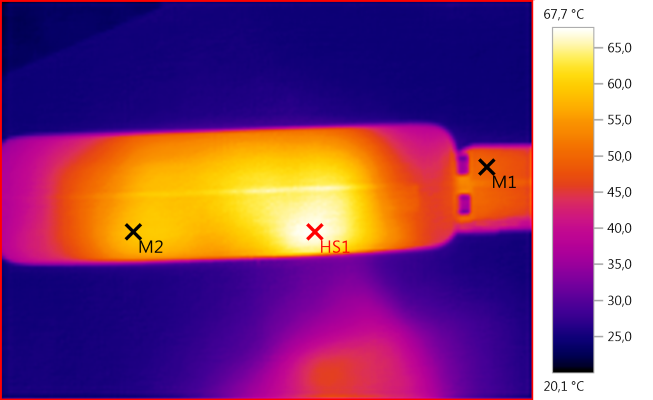 M1: 49,5°C, M2: 58,9°C, HS1: 67,7°C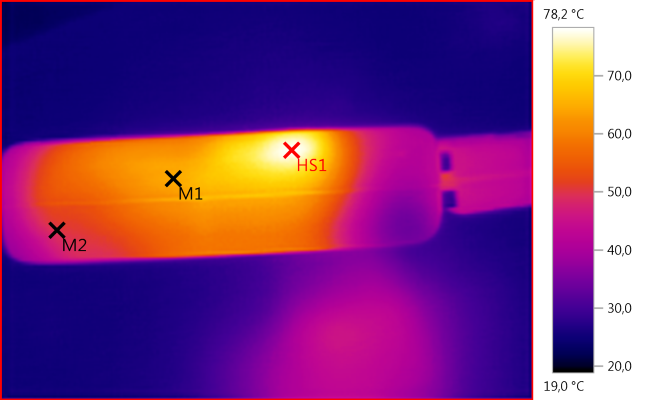 M1: 64,4°C, M2: 49,9°C, HS1: 78,2°C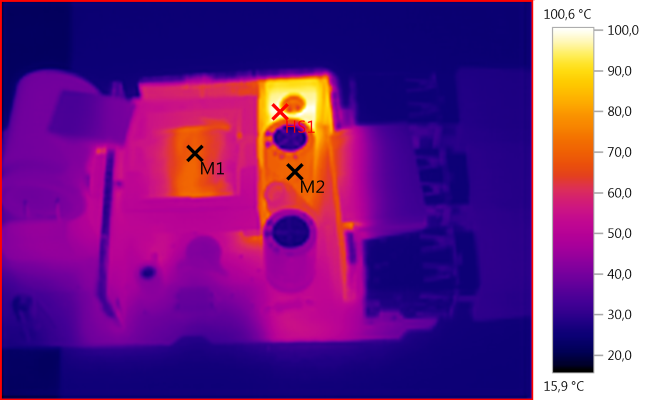 M1: 70,5°C, M2: 70,8°C, HS1: 100,6°C
I will usual not open a device and take IR photos inside, but this time I made an exception. It has been on for less than 10 minutes with 6A load.
There is no doubt the rectifer diode get hot.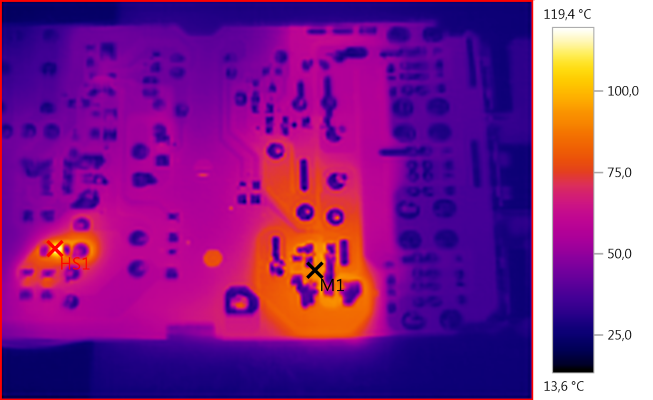 M1: 91,7°C, HS1: 119,4°C
There is also a small resistor that get very hot (HS1).





There is some noise at 0,5A with 18mV rms and 600mVpp. The peak noise is rather high.





And more at 2A with 30mV rms and 1100mVpp, again it is the peak noise that is bad.





Increasing load give more rms noise 40mV rms, but slightly less peak noise 1000mVpp





Tear down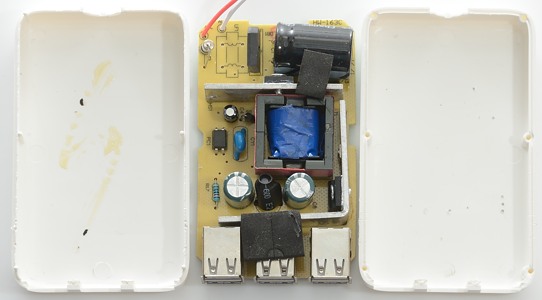 I could open it with some pressure from a vice.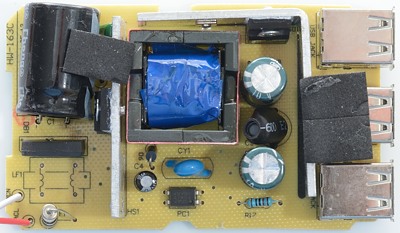 A fuse, bridge rectifier and large capacitor, but no common mode choke. There is space for it, but it is not mounted.
CY1 is the safety capacitor and PC1 is the feedback to keep the output voltage stable.
The mains switcher transistor and the low voltage rectifier diode are both mounted on heatsinks.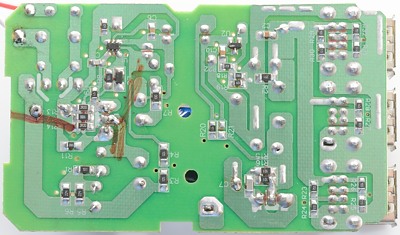 U1 is the mains switcher IC.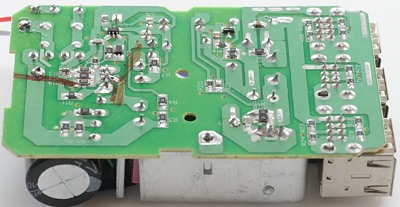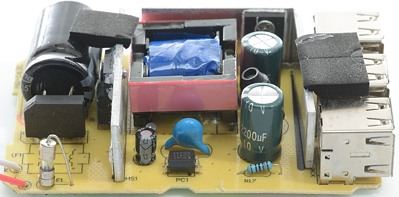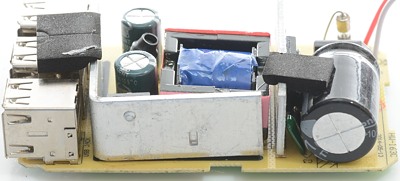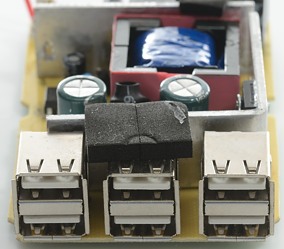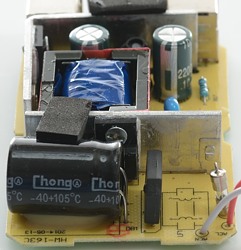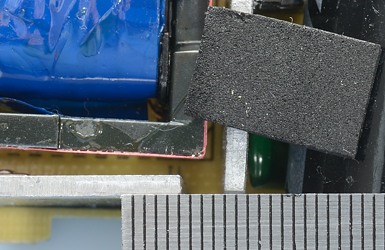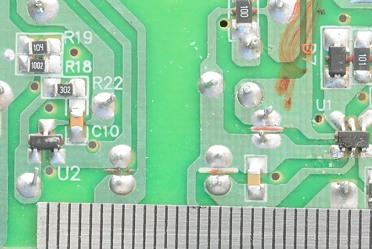 The two heat sinks are a bit close, 4mm is fine for air, but they do touch the circuit board where there must be more than 6mm. This is also a problem, it looks like 4mm on the circuit board.

Testing with 2500 volt and 5000 volt between mains and low volt side, did not show any safety problems.




Conclusion



This usb power supply works, it does not live up to the electric safety standard but is not a death trap either.
Even if the safety distances had been good, I would not recommend it, due to the noise, the temperature and the missing individual protection on the ports (7A in one usb connector is way too much).





Notes



Index of all tested USB power supplies/chargers
Read more about how I test USB power supplies/charger