6-Ports 30W USB charger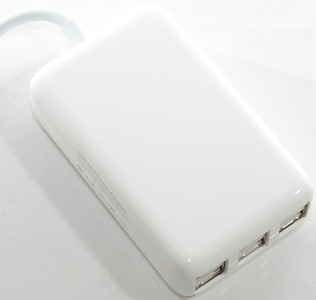 Official specifications:
30W USB Power Adapter
Input: 110 - 240V 0.8A 50 - 60Hz
Output: DC 5V 6A
Cable length: 130cm
Color: White
I got it from Gearbest sku:130812702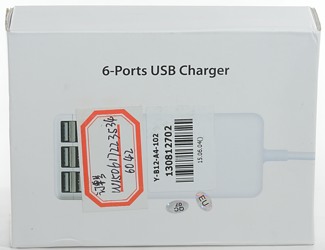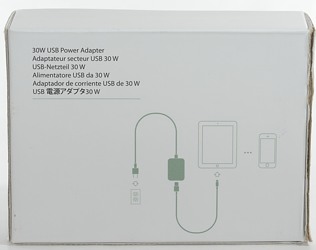 I got this charger in a cardboard box.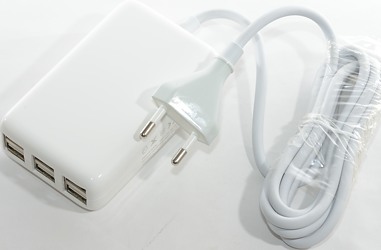 The box included the charger and nothing else.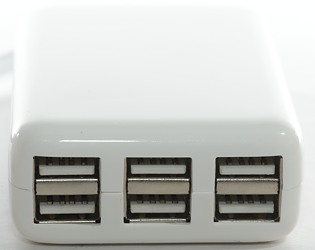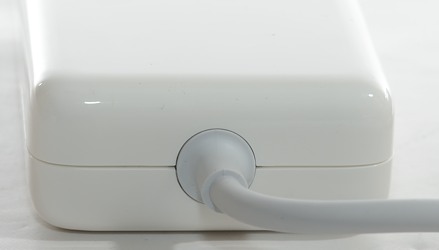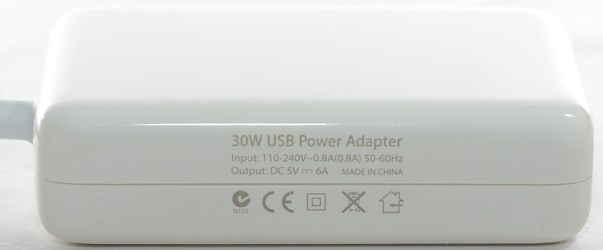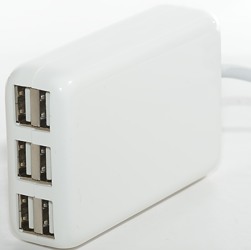 Measurements
Power consumption when unloaded 0.16 watt
All outputs are in parallel.
USB output #1 and #2 coded as Apple 1A
USB output #3 coded as Samsung
USB output #4 USB charger (DCP)
USB output #5 and #6 coded as Apple 2.1A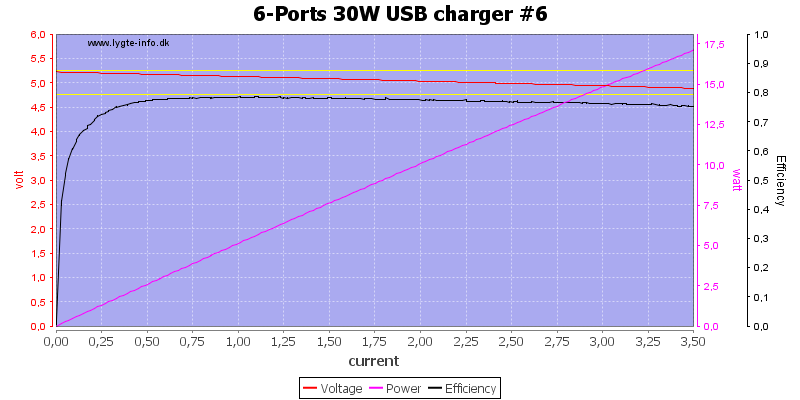 Output is fairly stable at any current drain and there is no individual over load protecion.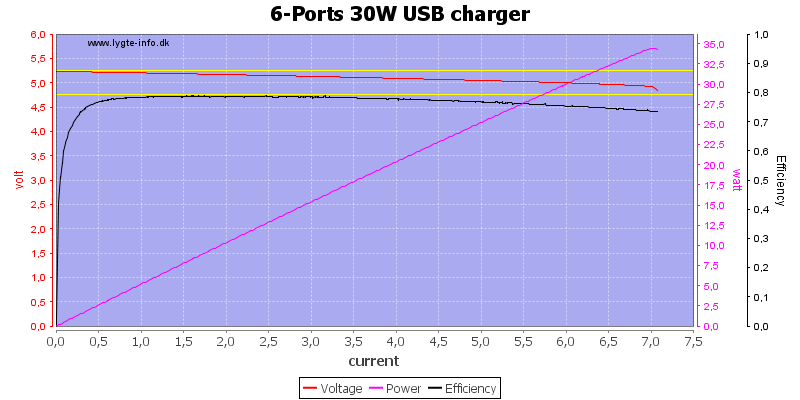 The charger has a protection at 7A, that is a good value for a 6A charger.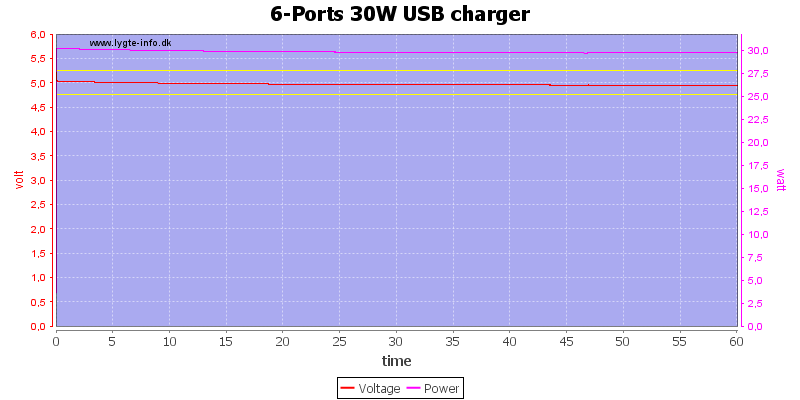 The charger could run one hour at 6A load, but as can be seen below it got very hot.
The temperature photos below are taken between 30 minutes and 60 minutes into the one hour test.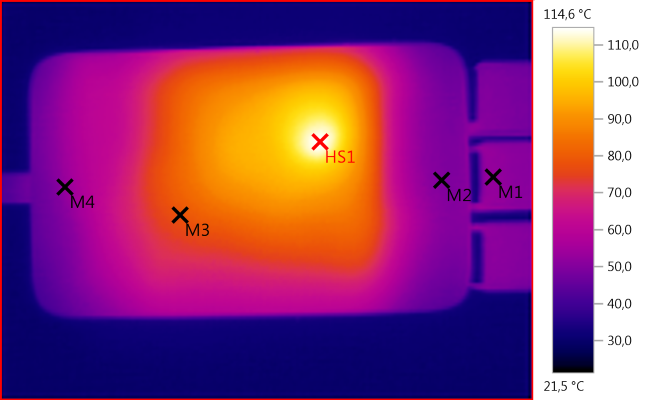 M1: 52,4°C, M2: 49,9°C, M3: 78,1°C, M4: 52,7°C, HS1: 114,6°C
HS1 is the rectifier diode.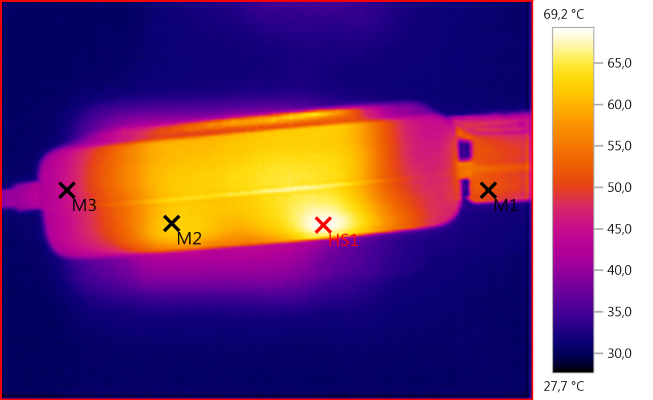 M1: 51,3°C, M2: 62,3°C, M3: 45,7°C, HS1: 69,2°C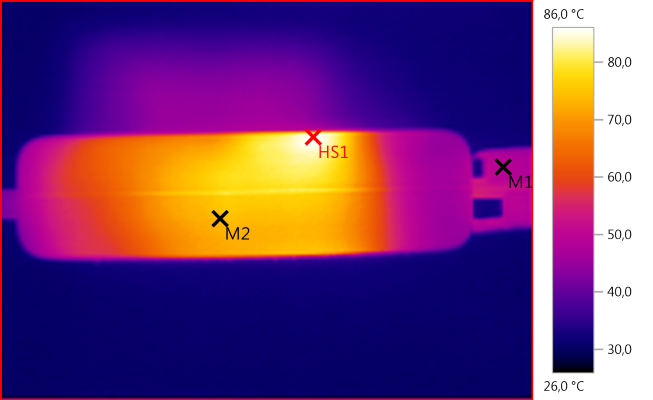 M1: 49,1°C, M2: 74,1°C, HS1: 86,0°C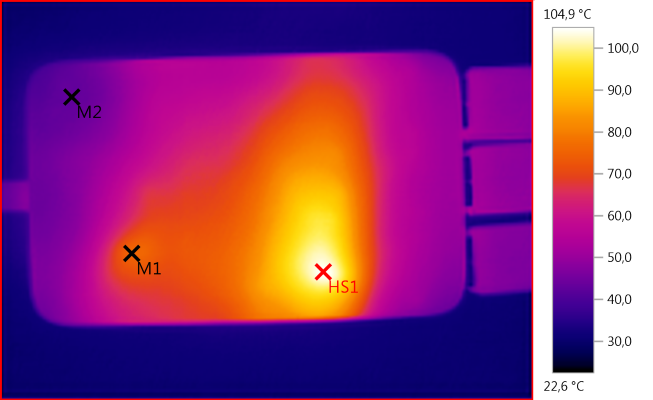 M1: 75,5°C, M2: 42,8°C, HS1: 104,9°C
HS1 is again the rectifier diode.





The rms noise is very low, but there are some spikes in it: 17mV rms and 700mVpp





Again it is the spikes: 30mV rms and 970mVpp





Full load do not increase the noise: 32mV rms and 930mVpp





Tear down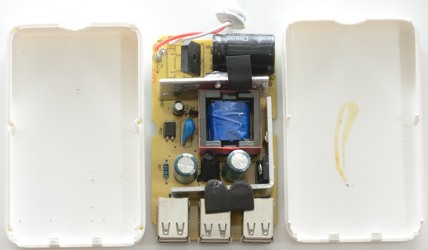 Some pressure in the vice and it popped open.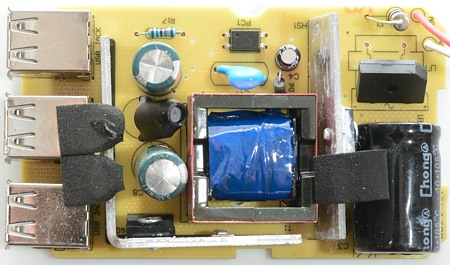 On the mains side there is a fuse, bridge rectifier and a mains switcher transistor. The circuit board has space for a common mode coil, but it is missing.
The low volt side has the optical feedback and one rectifier diode. There is also a indutor.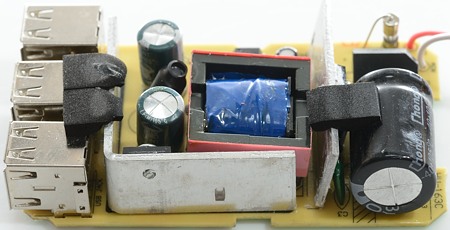 Most of this side is covered by the rectifier diode heatsink.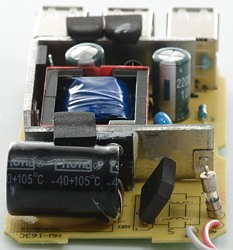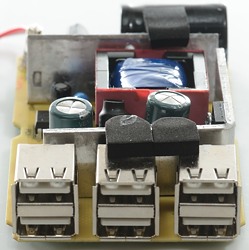 Look careful at the two low voltage capacitors. One has a flat top as they are supposed to have, the other is bulging. This is very bad and shows that the capacitor is just about dead.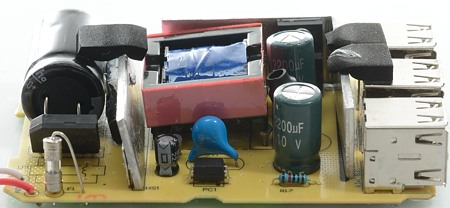 The mounting of the transformator is not very good, the pins was not pushed fully into the circuit board before it was soldered.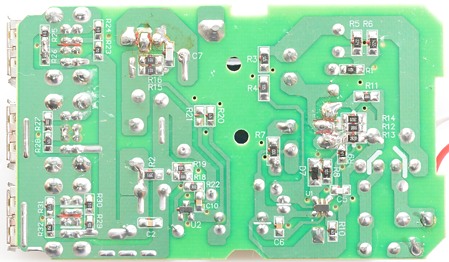 There are two chips on the bottom, U1 is the mains switcher controller and U2 is controlling the optical feedback.
Below the usb connectors are the resistors for coding them.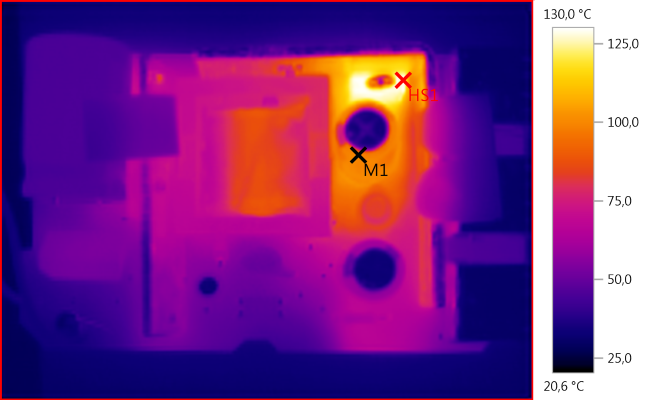 M1: 98,4°C, HS1: 130,0°C
The rectifier diode gets rather hot and is heating the capacitor, this might be the reason the capacitor is nearly dead.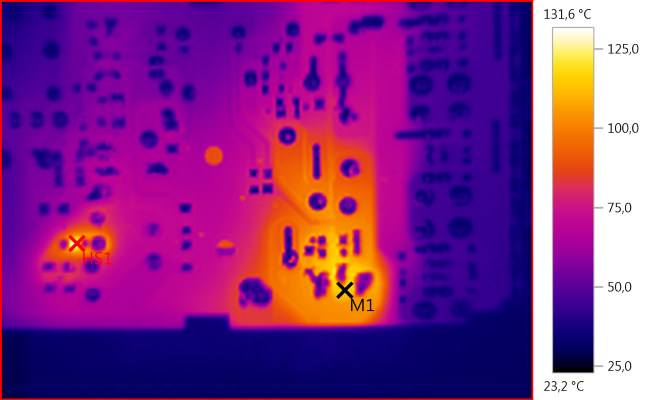 M1: 115,4°C, HS1: 131,6°C
On the mains side there is a single resistor getting warm (Often resistors are rated for 150°C).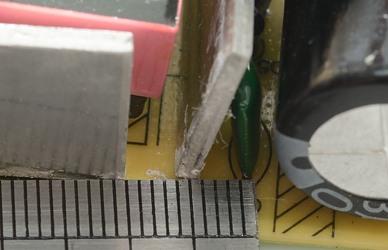 Safety distance in air is 4mm, but on circuit board about 6mm. This usb supply only has 4mm.


Testing with 2500 volt and 5000 volt between mains and low volt side, did not show any safety problems.





Conclusion



The charger gets way to hot when supplying the specified current and the noise is also on the high side. The safety do not live up to the CE requirements, but it is not directly dangerous.





Notes



The usb power supply was supplied by gearbest for a review.

Index of all tested USB power supplies/chargers
Read more about how I test USB power supplies/charger