Ansmann 2.4A High Speed USB car charger 1000-0014


Official specifications:
High-Speed USB car charger for charging USB-devices
Output current up to 2400mA, split when both USB ports are used Text is wrong at Ansmann's website
Universal fast charge function, compatible with Apple, Samsung, HTC, Sony etc.
Intelligent charge control: automatic detection for the highest possible charging current for the device
Charges your device as fast as the original charger
Input: 12-24V; Output: 5V / max. 2400mA
I got it from Ansmann




I got this charger in a partly transparent plastic box, it only contained the charger.


Measurements
Power consumption when idle is 0.03 watt (2.5mA) at 12V and 0.05 watt (1.9mA) at 24V
Usb port is auto coding with Apple 2.4A as max.
There is a blue led on front of the charger.
Weight: 14.2g
Length: 56mm
Front: 22.5 x 22.5mm


The usb outputs works fine at both high and low battery voltage and has a overload protection at about 2.75A




It is about the same at 24V input.




The charger needs a few mA for idle current.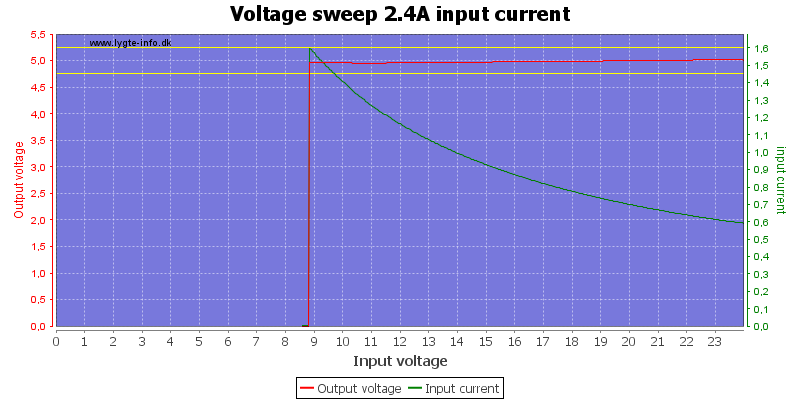 The normal usb output needs a bit above 1A at 12V to supply 2.4A on usb output.




And the output will be stable down to 9 volt input.




There was no problem running 1 hour with full load. The tick at 46 minutes is my handling it while taking IR photos.

The temperature photos below are taken between 30 minutes and 60 minutes into the one hour test.




M1: 49,9°C, HS1: 61,1°C




The noise at 0.5A is 18mV rms and 97mVpp




The noise at 1A is 17mV rms and 94mVpp




The noise at 2.5A is 22mV rms and 118mVpp, all very low values.





Tear down






The lid was not easy to remove, I had to cut it off.




With a bit more work I got the circuit board out.




Nothing surprising here, a input and output capacitor and a inductor.




Both capacitors are rated 105°C this means they can take a lot of heat.




On this side there is a input fuse (F1), a buck converter (U1: C2103A), a rectifier diode (D1: SS54) and a auto coding chip (U2: M5887).
There is also a zener diode (Z1), accross the usb output voltage.






Being a 12V device there is no need to test with high voltages.





Conclusion



A single port charger with auto coding, low noise and overload protection, this looks like a good car charger.





Notes



The usb charger was supplied by Ansmann for a review.

Index of all tested USB power supplies/chargers
Read more about how I test USB power supplies/charger