Aukey 4 port usb with socket PA-S12


Official specifications:
Input: 100-240V/1.2A
USB Ports: 4
Quality Certification: RoHS,CE,FCC
Output Interface: USB
Model Number: PA-S12 Wall Charger
Type: Travel
Support Quick Charge Technology: No
Power Source: A.C. Source
Usage: usb phone charger
Output: 5V/2.4A(Max) Each Port
USB-Output (AiPower): 5V/2.4 A (max.6A total) ,30W
Dimensions: 99 x 57 x 33 mm
Weight: 161 g
I got it from a Aliexpress dealer: aukey official store




The box contained the charger, a manual and a warranty card.


Measurements
Power consumption when idle is 0.1 watt
All USB outputs is auto coding with DCP, Samsung and Apple 2.4A
All outputs share the minus connection, but the plus output is individual protected.
Earth is connected to mains outlet, but not to usb shield.
Weight: 157.8g
Size: 99 x 70 x 57.2mm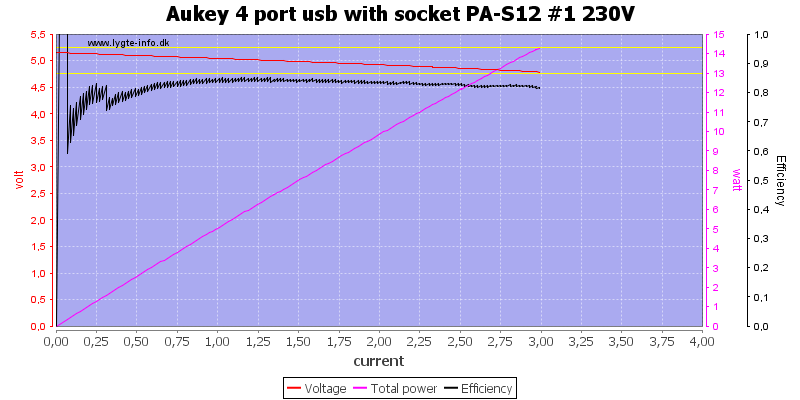 One usb output can deliver about 3A, before overload protection trips-




Another output is about the same.




When running all four outputs in parallel I can draw 6.5A before overload trips. Here on 120VAC




230VAC is the same.




The charger has no problem delivering 6A for one hour.
The temperature photos below are taken between 30 minutes and 60 minutes into the one hour test.




M1: 32.5°C, HS1: 34.9°C




M1: 47.1°C, HS1: 48.2°C




M1: 40.4°C, HS1: 62.1°C
HS1 is the transformer




HS1: 55.8°C
The heat on the front is probably from the rectifier.




M1: 54.3°C, M2: 43.2°C, HS1: 63.6°C




Noise at 0.5A load is: 10mV rms and 159mVpp.




Noise at 1A load is: 20mV rms and 179mVpp.




Noise at 2.5A load is: 12mV rms and 149mVpp.




Noise at 5A load is: 15mV rms and 149mVpp, this is very low noise.






Tear down






Some pressure with my vice and I could remove the bottom. The circuit board is mounted with two screws




The circuit board unscrewed, the plug part of the mains plug was also loose, except earth that was connected with a piece of wire.




At the mains input is a fuse, followed by two common mode coils, there is a blue safety capacitor (CY1). The mains switcher transistor is mounted on the heatsink nearest the mains input.
On the low volt side is the rectifier transistor mounted on the heatsink behind the usb connectors. Between the usb connectors is a overload protection and auto coding chip (U1..U4: UC2501).




On this side is the bridge rectifier (DB1), the mains switcher (U7: HFC0500). The opto coupler (U5: EL1019) is a special extra long version to get better isolation distance. On the low volt side is a synchronous rectifier controller (U8: Marked 19HGP) and the feedback controller/reference (U6: marked G6G).




The long opto coupler gives a good safety distance without any slot in the circuit board. The two heatsinks are glued to the transformer with the white stuff and the transformer is packed in yellow isolation tape.

Testing with 2830 volt and 4242 volt between mains and low volt side, did not show any safety problems.





Conclusion



This charger has auto coding, a good amount of current (It can handle two high power devices and some more), individual port protection, the noise is low and I did not see any safety problems. The mains socket means that it do not block a mains outlet.
This is a good and very practical charger especially if the number of mains outlets is a bit low.





Notes



Index of all tested USB power supplies/chargers
Read more about how I test USB power supplies/charger
How does a usb charger work?