Aukey 5 port USB charging station QC3 PA-T15


Official specifications:
Input: AC 100-240V
Technology: Qualcomm Quick Charge 3.0 & AiPower Adaptive Charging
Orange port Output (QC3.0 ): 3.6V-6.5V 3A, 6.5V-9V 2A, 9V-12V 1.5A
Green port Output (AiPower): 5V 2.4A/port | 4.8A Max
It is from Aliexpress dealer: Aukey official store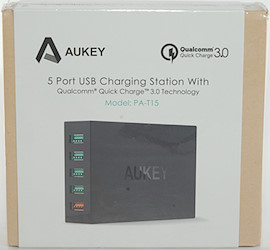 I got it in a card board box.




The box contained the charger, mains cable, cable holder, usb cable and a manual in multiple languages.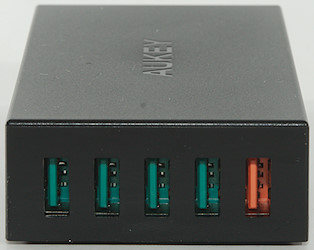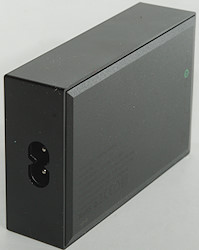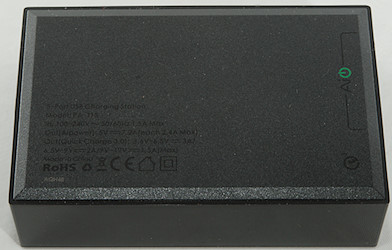 Measurements
QC output is QC3 and DCP
Other usb outputs are Auto coding with DCP, Samsung, Apple 2.4A
Power consumption when idle is 0.3 watt
All usb outputs has individual overload protection.
All usb output shares minus.
Minimum QC3 output is 3.8V
Weight: 155g without accessories.
Size: 94 x 60.6 x 26.4mm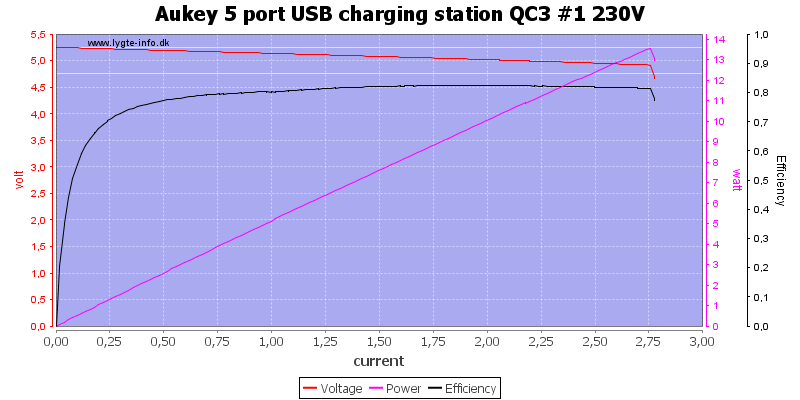 Usb output can deliver nearly 2.8A before overload protection trips.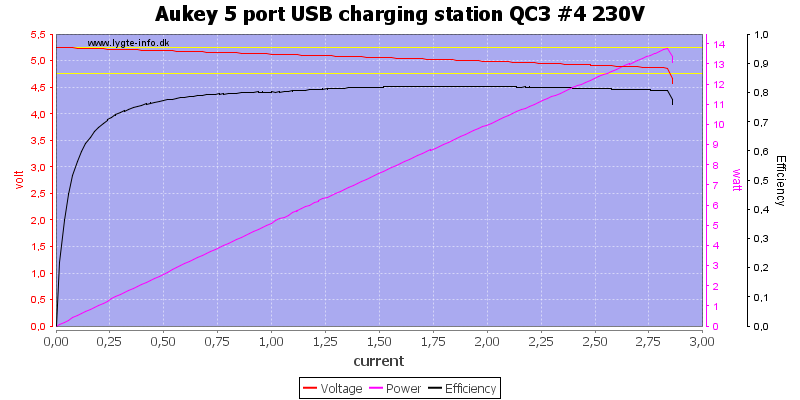 This one was 2.8A.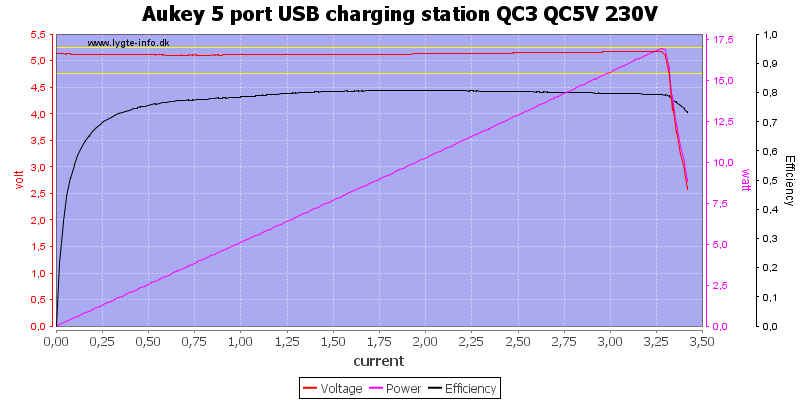 QC is slightly above 3.2A before overload protection trips.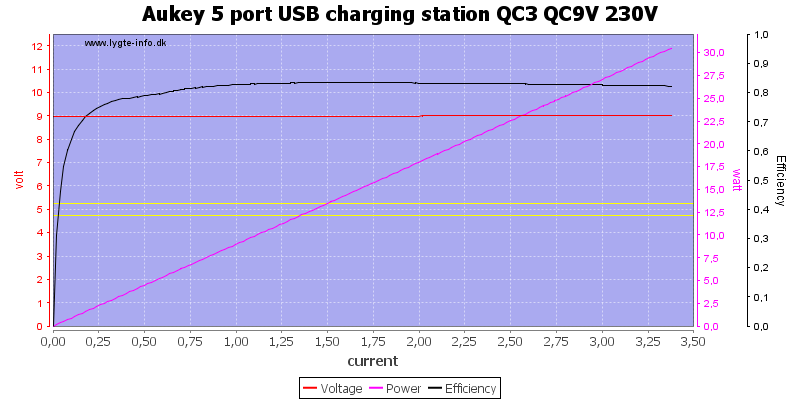 At 9V it can deliver the same current.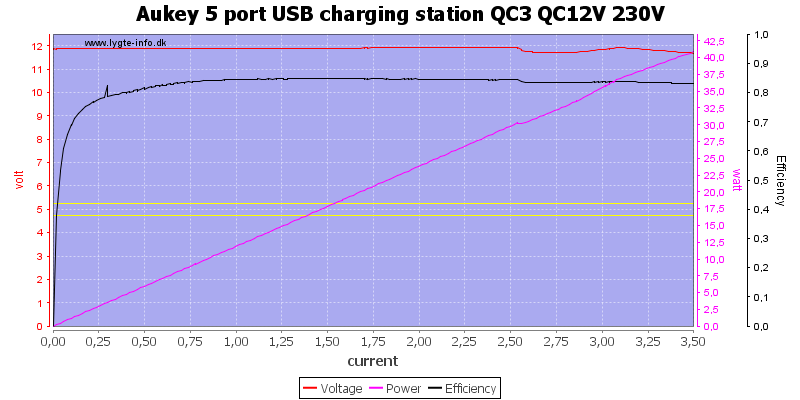 And slightly more at 12V.




In this load sweep I test with different currents on QC and normal usb output, as can be seen I got 8A on normal output and about 1.6A on QC output before the overload tripped.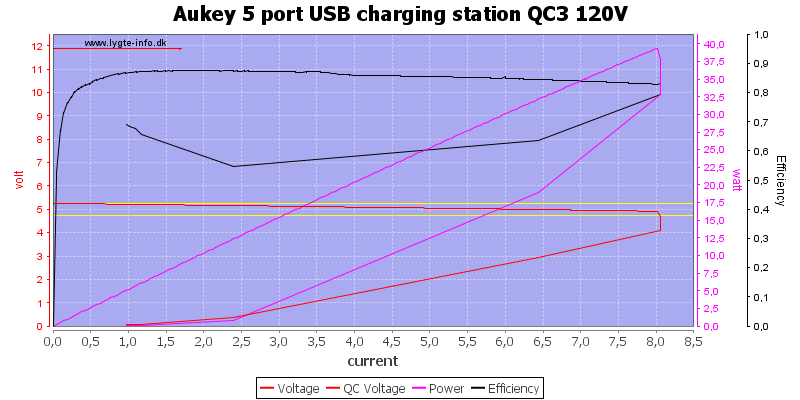 Output is the same at 120VAC.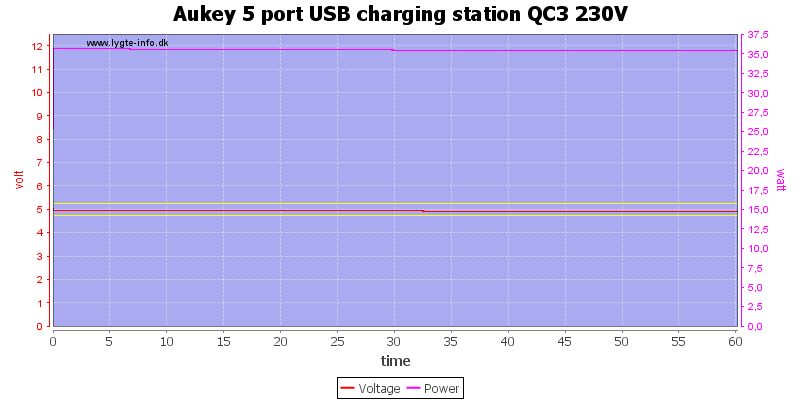 Testing for one hour with rated current: 7.2A at 5V and 1.5A at 12V.
The temperature photos below are taken between 30 minutes and 60 minutes into the one hour test.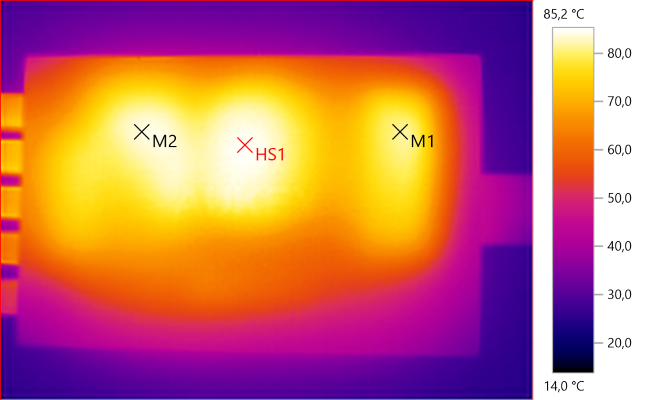 M1: 81.3°C, M2: 83.9°C, HS1: 85.2°C
HS1 is the mains switcher heatsink, M1 is the transformer and M2 is the rectifier heatsink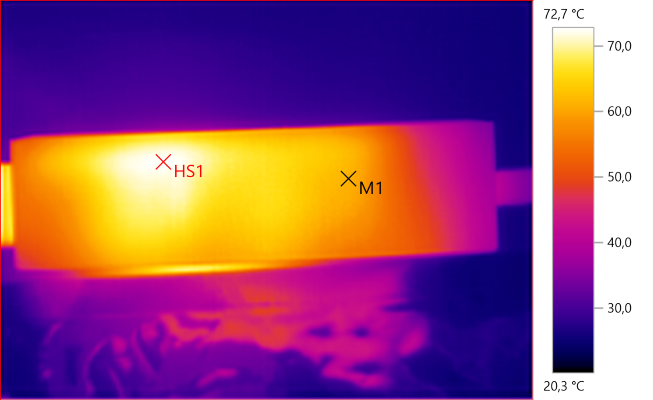 M1: 61.2°C, HS1: 72.7°C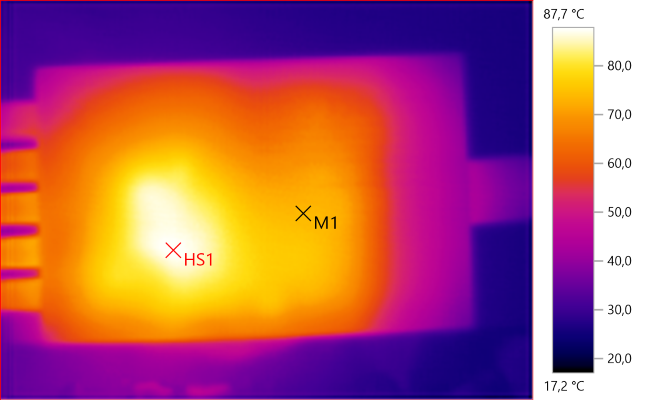 M1: 73.6°C, HS1: 87.7°C
HS1 & M1 is from the rectifier heatsink.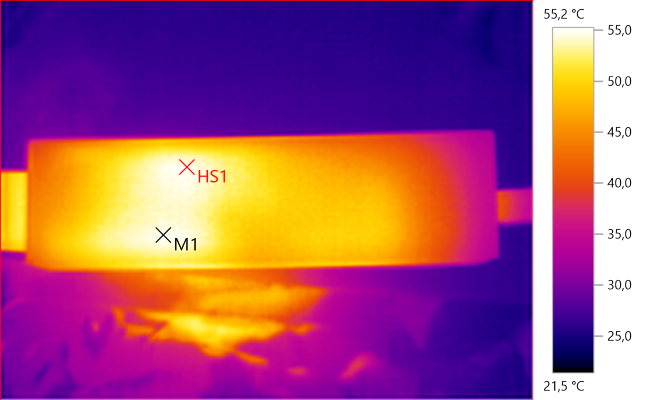 M1: 54.9°C, HS1: 55.2°C




M1: 80.7°C




At 0.5A output the noise is 11mV rms and 195mVpp.





At 1A the noise is 23mV rms and 310mVpp.





At 2.5A the noise is 14mV rms and 335mVpp.





At 5A the noise is 19mV rms and 587mVpp.





On QuickCharger at 0.5A the noise is 6mV rms and 167mVpp.





At 12V 1.2A the noise is 9mV rms and 369mVpp.





Tear down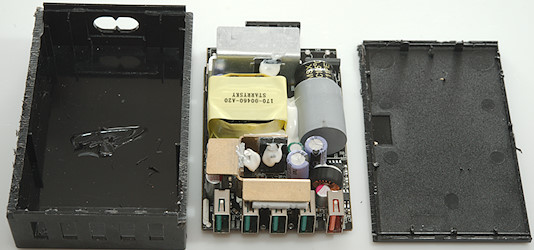 The glue worked on this one, I could not open it with my vice and had to cut.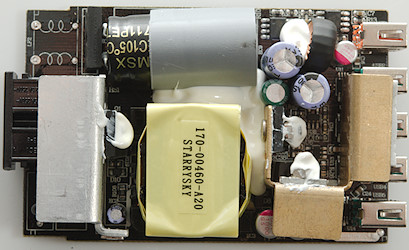 It is very obvious that the common mode coil is missing on this. There is a bridge rectifier next to the large smoothing capacitor that has a rubber boot on to get better isolation to the low volt side (Very good). On the heatsink next to the mains input is the switcher transistor (Q1).
On the low volt side there is a diode (D3) and a transistor (Q2) on the heatsink. Diode is rectifier for QuickCharge and transistor a synchronous rectifier for the other outputs with the help of a chip (U6 marked 19HGF), there is also another chip (U12 marked A63A, probably a LM321 OpAmp). The QC circuit is a switcher (marked RH8603D) and a QC controller (marked SCO163D).
Behind each of the ordinary usb ports is a auto coding and current limiting chip (U11, U12, U13, U14: CellWise CW3042).
The QC switcher has a input voltage of 13.8V
I did not see any safety capacitor, but according to the solder pads something is placed between the transformer and the large capacitor and because it is between mains a low volt side it must be a safety capacitor.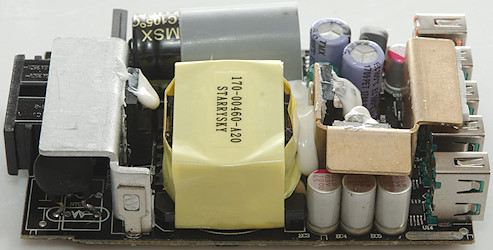 Below the mains switcher heatsink is a fuse (Not visible on the picture) and a inrush current limiter (NTC).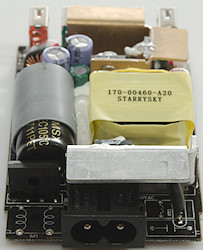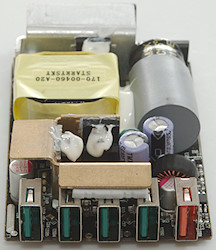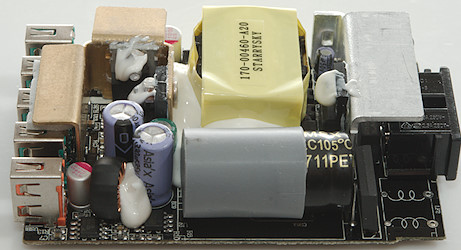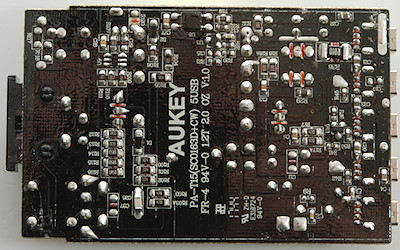 There is not many chips on this side, but the mains switcher controller is here (U9) and the opto feedback (U8) together with the reference (U3: probably a 431). The is a small chip more on the low volt side U10), there is also a low ohmic resistor (R36 0.01ohm). A guess could be that the resistor together with U10 & U12 is a overall current limit.
The current measurement for the mains switcher transistor is 5 resistors in parallel (R112..R116: 1.3 & 1.5ohm). The snubber network has 3 resistors in parallel (R100..R102: 3x300kohm).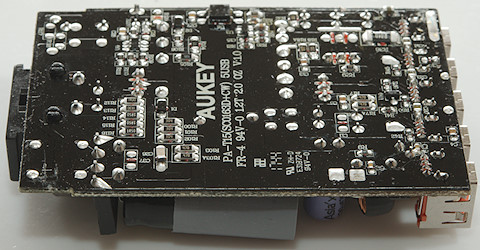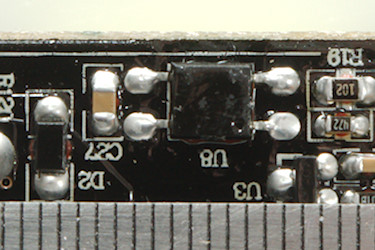 The isolation distance looks fine.


Testing with 2830 volt and 4242 volt between mains and low volt side, did not show any safety problems.





Conclusion



Five outputs each can deliver 2.4A (if all is used at the same time the limit is more like 2A for each output), one with QC3, the noise is acceptable and very low at lower load, the individual port protection makes it a bit more safe and it did not have any safety issues with the mains. It do get fairly warm at full load.

I will call it a good charger.





Notes



Index of all tested USB power supplies/chargers
Read more about how I test USB power supplies/charger
How does a usb charger work?