Aukey Dual usb Car Charger CC-S5


Official specifications:
Model Number: CC-S5
Technology: AiPower
Input: DC 12-24V 2.3A (Max)
Output: DC 5V/4.8A (Max)
Total Power: 24W
Weight: 13.1g / 0.46oz
I got it from a reader




I got this charger in a cardboard box.


Measurements
Power consumption when idle is 0.02 watt (2mA) at 12V and 0.07 watt (3mA) at 24V
Usb port is auto coding with Apple 2.4A as max.
The two ports are in parallel.
The two ports are rotated 180° to each other.
There is a red led inside the charger, it can be seen through the usb ports.
This charger is slightly too short for my test socket.
Weight: 12.3g
Length: 40.8mm
Front: Ø 25.4mm


There is no individual overload protection on the ports, I stopped the test at 4A




The second output looks similar.




The overload protection kicks in at around 6.5A, but it do not shut the output off, it tries to reconnect again multiple times.




Total current is a bit lower at 24V




The charger needs a few mA for idle current.




The normal usb output needs about 2.2A at 12V to supply 2x2.4A on usb output.




And the output will be stable down to about 6 volt input.




There was no problem running 1 hour with full load.
The temperature photos below are taken between 30 minutes and 60 minutes into the one hour test.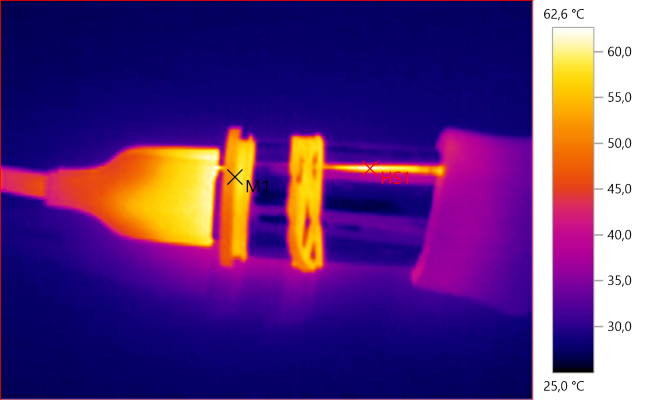 M1: 54,3°C, HS1: 62,6°C
I had to remove the cover on my test socket before this charger would fix.




HS1: 71,3°C




The noise at 0.5A is 5mV rms and 53mVpp





The noise at 1A is 26mV rms and 88mVpp




The noise at 2.5A is 4mV rms and 32mVpp.




The noise at 5A is 5mV rms and 39mVpp.





Tear down






Some pressure on the sides and the lid pops off.




With the lid off everything just about fell out.




On this side is an inductor, a diode and a fuse in the circuit board (Wiggly line)





The inductor is made with flat copper wire (I broke the ferrite around it when I opened it).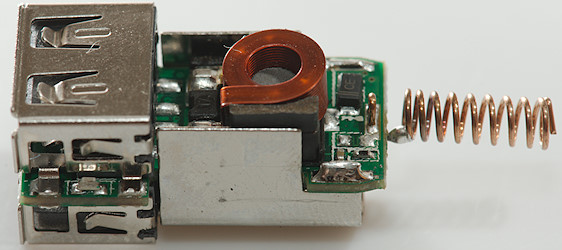 A side view of the flat copper windings.




The other side is shielded.




The shield has a heat transfer pad inside.




On this side is the switcher and no large diode, this means it must be inside the chips with a synchronous rectification.
There is also a usb coding chip.




There are four small leds red besides the usb connectors.




That flat copper inductor looks nice.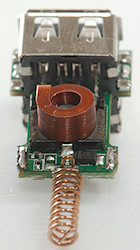 Being a 12V device there is no need to test with high voltages.





Conclusion



A very short car charger and too short for my test socket. It is good at delivering current, but is lacking individual port protection. It has auto coding and low noise.





Notes



The usb charger was supplied by a reader for a review.

Index of all tested USB power supplies/chargers
Read more about how I test USB power supplies/charger