Aukey USB Turbo charger CC-T1


Official specifications:
CC-T1
Technology: AIPower, Qualcomm Quick Charge 2.0
Number of USB ports: 1 (max 2.4A)
Number of Quick Charge Port: 1
Input: 12~24V
Normal Charging Output: 5V/2.4A
Quick Charging Output: 12V/1.5A, 9V/2A, 5V/2A
Material: Fire proofing ABS
I got it from ebay dealer direct-england




I got this charger in a fairly plain cardboard box with a white wrapper.




The box contained the charger, a usb cable and a instruction sheet.




The small hole above the green usb connectors has a blue led behind it.


Measurements
Power consumption when idle is 0.07 watt at 12V and 0.1 watt at 24V
Usb port coding is automatic selected (Up to Apple 2.5A).
QuickCharge port is coded as DCP, and will switch voltage when connected device sends a QC request.


The usb outputs works fine at both high and low battery voltage and has a overload protection at about 2.6A




On QuickCharge the overload protection kick in at 2.3A




9V looks fine and has same overload protection.




With 11.6 volt supply the 12V QC output is a bit low.




But at 14.6V it is stable 12V.




The charger needs a few mA for idle current.




The normal usb output needs a bit above 1A at 12V to supply 2.4A on usb output.




And the output will be stable down to below 7 volt input.




QuickCharge will use 1.5A from 12 volt input to deliver about 12V output at 1.5A




QuickCharge drops out of 12V mode at about 11 volt.




There was no problem running 1 hour with full load (2.4A usb and 1.5A QC12V).

The temperature photos below are taken between 30 minutes and 60 minutes into the one hour test.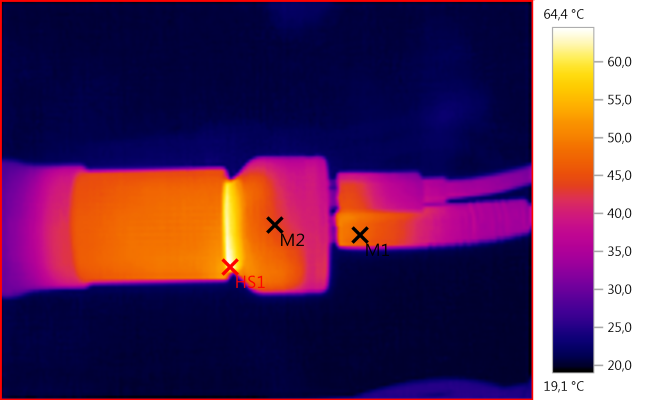 M1: 47,4°C, M2: 44,2°C, HS1: 64,4°C




M1: 46,2°C, M2: 44,9°C, HS1: 61,4°C




The noise is very low with 10mV rms and 80mVpp





A bit more load decreases the noise 8mV rms and 56mVpp




Running all outputs at full load do not give much noise: 9mV rms and 88mVpp




Mostly QC has fairly low noise, but not for all loads 5 volt 140mV rms and 441mVpp




At 9 volt: 7mV rms and 94mVpp




At 12 volt: 3mV rms and 68mVpp





Tear down






It was fairly easy to open, I just removed the lid over the usb connectors, then everything was loose.




With a QuickCharge and a normal usb port it needs two buck converters, this means two inductors.




The green part at the 12V connections is a fuse (Very nice), then there is two switchers and two rectifier diodes.
U1 is EUP3466A and U3 is EUP3453, none of them has built in support for quick charge.




The U4 chip is the auto coding chip for the normal usb port.




There is a chip hidden behind the inductor, this must be the chip handling QuickCharge coding and controlling the switcher.


Being a 12V device there is no need to test with high voltages.





Conclusion



This is a very compact universal usb car charger and it will charge nearly anything at maximum speed.
If you need one or two charge ports in your car this is a good charger.





Notes



Index of all tested USB power supplies/chargers
Read more about how I test USB power supplies/charger