Baseus Dual car charger C8-K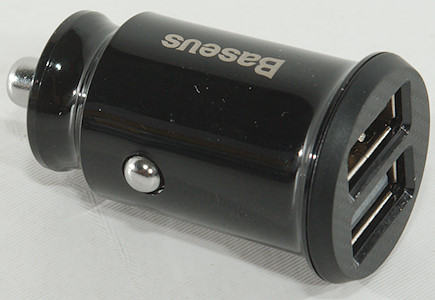 Official specifications:
Brand Name: BASEUS
Output: 5V/3A
Power Source: Car Lighter Slot
Type: Car Charger
Support Quick Charge Technology: No
USB Ports: 2
Quality Certification: CE,RoHS,FCC,CCC
Output Interface: USB
Model Number: Baseus Grain Dual USB Car Charger
Input: 12-24V/2.4A
Material: PC+ABS
Color: Black/White
Input: DC 12V-24V
USB1+USB2 Output: 5V/3.1A Max
I got it from Aliexpress dealer: BASEUS OfficialFranchised Store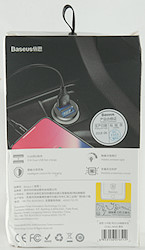 The charger arrived in a box with specifications on it.




It included the charger and a instruction sheet.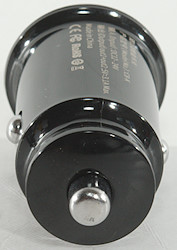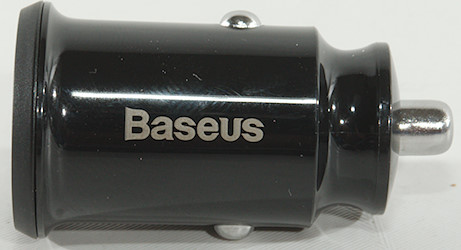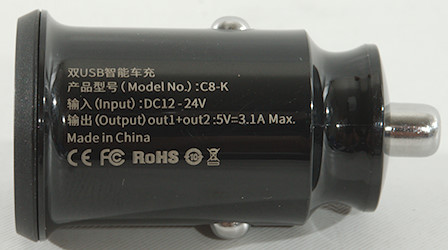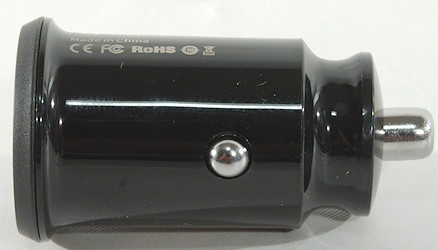 Measurements
Both usb output are auto code with Apple 2.4A, DCP and Samsung (Not all my testes could see the auto coding).
The two usb outputs are in parallel.
Power consumption when idle is 7mA from 12V and 4mA from 24V
There is a blue led behind the usb connectors.
Weight: 12.1g
Length: 44mm
Front: ø24.2mm


The first usb connector can deliver slightly above 3A




The second is the same.




When working together the total is also slight above 3A




Voltage do not change this.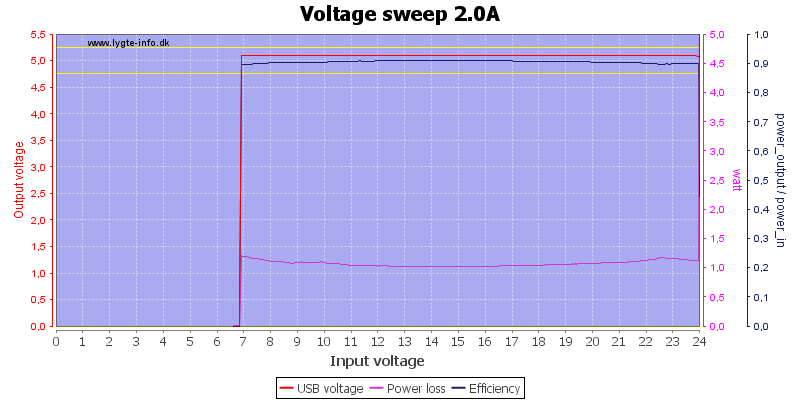 Power loss is independent of voltage and fairly low.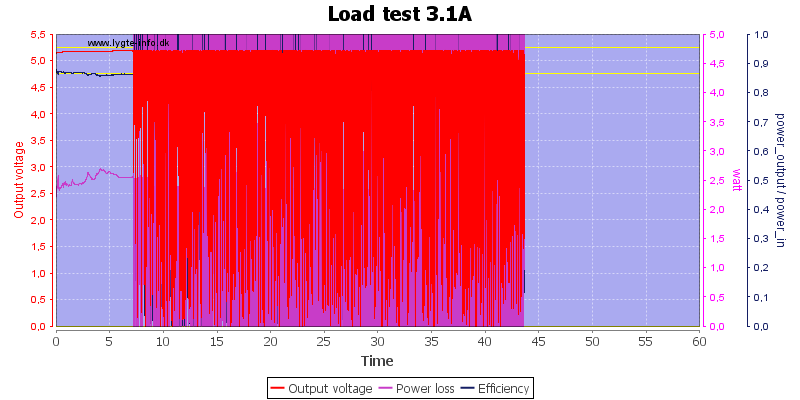 The output cannot deliver 3.1 for more than a few minutes.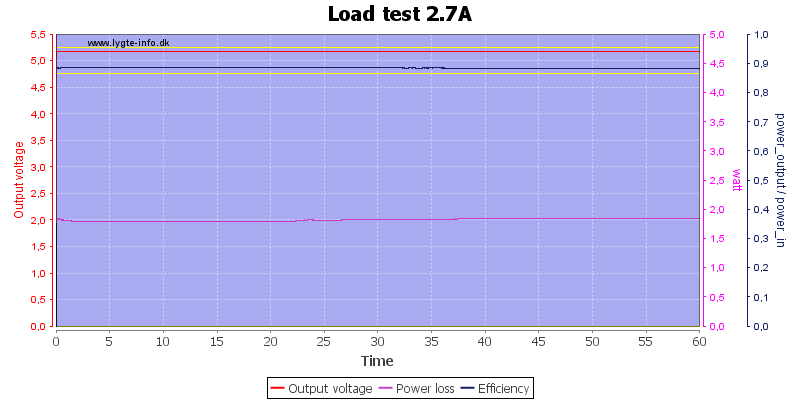 I dropped the current to 2.7A and there was no problem running for one hour.
The temperature photos below are taken between 30 minutes and 60 minutes into the one hour test.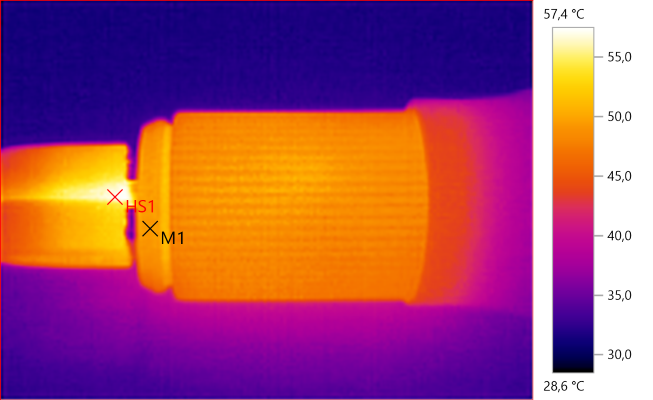 M1: 49.6°C, HS1: 57.4°C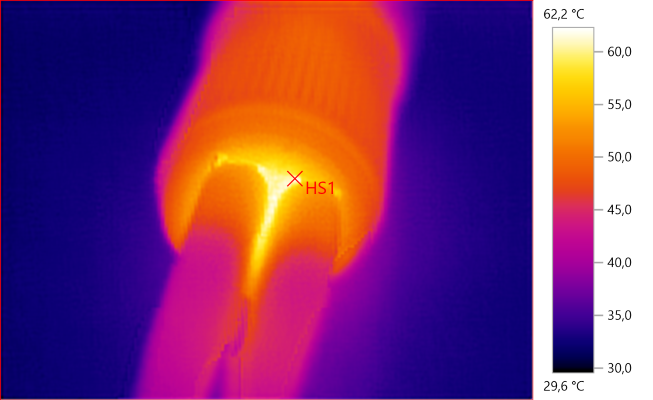 HS1: 62.2°C




At 0.5A the noise is 23mV rms and 147mVpp





At 1A the noise is 24mV rms and 140mVpp





At 2.5A the noise is 30mV rms and 152mVpp





Tear down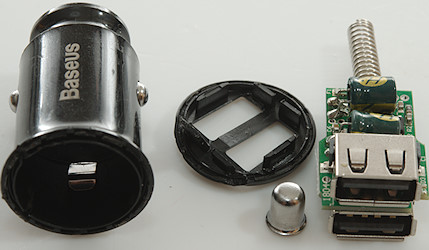 I could remove the front from this charger and then push the electronic out.




This side has a fuse (F1) at the input the switching IC and two smoothing capacitors (C4 & C5).





On this side is the inductor (L1), TVS diode (D5: 6V2) across the 5V output and the auto coding chip (U2).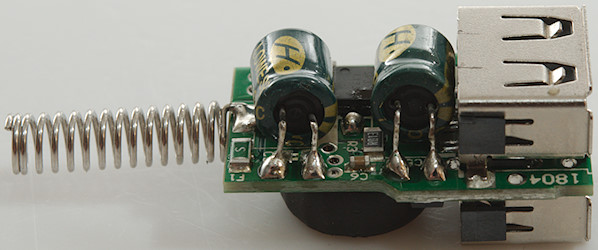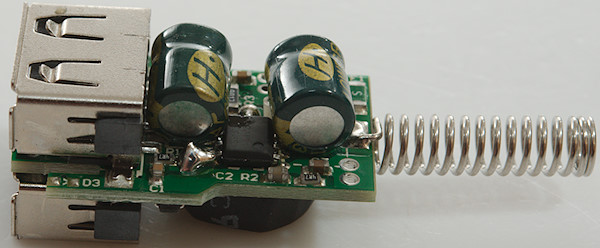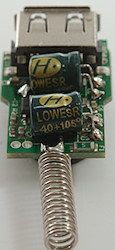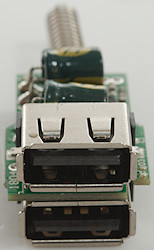 There is two leds, one on each side of the circuit board, they are not visible on the photo, because they are mounted below the usb connectors.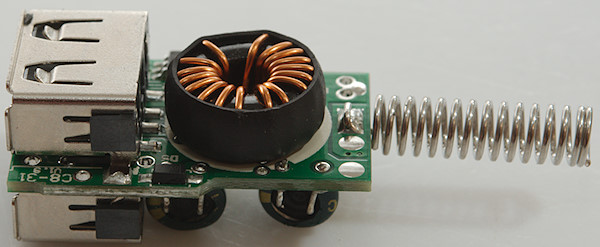 Being a 12V device there is no need to test with high voltages.





Conclusion



This is a nice little adapter with enough power to charge one high power device or two device with more moderate charge requirement. The design is fairly simple, but it has what is needed, including auto coding.





Notes



Index of all tested USB power supplies/chargers
Read more about how I test USB power supplies/charger