Blitzwolf 4 port QC2 car charger BW-C5


Official specifications:
Input: DC 12-24V (Max)
QC 2.0 Output: 5V/2A, 9V/2A, 12V/1.5A (Max)
USB Port Output: 3*5V/2.4A
Power: 54W
Size: 86.7mm*45mm*21mm(3.41*1.77*0.83in)
Brand: BlitzWolf®
I got it from Banggood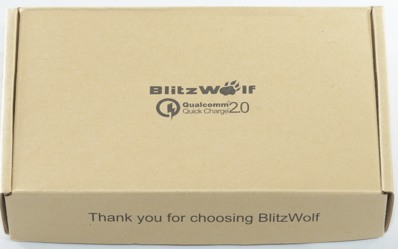 Blitzwolf uses a brown cardboard box without much text on the outside.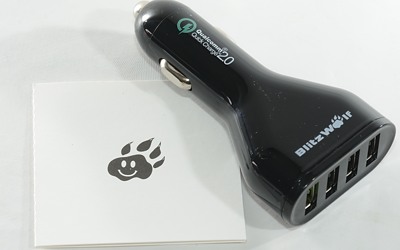 The box contained the charger and a note.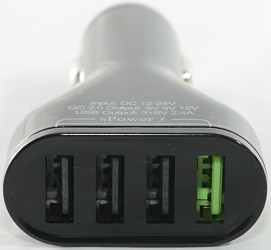 The QC output is the green usb connector.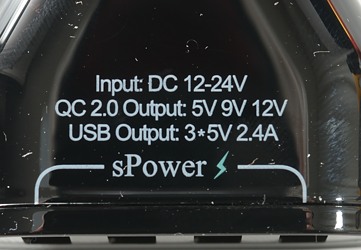 Measurements
Power consumption when idle is 0.06 watt at 12V and 0.12 watt at 24V
The usb 3 outputs are in parallel.
The 3 usb outputs are auto coding with Apple 2.5A as maximum.
The QC output is also auto coding in addition to QC
No individual port overload protection.
The QC output is turned off shortly when dropping down to 5 volt.
There is a blue led hidden between the middle two usb ports.


There is not much difference with varying input voltage, except 24V has lower efficiency. There is no individual port protection.




Running all 3 outputs in parallel there is a common overload protection at 8.5A, the lower efficiency for 24V disappears at higher load.




The QC output has protection, but at a fairly high level for a single port.




The QC 12V output is supposed to deliver 1.5A, it can easily do that and a lot more. At around 2.75A it drops out of 12V quick charge.




With 7A output it needs about 1.5A at 24V and 3A at 12V.




Output voltage is very stable with changing input voltage.




Idle current is about 6mA.




M1: 66,1°C, M2: 66,1°C, M3: 52,6°C, HS1: 67,4°C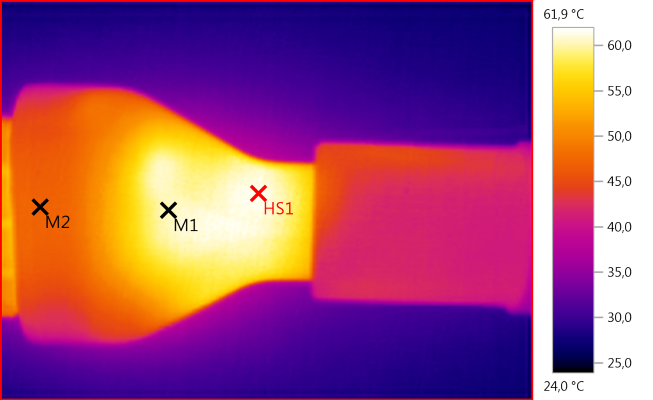 M1: 60,4°C, M2: 47,1°C, HS1: 61,9°C




At 0.5A with 12V input the noise is 5mV rms and 140mVpp.





At 1A with 12V input the noise is 5mV rms and 130mVpp.





At 2.5A with 12V input the noise is 4mV rms and 104mVpp.




At 7A with 12V input the noise is 5mV rms and 94mVpp.





At 2.5A quick charge with 12V input the noise is 5mV rms and 117mVpp.




At 1A with 12V input the noise is 7mV rms and 79mVpp.





Tear down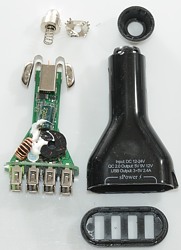 The top and bottom could be removed, the circuit board had a little bit of glue I had to break before I could remove it.




As expected there is two inductors: One for the 3 normal usb output and one for the quick charge output. The chip partial hidden under the metal is the QC2 controller (F75299).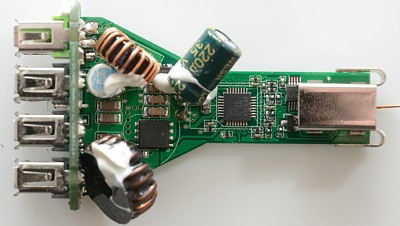 There is hidden a dual buck controller (TPS51220) under the capacitor and a transistor under the inductor.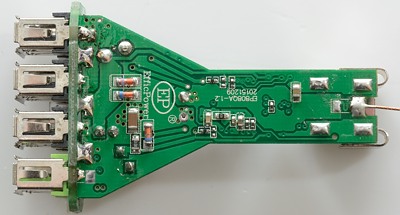 There is not much interesting stuff on this side of the circuit board. A 0.01 ohm resistor (R010), this must be current sense.
Notice the circuit board trace where the wire is connected, the squiggle is supposed to be a fuse.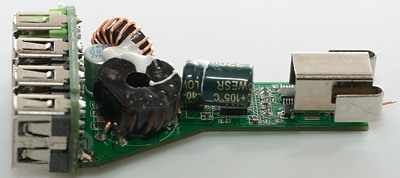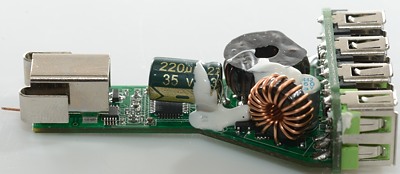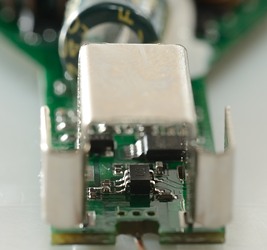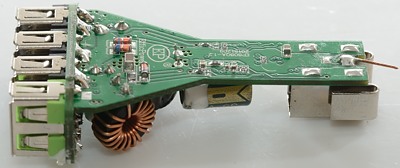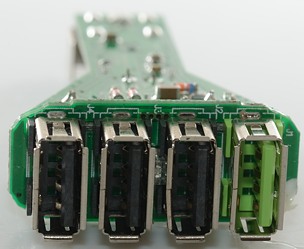 Notice the led between the usb connectors.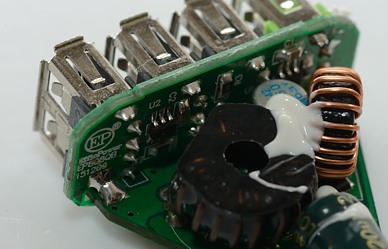 U2 is one of the auto coding chips.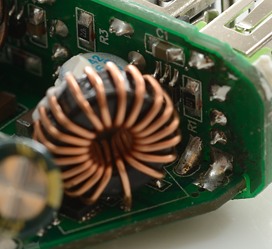 Here a corner of the other auto coding chip can be seen.

Being a 12/24V device there is no need to test with high voltages.





Conclusion



This is a car charger with four high power usb ports that will charger just about any usb device as fast as possible. With one port supporting QuickCharge it can charge some pads and phones extra fast. The only negative detail is that all ports are in parallel without any individual protection.

I will call it a good charger (If each output had been limited to about 3A I would have called it very good).





Notes



The usb charger was supplied by Banggood for a review.

Read more about how I test USB power supplies/charger