Car charger 5V-3.1A Dual USB


Official specifications:
Material: Aluminum alloy+PC The only aluminium is the red ring
Input Voltage: DC12V-24V
Output Voltage: 5V
Output Power: 120W Maybe a zero to much
Output Current: 3100mA
Work Temperature: 0~40°C
Size: 33*59mm
I got it from ebay dealer: original-cafele-3c




It arrived in a plastic bag inside a envelope, no instruction sheet included.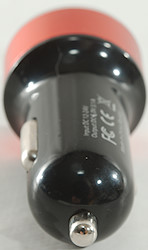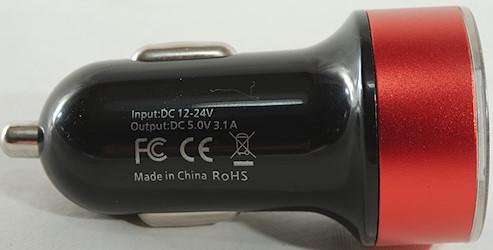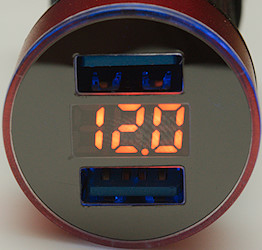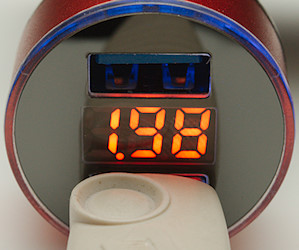 Measurements
Power consumption when idle is 15mA from 12V and 12mA from 24V
USB outputs are both coded as USB charger (DCP)
USB outputs are in parallel.
Display shows input voltage when unloaded and current when loaded, it will shortly show 5.0 or 5.1 when applying a load.
Voltage display will flash when voltage is outside 11.0V - 14.9V and 22.0V - 29.9V
There is blue light inside the charger, this means a blue ring and light inside the USB connectors.
Weight: 21.1g
Length: 60mm
Diameter: 30.4mm


The voltage display is precise, the current it not perfect at low current, but gets better at higher currents.




The charger can deliver about 4.3A on output #1




And the same on output #2




When used together it is also the same.




Input voltage do not affect output current.




It works down to about 7V




Efficiency is fairly stable on the actual working ranges.




Current consumption goes down when the display flashes.




It worked fine with 3.1A for one hour.
The temperature photos below are taken between 30 minutes and 60 minutes into the one hour test.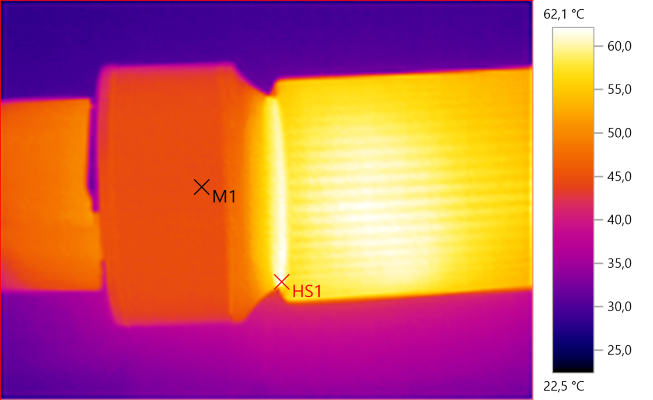 M1: 44.9°C, HS1: 62.1°C
It gets fairly warm at full current.




M1: 53.8°C, M2: 48.1°C, HS1: 58.9°C




Noise at 0.5A output is 15mV rms and 104mVpp




Noise at 1A output is 21mV rms and 204mVpp





Noise at 2.5A output is 22mV rms and 221mVpp, all nice low values.





Tear down






It was easy to tear down, I could remove the front with my fingers.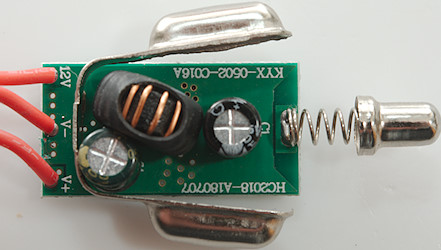 On this side is two capacitors and a inductor. The front panel has both 5V and 12V connection due to the voltmeter.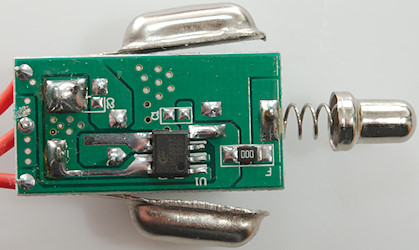 The is one buck switch (U1: HC2017) that is designed for car USB power supplies. This means the chip has build-in USB auto coding, but it is not used here. The charger uses a zero ohm resistor as fuse.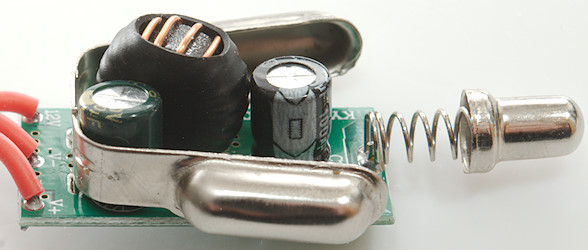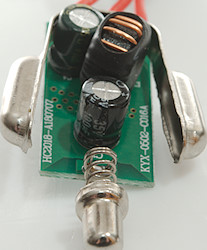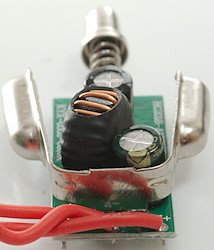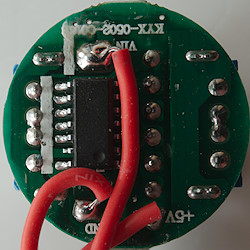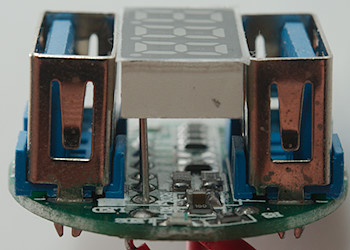 The front circuit board has the two USB connectors, a display and a unmarked voltmeter chip.
There is also four small blue leds around the perimeter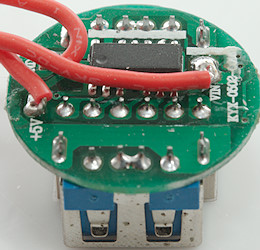 Being a 12V device there is no need to test with high voltages.





Conclusion



This is a cheap and simple charger and can deliver too much current on a single USB connector, but for the price is it a fairly good car charger, the volt and current meter is a nice addition.





Notes



Read more about how I test USB power supplies/charger
Compare car chargers and other DC supplied chargers