Dual USB Wall charger Keke-F5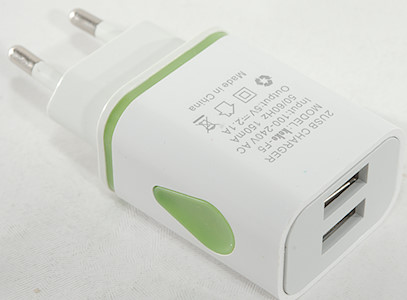 Official specifications:
Input: 120-240V AC
Output: 5V 2.1A
I got it from ebay dealer ddarlingshop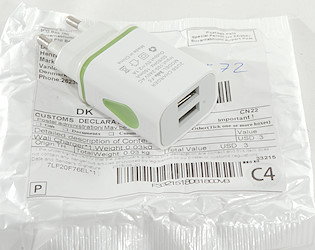 It was packed in a plastic bag inside the usual envelope.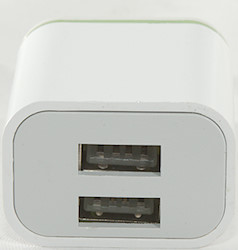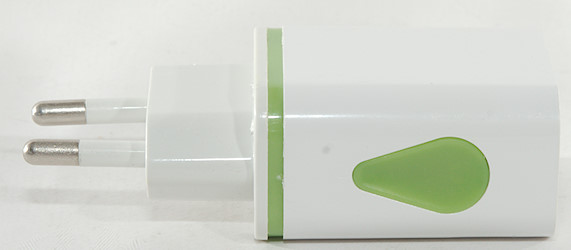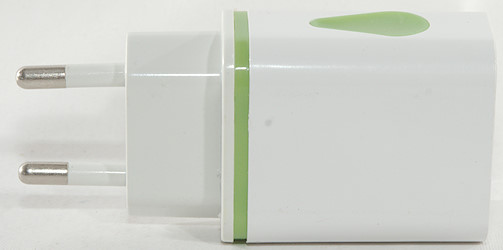 Behind the two green teardrops (one on each side) is a led.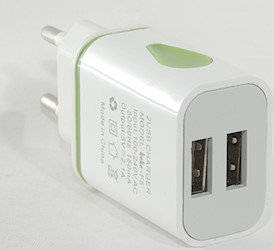 Measurements
Power consumption when idle is 0.15 watt
One USB output code with Samsung.
The other usb output is usb charger (DCP).
The two outputs are in parallel.
Weight: 27.4g
Size: 78 x 36.7 x 24.7mm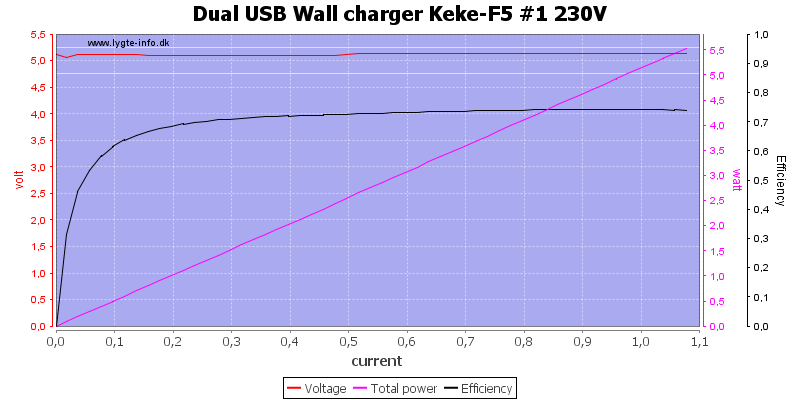 The charger can deliver 1A, not the rated 2.1A




It is the same on the other port.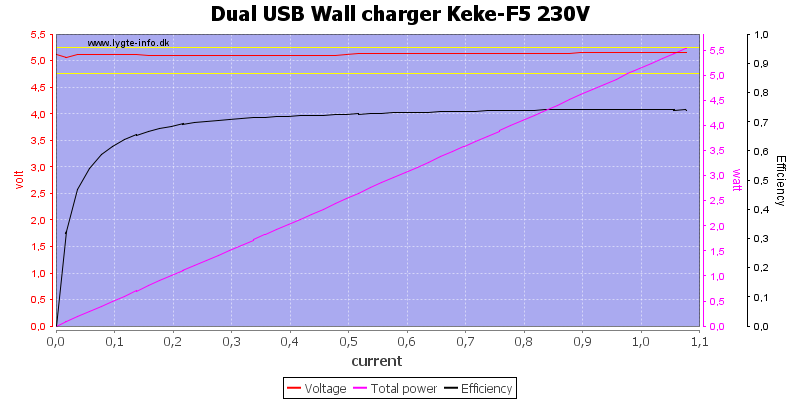 And when using the ports in parallel.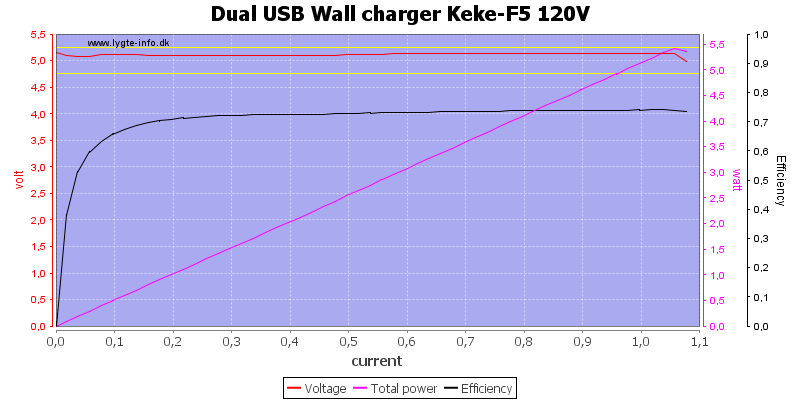 Using 120VAC gives the same result.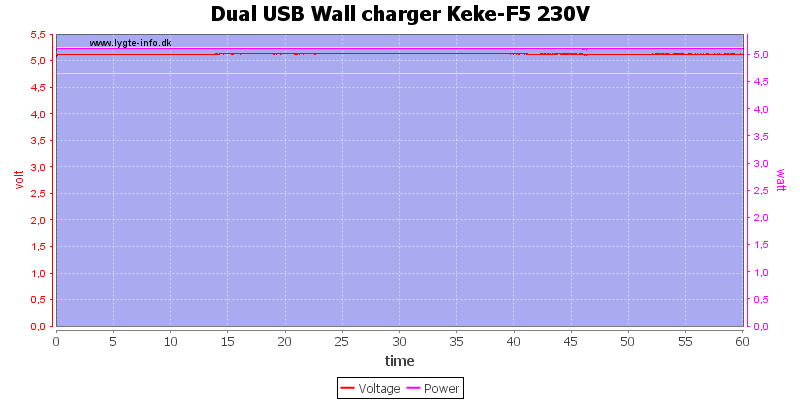 Running 1 hour at 1A worked fine.
The temperature photos below are taken between 30 minutes and 60 minutes into the one hour test.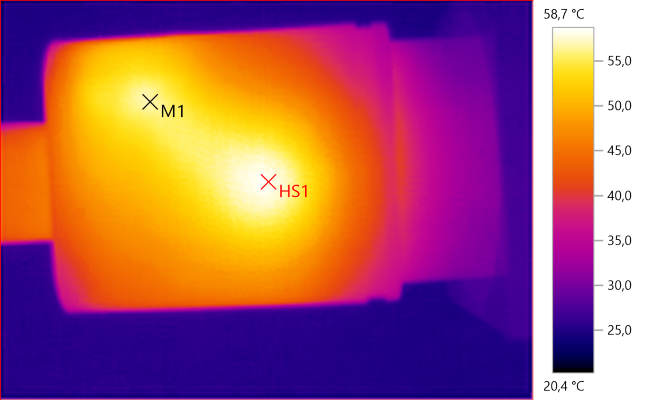 M1: 56.8°C, HS1: 58.7°C
HS1 is the transformer and M1 is the rectifier diode.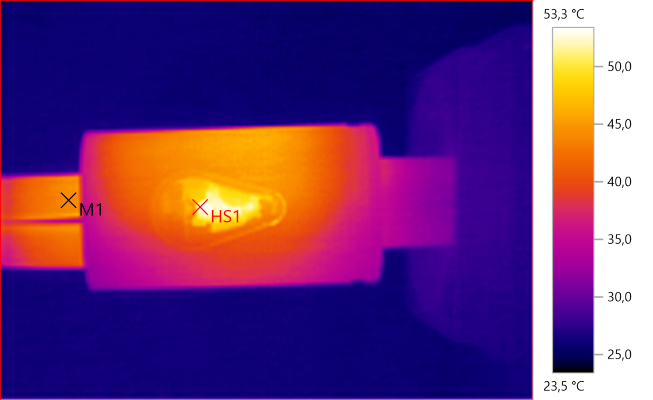 M1: 44.1°C, HS1: 53.3°C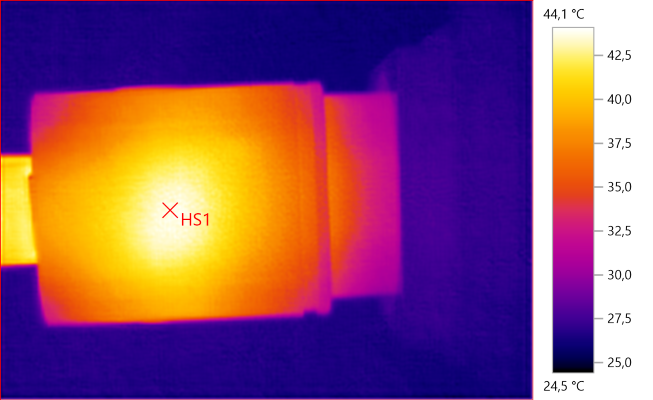 HS1: 44.1°C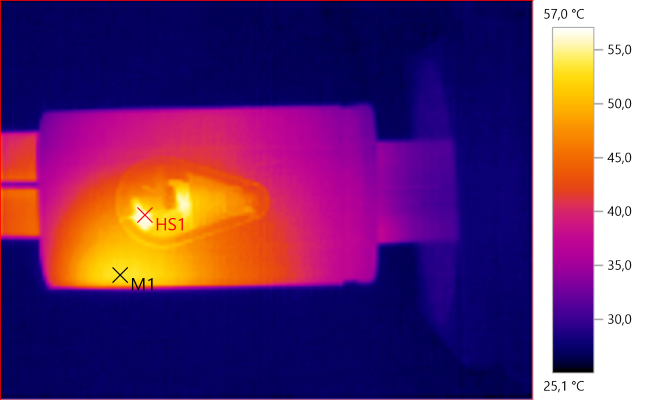 M1: 53.3°C, HS1: 57.0°C




At 0.5A the noise is 97mV rms and 688mVpp.




At 1A the noise is 114mV rms and 635mVpp.





Tear down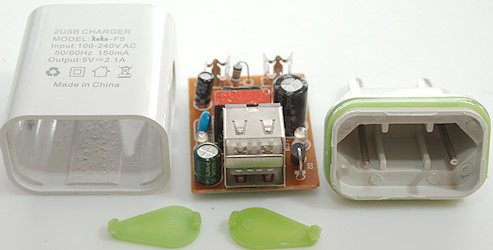 Placing the charger in my vice and whacking one with my mallet did open it.
The green teardrops was not glued and if they fall out the charger is very dangerous to touch.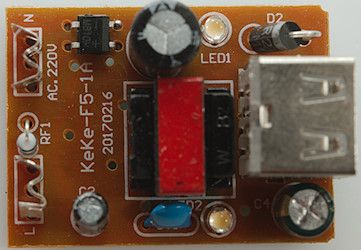 On this side is the input fuse (RF1: Fusible resistor), a bridge rectifier, the two leds and a large rectifier diode.
The "blue safety capacitor" is not a safety capacitor, but just a 1000V capacitor.
It is interesting to see the circuit board is marked 1A, this matches the output of the charger, but not the external marking.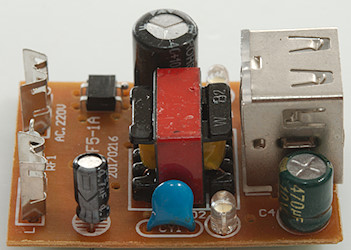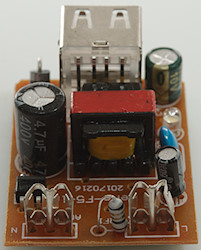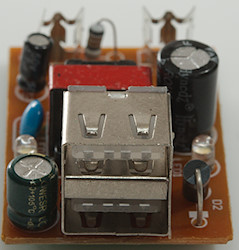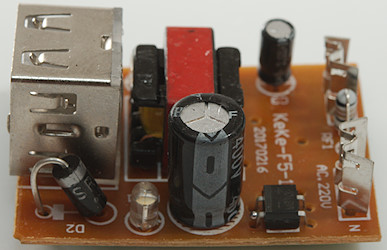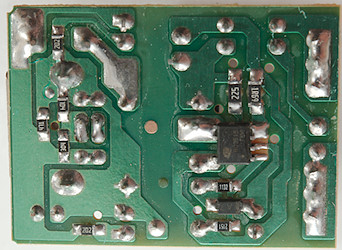 On this side it the mains switcher.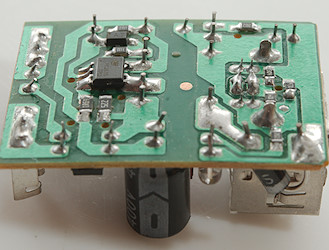 Creepage distance is about 2mm, this is way to short.


Testing with 2830 volt and 4242 volt failed the 4242V test, this means it is unsafe in 230V countries.





Conclusion



The charger is a 1A charger with a lot of noise.
Too short distance between mains and usb, together with a unsafe capacitor, this rather bad safety.

Stay away from this charger.




Notes



Index of all tested USB power supplies/chargers
Read more about how I test USB power supplies/charger
How does a usb charger work?