Eachine PA40W 5 channel usb power supply/charger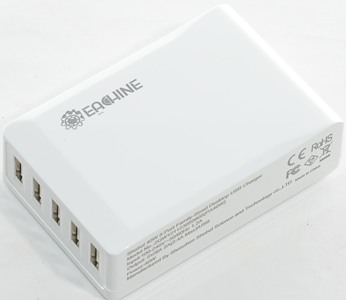 Official specifications
Input: AC 100-240V
Port Output: 5V/2.1A(2.4A Max)
Total Output: 5V/8A
Size: 91*58*26mm / 3.6*2.3*1.0in
Net Weight: 300g
This can be found on Amazon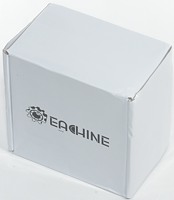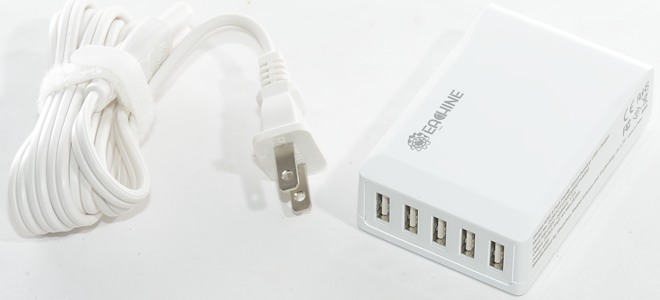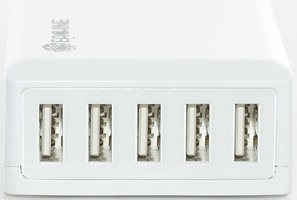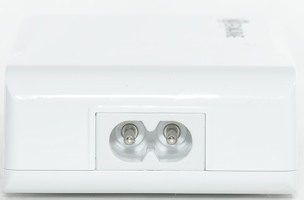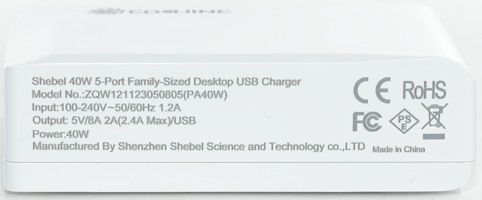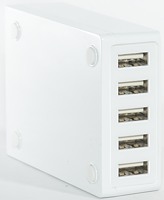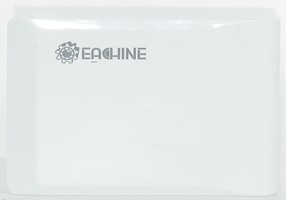 A box with mains in on one side and 5 usb output on the other side.





Measurements



All outputs are in parallel, but with fuses on each output.
Idle power 0.17 watt at 230VAC
Idle power 0.1 watt at 120VAC
All USB outputs is coded for Apple 2.1A, but uses a chip to automatic switch coding.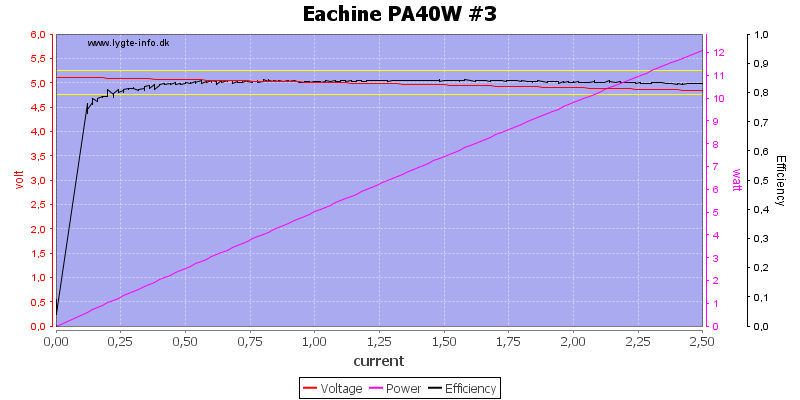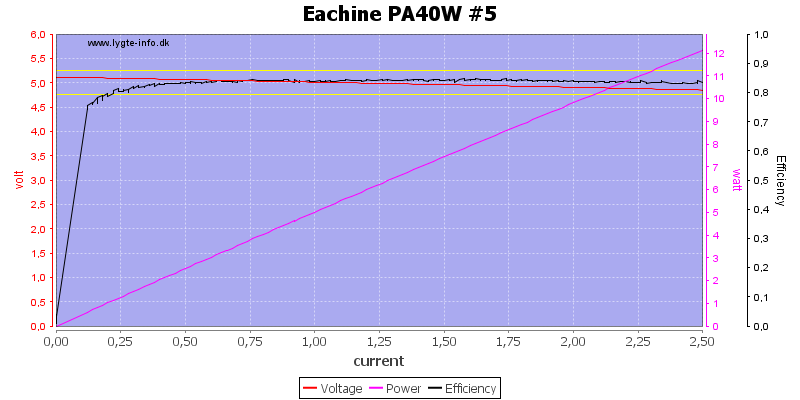 Output voltage is stable and the efficiency is around 80%, all the usb outputs looks the same.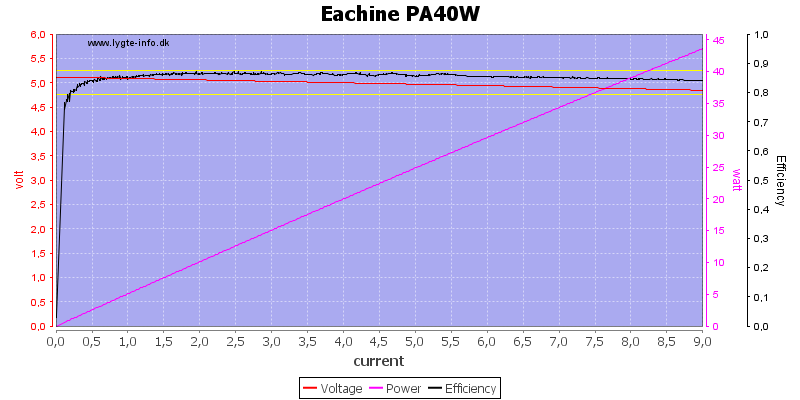 Running all outputs in parallel I can test the full current of the power supply, without to much loss in the cables.
It looks very nice, except for no overload protection. There might be one at a higher current, but if not, I would have destroyed it with the test.
In the tear down it can be seen that there is a small fuse for each output, but it does obvious not trigger at the currents I used for testing.




120VAC does also works fine.




One hour with 8A load is not a problem.
The temperature photos below are taken between 30 minutes and 60 minutes into the 1 hour test.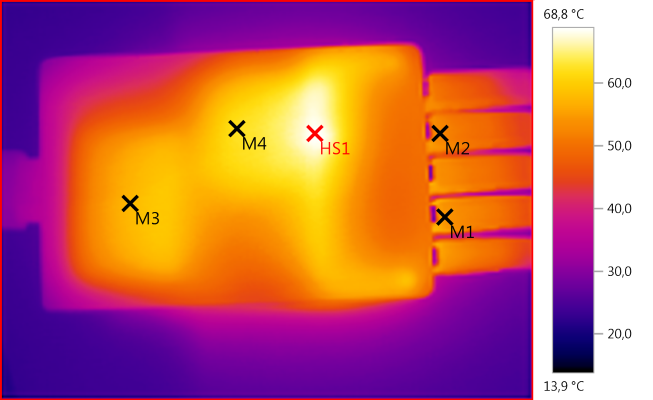 M1: 54,3°C, M2: 52,5°C, M3: 57,6°C, M4: 62,2°C, HS1: 68,8°C
When comparing this with the tear down it is easy to see that the hottest part is the output rectifiers that is mounted on a heatsink.
The two other warm parts are the trafo and the input heat sink with the main switcher transistor.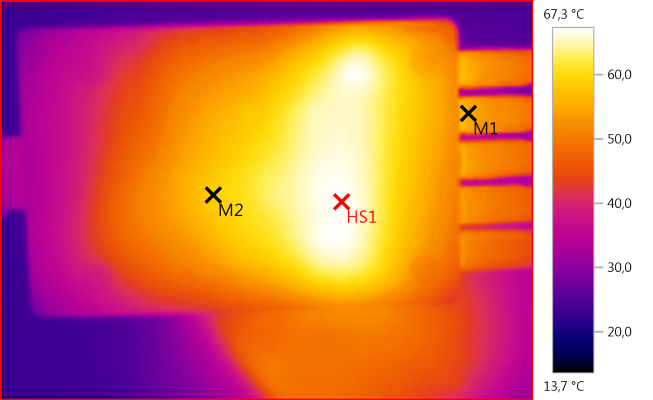 M1: 55,5°C, M2: 58,7°C, HS1: 67,3°C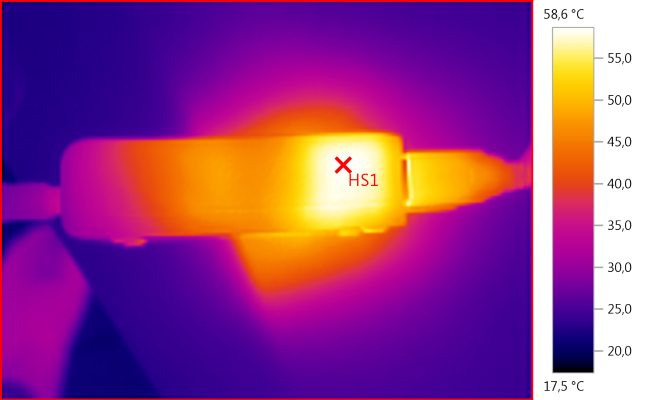 HS1: 58,6°C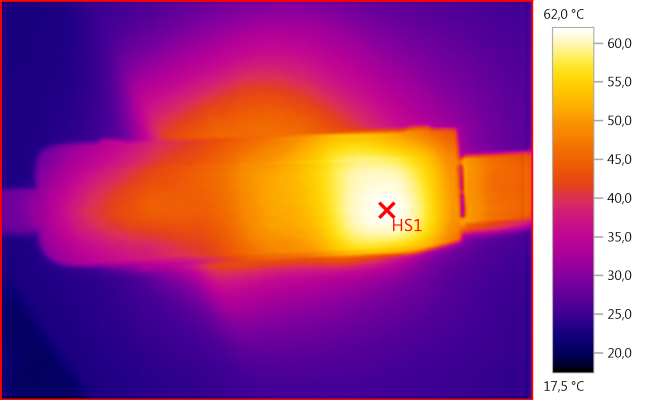 HS1: 62,0°C





There is not much noise, 15mV rms and 106mVpp. at 0.5A.





At full power (8A) the noise will only increase a little 16mV rms and 164mVpp.





Tear down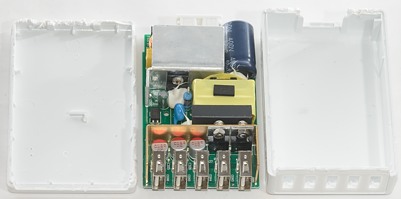 There was no easy way to open the box, I had to break it open and it was a bit difficult (This is good).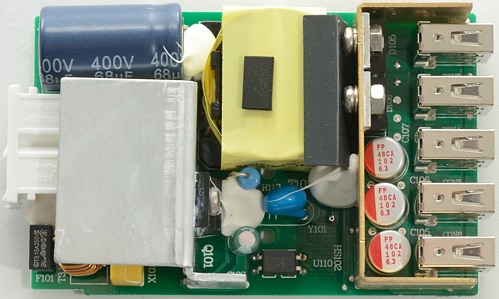 It looks well designed with fuse and filter on the mains input, a 105°C capacitor and heatsinks.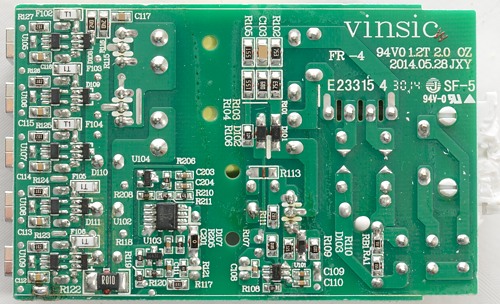 There is some interesting details on the circuit board:
Each usb output has a small chip, probably to automatic select the best coding of the port.
The white part marked T1 is a fuse.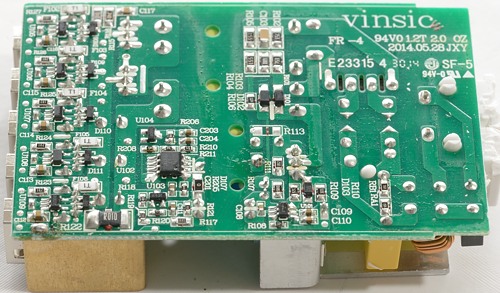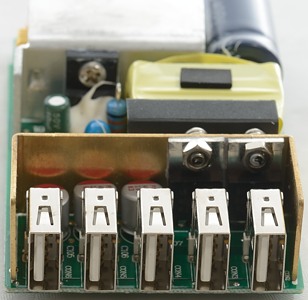 Notice the black paper between the trafo and the heat sink, it is used to improve isolation.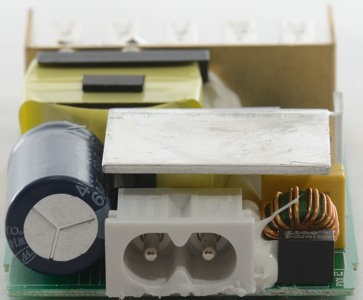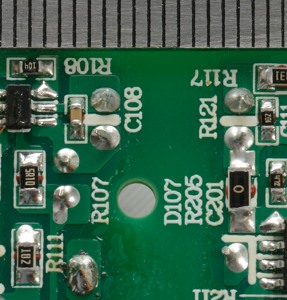 The isolation distance is good in this power supply.

Testing the mains input with 2500 volt and 5000 volt between mains and low volt side, did not show any safety problems.





Conclusion



This power supply/charger looks very good, it has lots of power, good isolation between mains and low volt side, stable output voltage with low noise and can charge just about anything.





Notes



The power supply was supplied by Eachine for review.

Index of all tested USB power supplies/chargers
Read more about how I test USB power supplies/charger