Enerpower Flypower USB 2A (PS10A050K2000EU)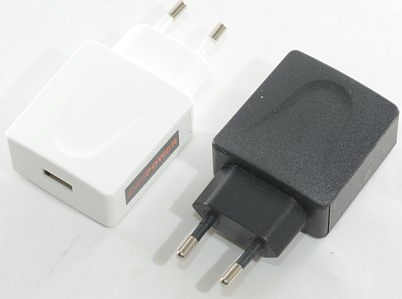 Official specifications:
Color: White or Black
Material: Plastic
Current Output: 2 A
Input Type: AC 110-240V
Output Type: DC 5V
Plug Type: Euro
I got this charger from Enerpower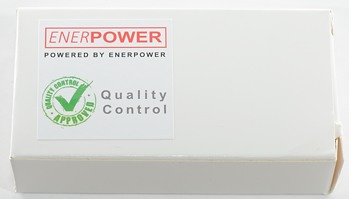 I got this charger in a simple cardboard box.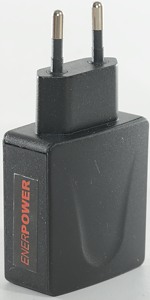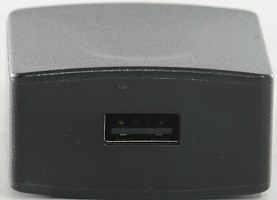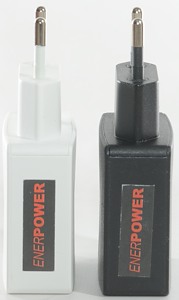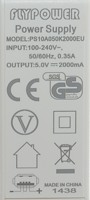 Measurements
Standby power: 0.17 watt
Output is coded as usb charger (DCP)


I run a load sweep on both chargers and they are mostly identical. The charger can deliver 2.1A and overload protection will trip if the current is much higher.




Running them for one hour was no problem.
The temperature photos below are taken between 30 minutes and 60 minutes into the one hour test.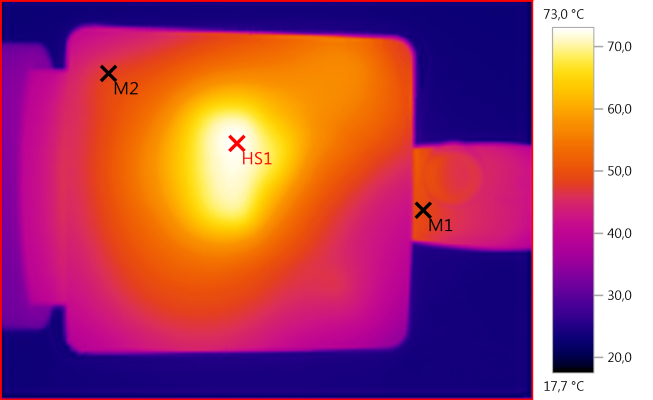 M1: 49,0°C, M2: 47,7°C, HS1: 73,0°C
White charger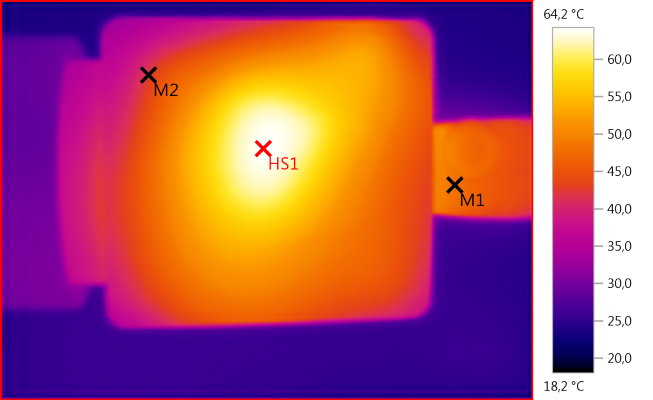 M1: 48,3°C, M2: 42,2°C, HS1: 64,2°C
Black charger. I expected the black charger to radiate heat slightly better and be coolor, this is also the case on this picture, but not on the next.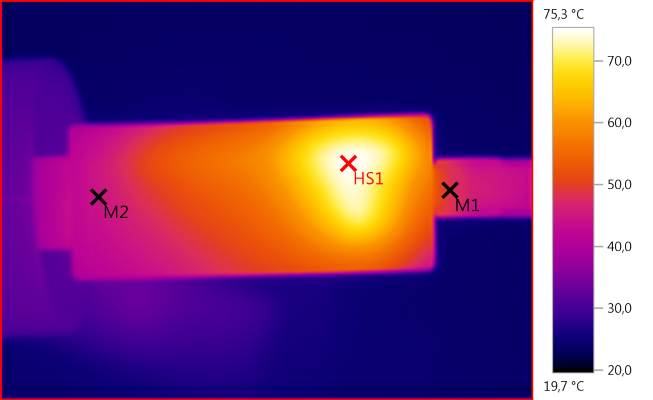 M1: 48,6°C, M2: 44,5°C, HS1: 75,3°C
White charger. HS1 must be the two output diodes.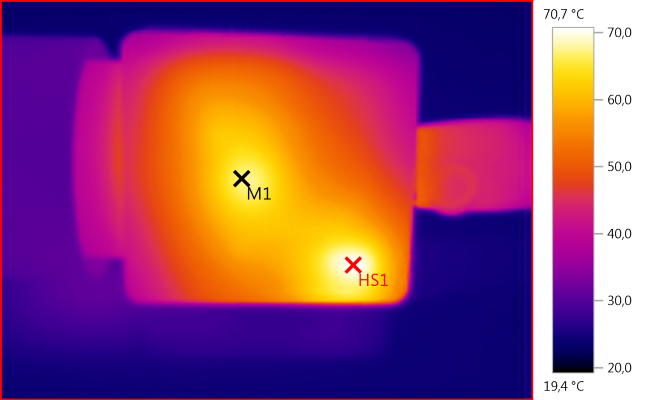 M1: 67,0°C, HS1: 70,7°C
White charger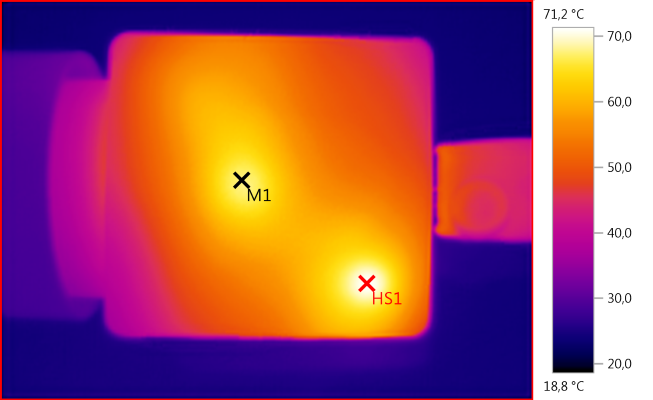 M1: 67,6°C, HS1: 71,2°C
Black charger. Here the black charger has the same temperature as the white.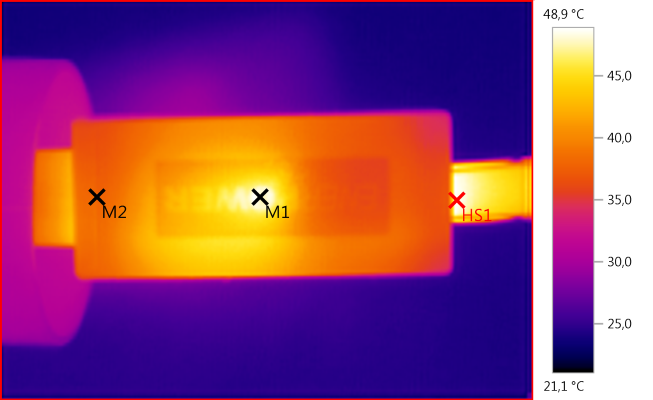 M1: 47,9°C, M2: 37,9°C, HS1: 48,9°C
White charger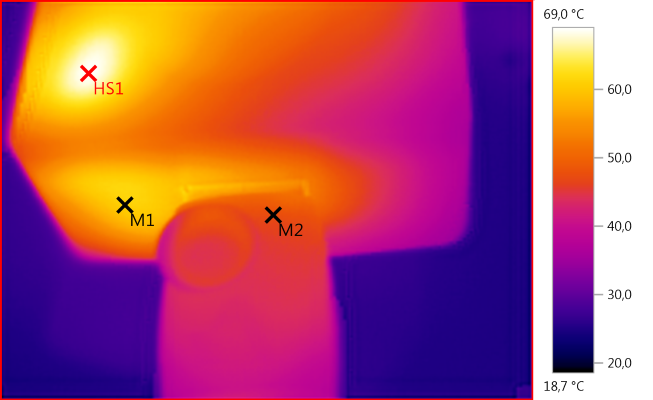 M1: 61,0°C, M2: 47,5°C, HS1: 69,0°C
White charger





The noise is fairly low at 2A with 11mV rms and 140mVpp.





With lower load the noise decreases slightly: 9mV rms and 140mVpp





Tear down







With the cheap Chinese charges I can usual pop them open with a bit of pressure, this did not work here, I had to cut it open.
This is very good, then there is no risk it will pop open by accident.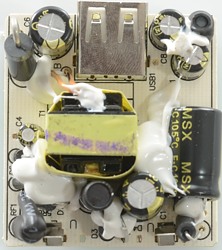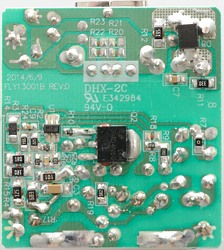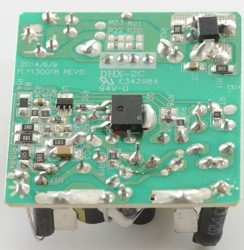 The circuit contains fuse, inductors, bridge rectifier with 4 separate diodes, a controller ic.
It is interesting that it uses two diodes in parallel for the output rectification, one on each side of the circuit board.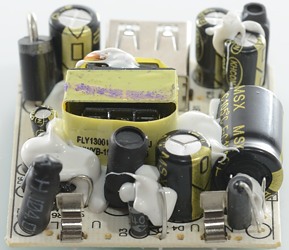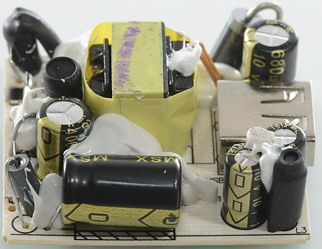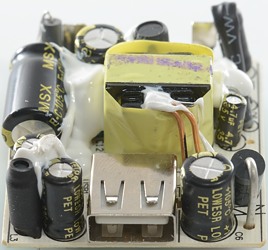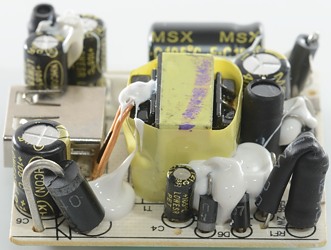 All the white stuff on the circuit board might look like a mess, but is part of the safety. If you drop this charger on a hard floor the parts will probably stay where they are due to the white stuff.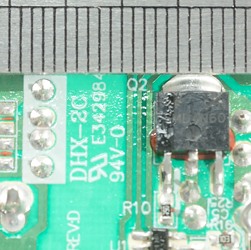 Very good safety distance, exactly as CE says (very good).



Testing with 2500 volt and 5000 volt between mains and low volt side, did not show any safety problems.





Conclusion



This charger works as it is supposed to do delivering up to 2.1A and low noise.

A good charger, but boring design (IMHO).





Notes



The charger was supplied by Enerpower for review

Index of all tested USB power supplies/chargers
Read more about how I test USB power supplies/charger