Fonken 5 port USB charger QC3 SU01Q3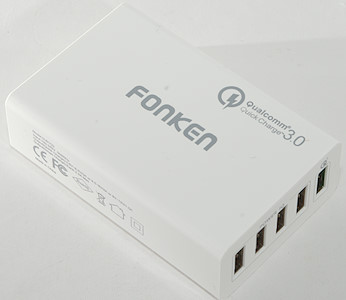 Official specifications:
Type: Phone charger
Brand: FONKEN
Material: Aluminum and ABS Plastic
Item color: Black/White
Standard: Quick Charge 3.0
Input: AC 100~240V 50/60Hz
Output: 1~4Port:DC 5V/2.4A, 6.4A total Max.
5Port: DC 5V/2.4A 9V/1.2A 12V 1.5A
Quality Certification: CE/FCC/ROHS
Size: 91*58*26mm
Net Weight: 142g

It is from Aliexpress dealer: FONKEN Store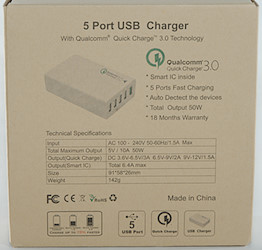 I got it in a card board box.





The box contained the charger and a mains cable, no manual or instruction sheet.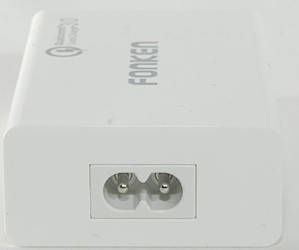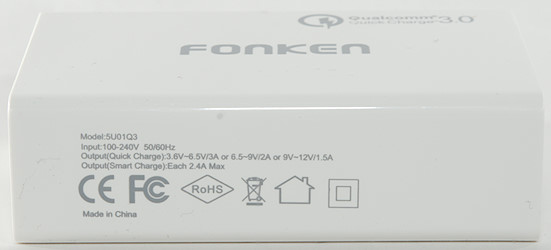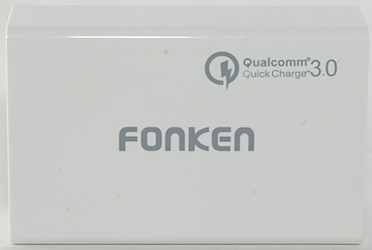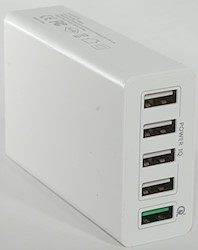 Measurements
QC output is Auto coding with DCP, Samsung, Apple 2.4A, Huawei-FCP, Samsung-AFC in addition to QC3
Other usb outputs are Auto coding with DCP, Samsung, Apple 2.4A
Power consumption when idle is 0.25 watt
All normal usb outputs are in parallel.
All usb output shares minus.
Minimum QC3 output is 3.8V
Weight: 144g without accessories.
Size: 90.4 x 58 x 27.1mm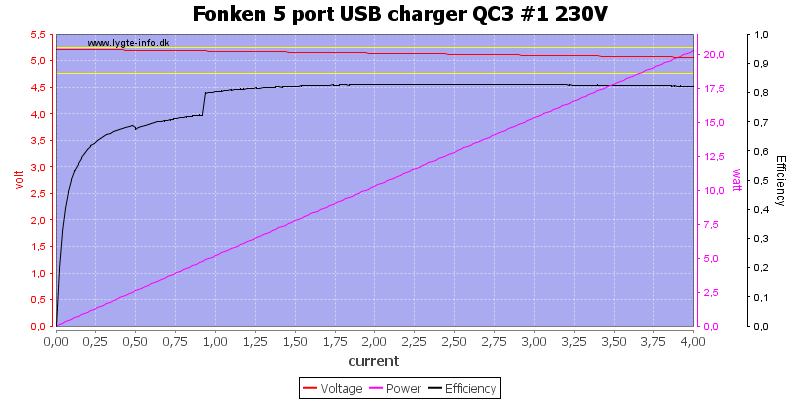 This usb port can deliver more than 4A




Same with this port.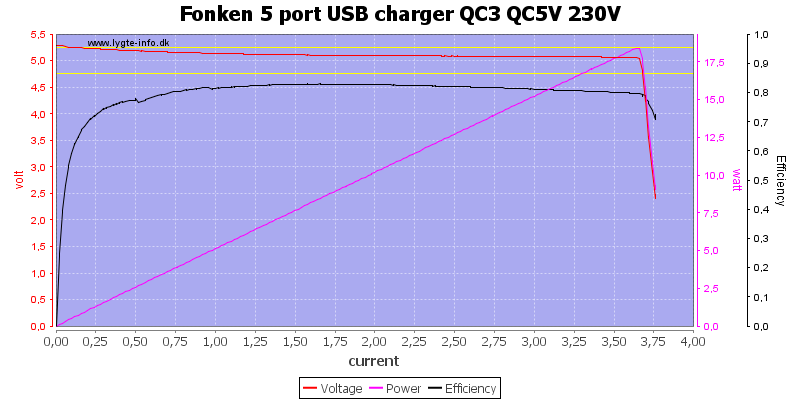 The QC port is limited to about 3.6A at 5V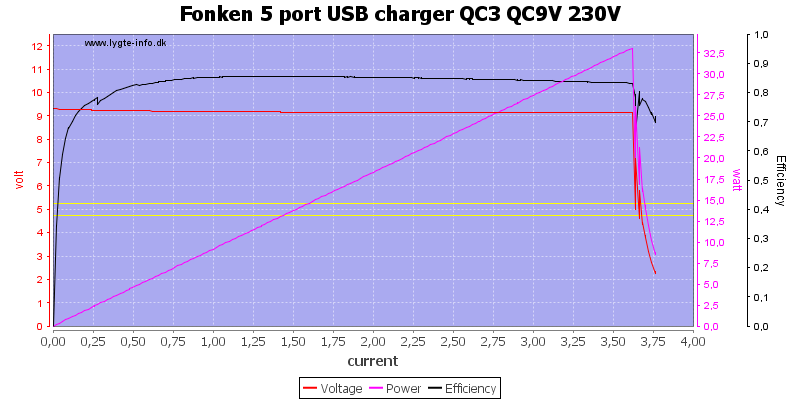 And also at 9V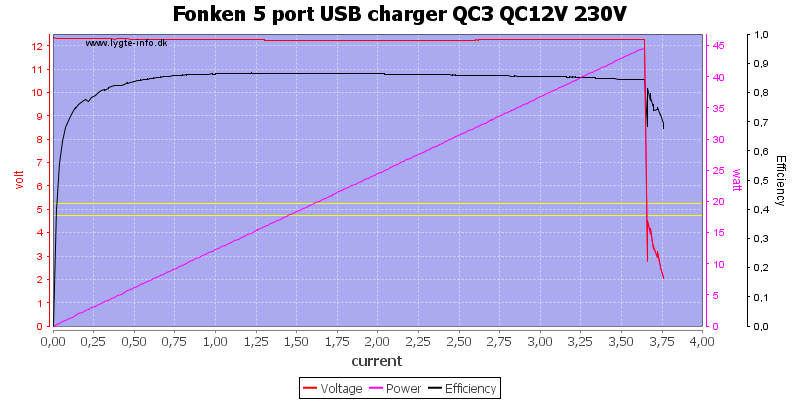 And 12V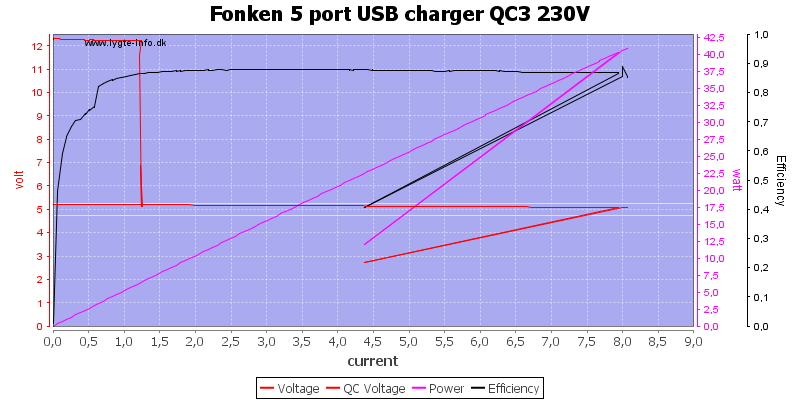 The charger can deliver about 1.2A on QC and 8A on the normal usb before it starts to shut down.




It is the same at 120VAC




It was a bit optimistic to try 8A load test. The QC dropped to 5V after a short time.




Testing for one hour with: 7.2A at 5V and 1.5A at 12V worked much better.
The temperature photos below are taken between 30 minutes and 60 minutes into the one hour test.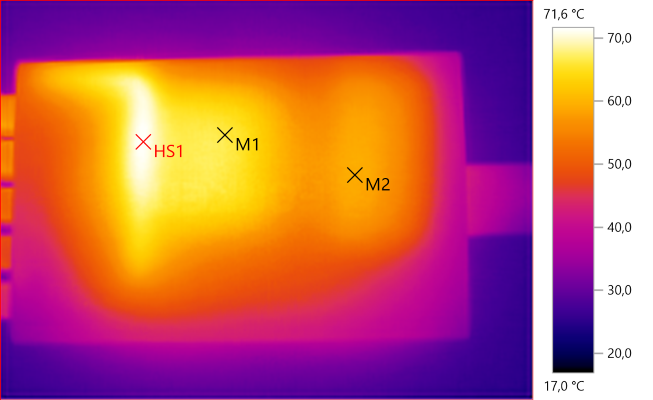 M1: 66.4°C, M2: 59.2°C, HS1: 71.6°C
HS1 is the heatsink for the two rectifier transistors, M1 is the transformer and M2 is the mains switcher transistor.




M1: 52.1°C, M2: 40.2°C, HS1: 53.3°C
HS1 is from the QC switcher, M1 is the mains capacitor transfering heat.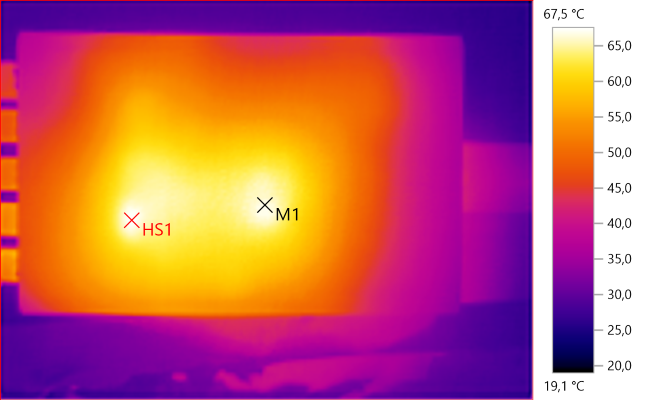 M1: 66.7°C, HS1: 67.5°C
M1 must be the snubber network and HS1 is from the two rectifying transistors.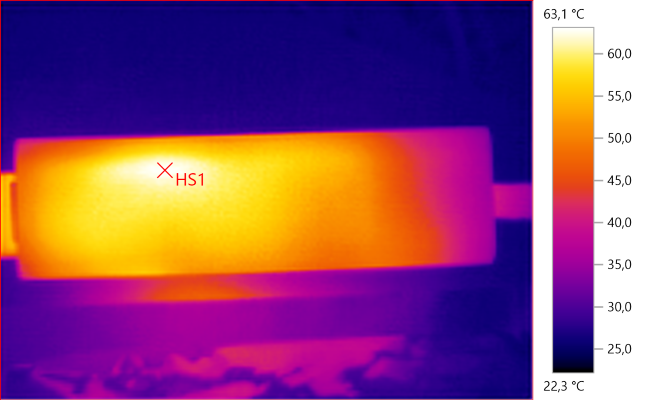 HS1: 63.1°C
Again the rectifying transistors.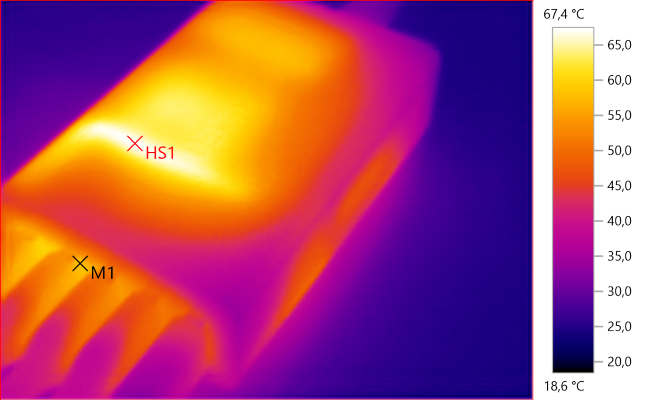 M1: 57.7°C, HS1: 67.4°C






At 0.5A output the noise is 8mV rms and 160mVpp.





At 1A the noise is 36mV rms and 180mVpp.





At 2.5A the noise is 20mV rms and 282mVpp.





At 5A the noise is 26mV rms and 366mVpp.





On QuickCharger at 0.5A the noise is 5mV rms and 105mVpp.




At 12V 1.2A the noise is 7mV rms and 111mVpp.





Tear down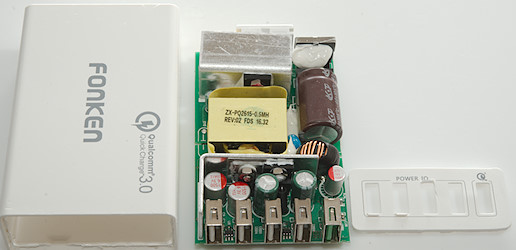 A bit pressure with my vice and I could break the front off with a screwdriver.




At the mains input there is a fuse (F1: 3.15A) , inrush current limiter (RT1: NTC), two common mode coils (LF1 & LF2), a bridge rectifier (BD1) (Some of it hidden under the heatsink). On the heatsink it the mains switcher transistor. Beside the transformer is the blue safety capacitor. The big smooting capacitor is glued to the circuit board to prevent it move to touch the QC inductor (L1).
On the low volt side is two synchronous rectifier transistors (Q3 & Q4). Between the usb connectors are the auto coding chips (U6 & U8: D1524).
The QC uses the inductor to reduce the 15.2V, and there is q QC and more controller near the usb connector (U7: Fitipower FP6600Q).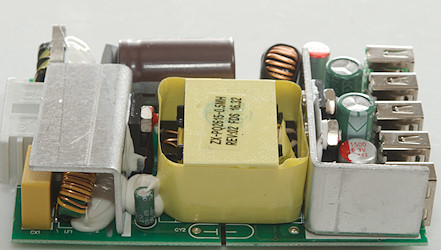 On this side there is space for an extra safety capacitor.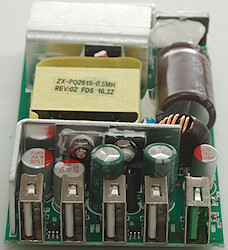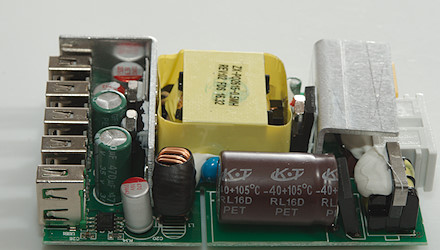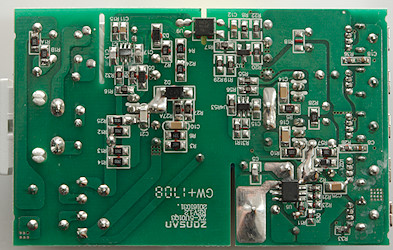 On this side is the main switcher controller (IC1), the opto feedback (U9: EL357N) with a reference close by (U3: 431). Not surprisingly there is a synchronous rectifier controller (U4: SP6016E) and it looks like this chip controls both rectifier transistors. The next chip is a buck converter (U5: HX1314G) for the QC voltage.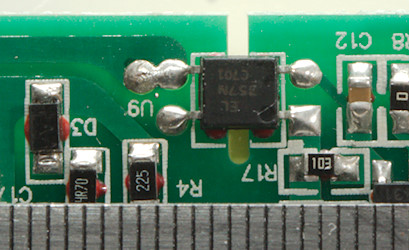 The isolation distance looks fine.


Testing with 2830 volt and 4242 volt between mains and low volt side, did not show any safety problems.





Conclusion



Four normal usb outputs that can deliver more than 7A with auto coding and a QC and more output, low noise. No safety problems with mains, but I could have wished for individual port protection.

I will call it a good charger.





Notes



Index of all tested USB power supplies/chargers
Read more about how I test USB power supplies/charger
How does a usb charger work?