Fonken QC3 TPA-67120150VU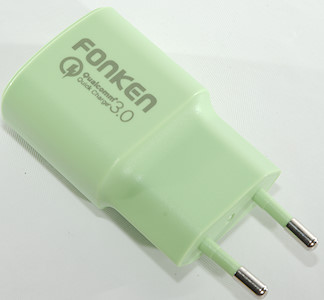 Official specifications:
Material: PC fireproof material
Input: AC 100-240V 50/60HZ
Output: DC3.6-6V/3A, DC6-9V/2A, 9V-12V/1.5A
Weight: 42g/1.4ounces
Dimensions: 80X38.6X22.2mm/3.15X1.5X0.8 in
I got it from a Aliexpress dealer: FONKEN Store with the help of a reader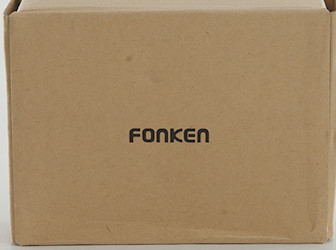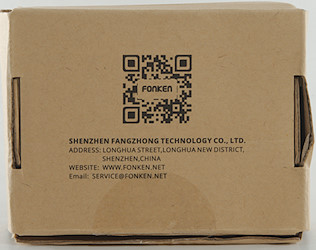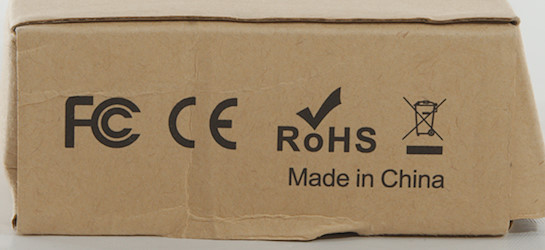 I got it in a cardboard box.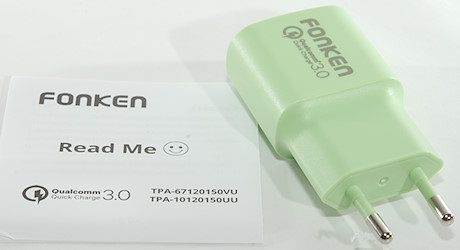 With a instruction sheet included.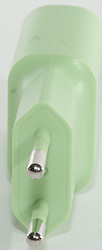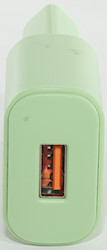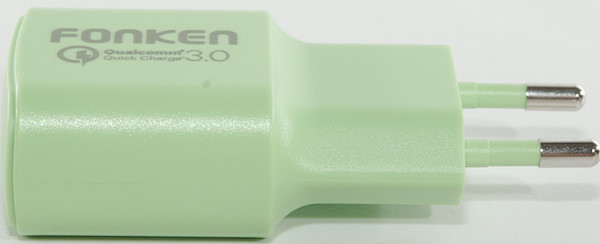 Measurements
Output is QC3 and MTK PE2.0
Power consumption when idle is 0.03 watt
Minimum QC3 voltage is 3.7 volt.
Weight: 41.9g
Size: 80.3 x 38.5 x 22.1mm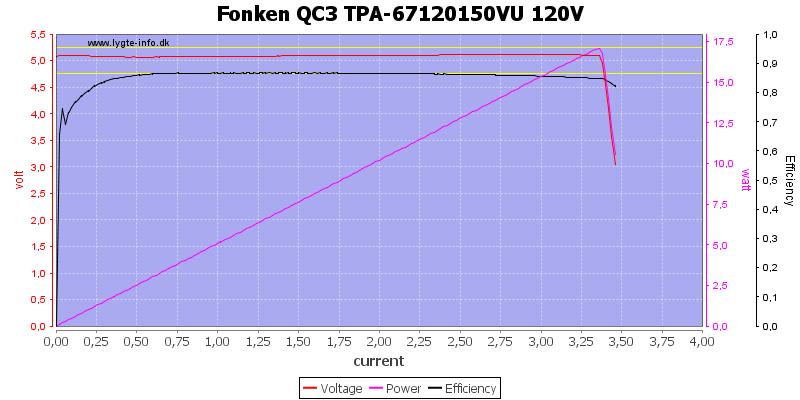 It can deliver about 3.3A before the overload protection kicks in. The output voltage will increase slightly with increasing load to compensate for cable looses (Very nice).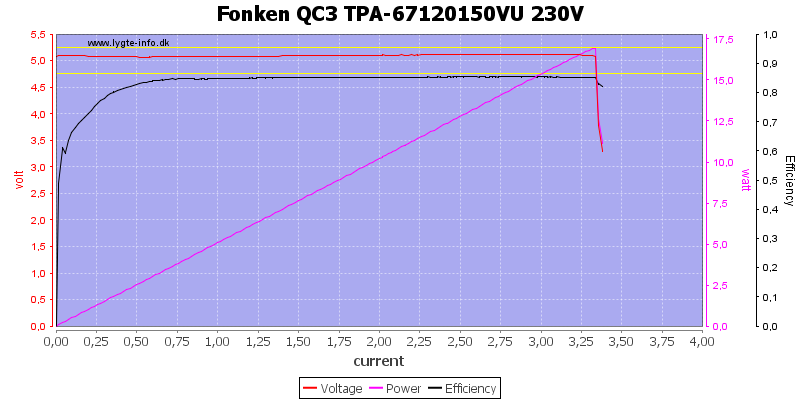 It works the same way at 230VAC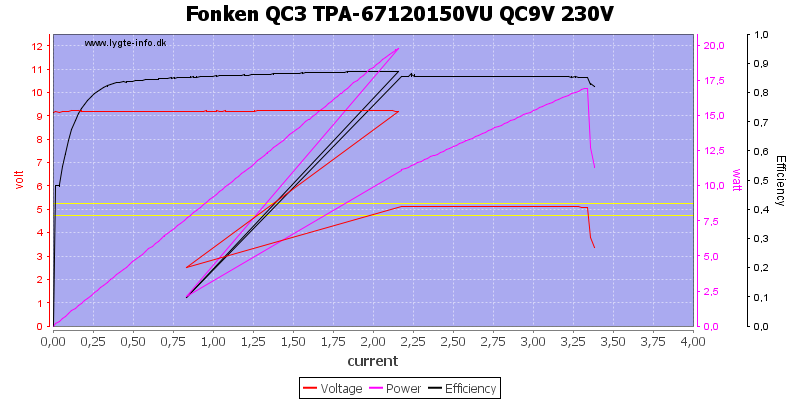 At 9V it can deliver a bit above 2A, before it drops to 5V (It drops shortly to 0V).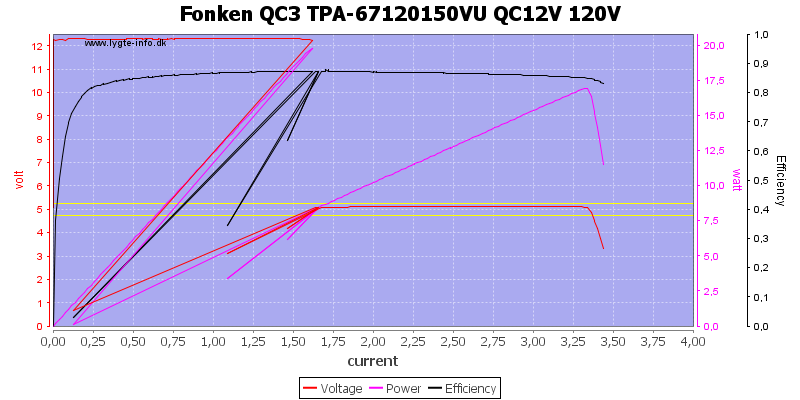 And at 12V the limit is a bit above 1.5A, both for 120VAC and 230VAC (It drops shortly to 0V).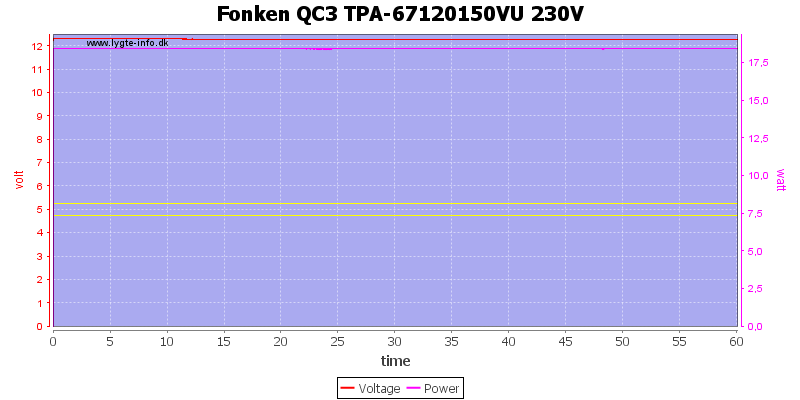 Running at 12V 1.5A for one hour is not a problem.
The temperature photos below are taken between 30 minutes and 60 minutes into the one hour test.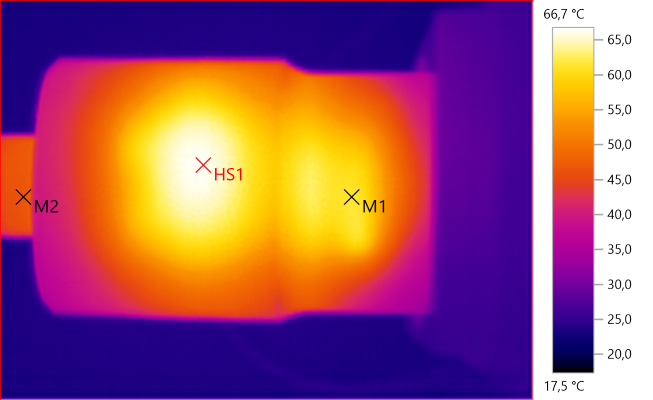 M1: 61,2°C, M2: 46,7°C, HS1: 66,7°C
HS1 is the transformer.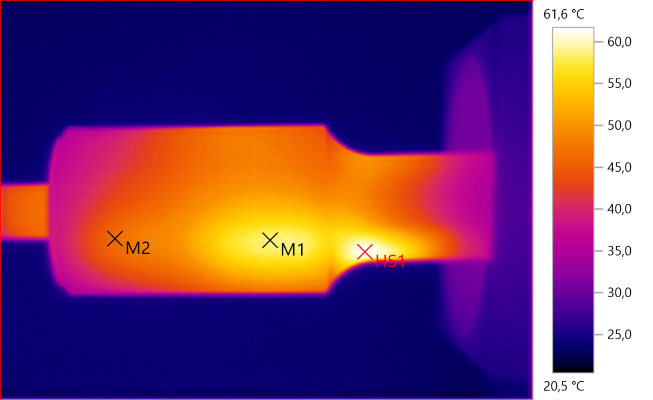 M1: 58,7°C, M2: 46,5°C, HS1: 61,6°C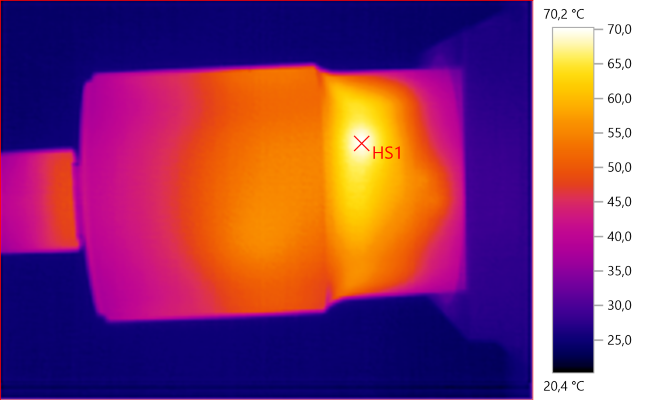 HS1: 70,2°C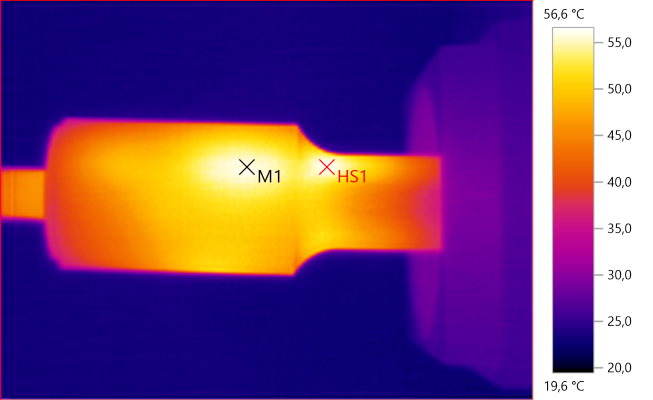 M1: 56,0°C, HS1: 56,6°C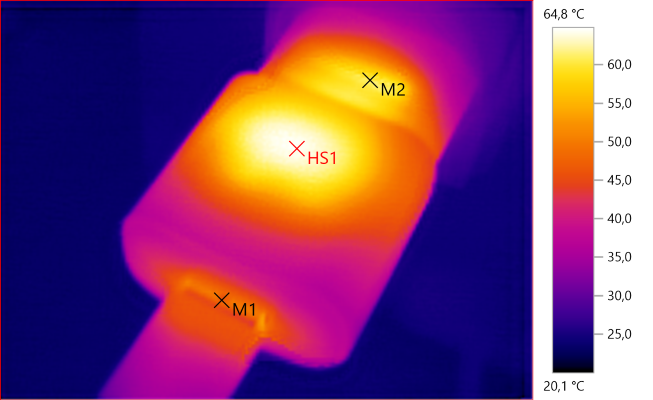 M1: 46,9°C, M2: 60,9°C, HS1: 64,8°C




At 0.5A the noise is 13mV rms and 264mVpp





At 1A the noise is 15mV rms and 230mVpp





At 2.5A the noise is 16mV rms and 244mVpp






At 0.9A the noise is 15mV rms and 299mVpp.





At 1.2A the noise is 77mV rms and 587mVpp





Tear down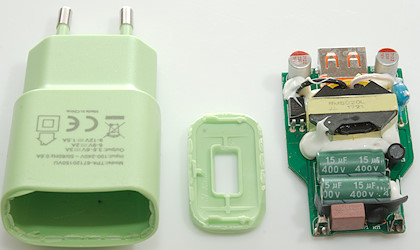 Pressing the sides a bit with my vice made the lid fly away.




At the mains input is a fuse (F1) and a inrush current limiter (RT1). Between the two mains smoothing capacitors is a inductor (L1).
The opto isolator and safety capacitor is partly besides the transformer.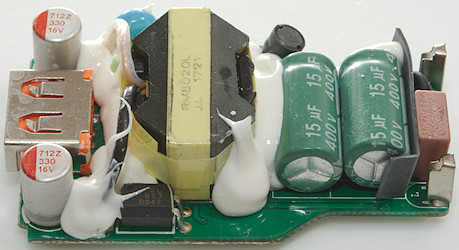 The opto isolator is on this side.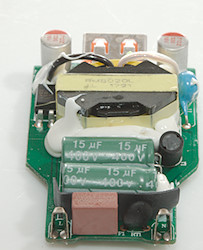 At the mains input the fuse and inrush current limiter can be seen.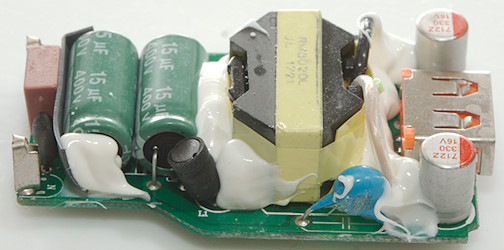 On this side is the inductor and safety capacitor.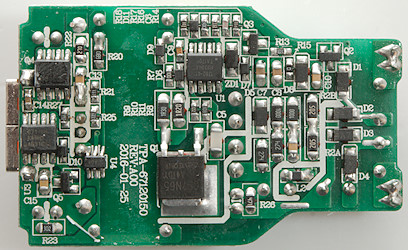 On this side the mains switcher (U1) and switcher transistor (Q1) is placed. The low volt side has a synchronous rectifier (U3+Q4) and the QC controller (U4).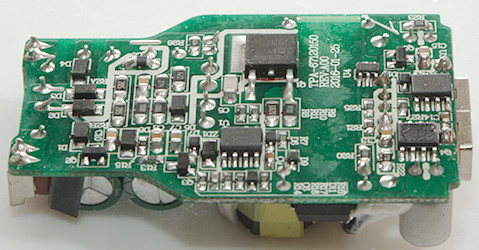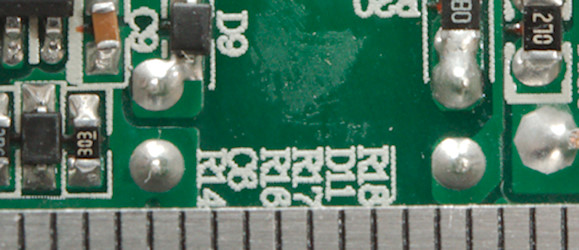 The isolation distance is good.


Testing with 2830 volt and 4242 volt between mains and low volt side, did not show any safety problems.





Conclusion



The charger can deliver lots of current with fairly low noise, coding works for QC and for devices that can use standard usb coding. I did not see any safety problems.

I will rate it as a good charger.




Notes



Index of all tested USB power supplies/chargers
Read more about how I test USB power supplies/charger
How does a usb charger work?