Hoco Dual USB 5V 2.4A Travel Charger UH201


Official specifications:
Brand Name: HOCO
Model: UH201
Type: Dual port Charger
Material: ABS+PC
Color: White
Weight: 38g
Dimension: 39 x 39 x 39mm
Plug: International Standard
Output: DC 5V/2.4A
Input: AC 100V-240V 50/60Hz
Certificate: CE/FCC/RoHS
I got it from Banggood.com




I got the charger in a envelope, this was a bit hard on the retail box, but the charger was not damaged.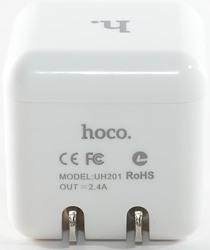 Measurements
Power consumption when idle is 0.16 watt at 230VAC and 0.11 watt at 120VAC
Both ports are coded as usb charger (DCP).


The total output of the charger is 2.1A, this is not very impressive for a two port charger and below specifications.




It can maintain the output at 2A load for one hour.




Doing the test at 230VAC gives exactly the same result.




Also the one hour test looks alike.

The temperature photos below are taken between 30 minutes and 60 minutes into the one hour test.




M1: 59,1°C, M2: 40,4°C, HS1: 84,7°C




M1: 56,6°C, M2: 36,5°C, HS1: 64,9°C
HS1 is the transformer.




M1: 59,1°C, M2: 35,8°C, HS1: 60,3°C





M1: 67,6°C, HS1: 70,1°C
M1 is probably the rectifier diode and HS1 the snubber diode.




There is a lot of peak noise with 51mV rms and 1200mVpp.





Increasing the current to 1A do reduce the peak noise slightly: 70mV rms and 1000mVpp.




But when the load reaches 2A the noise is up again: 90mV rms and 1300mVpp.





Tear down






I expected this to be easy to open and it was, just a little squeze in the vice and it popped open.




On this side we can see the input fuse (Fusible resistor F1), safety capacitor, switcher controller (IC1), switcher transistor (Q1) and rectifier diode (D1).
There is also an inductor (L1) as noise filter on the mains side.




There is not that much interesting on this side, we have a bridge rectifier at the mains input (DB1).
Then there is space for a led and usb coding resistors (R11-R14).




The blue part is the safety capacitor and the rectifier diode is just behind it (D1).




There is good safety distance on the circuit board.




Sparks jumped between the transformer legs and the core when testing with 5000 volt, but the distance looks good enough?


The charger passed an isolation test with 2500 volt, but failed a 5000 volt test.





Conclusion



This charger may be safe in the US, but it is not safe in 230V countries.
The noise is very high and the output current is below specifications and rather low for a two port charger.





Notes



Index of all tested USB power supplies/chargers
Read more about how I test USB power supplies/charger