Konig 1A CS10UW001WH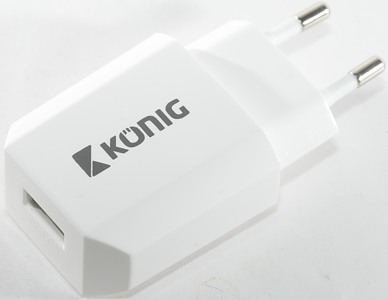 Official specifications:
Type: USB Adapter
Input Voltage: 100 - 240AC V Volt
Output Voltage: 5 V Volt
Output Current: 1000 mA milliAmps
Output Power: 5 W Watt
USB Connection: Yes
Stabilized: Yes
Standby Usage: < 0.3 W Watt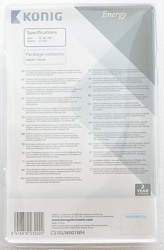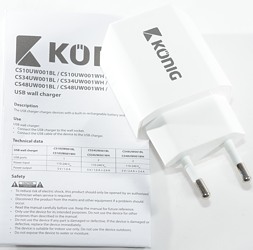 The box contained the charger and a extreme simple instruction sheet (Connect charger to wall socket, connect charger to device and then the usual warnings).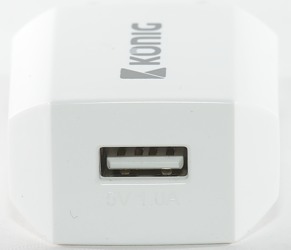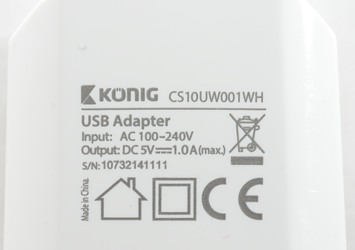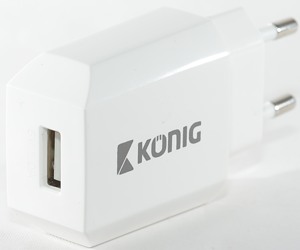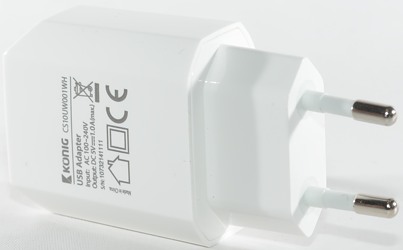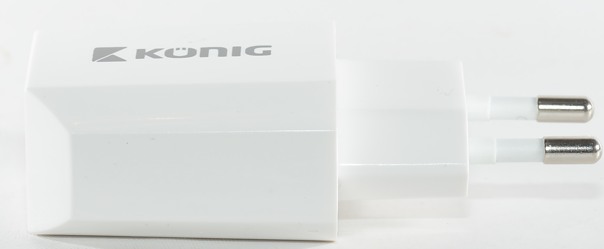 Measurements
Power consumption when idle is 0.1 watt
Usb output is coded as usb charger (DCP)
Weight: 34.1g
Size: 80 x 40.8 x 24.2mm


Output voltage stays very stable and the current limit is fairly precise at 1.15A.




At 120V the current limit is slightly lower.




There is no problem maintaining the rated 1A current.
The temperature photos below are taken between 30 minutes and 60 minutes into the one hour test.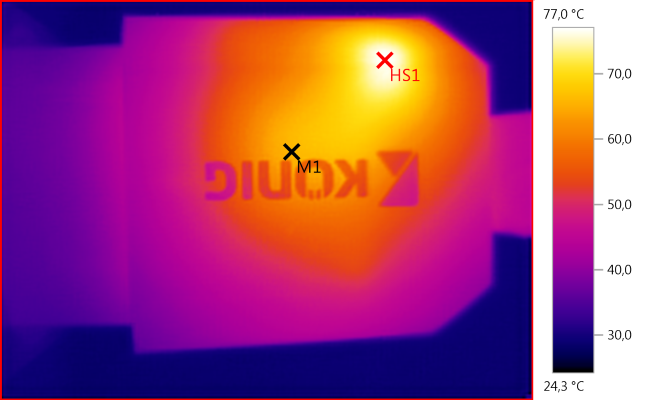 M1: 65,8°C, HS1: 77,0°C
The hot spot (HS1) here is the rectifier diode.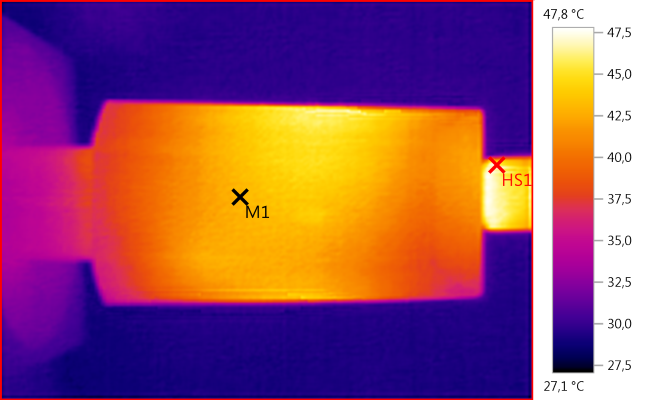 M1: 43,1°C, HS1: 47,8°C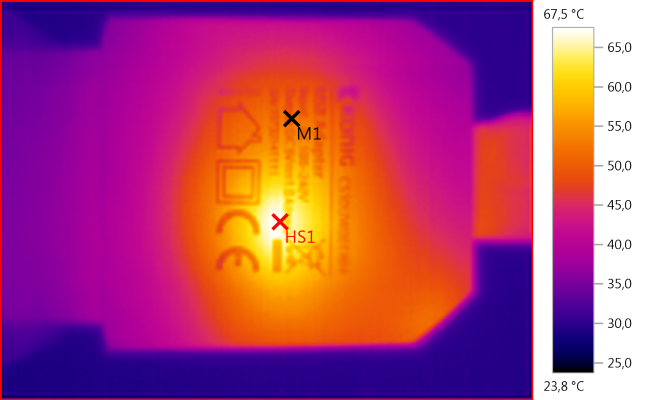 M1: 50,7°C, HS1: 67,5°C
Here HS1 is the transformer, probably transferred via the black wire on top of the transformer.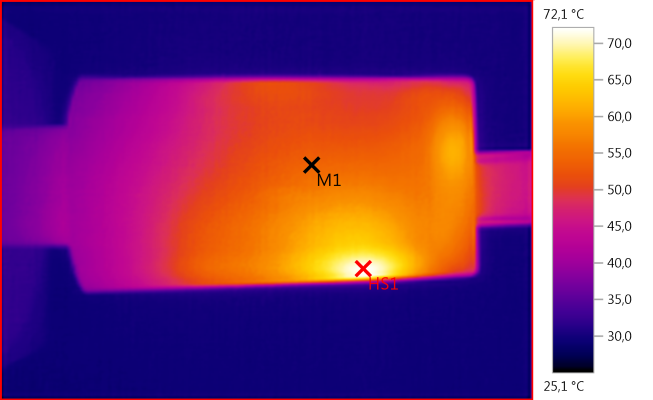 M1: 54,3°C, HS1: 72,1°C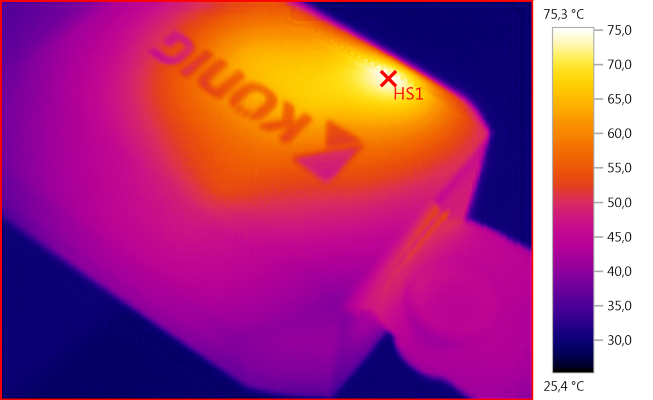 HS1: 75,3°C




Noise at 0.5A load is: 18mV rms and 244mVpp.





Noise at 1A load is: 19mV rms and 244mVpp.





Tear down







My vice and a blow form my mallet was needed to open it.




This piece of paper is used to increase the isolation.




At the mains input is a fusible resistor (10R1W). There are two mains capacitors with an inductor (L1) between.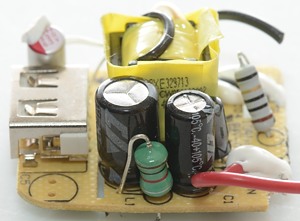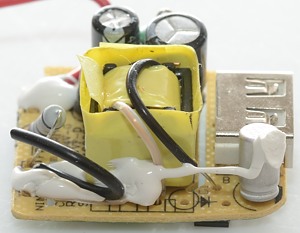 On the side view the inductor is easy to see. The transformer uses flying leads for low volt to get better isolation distance.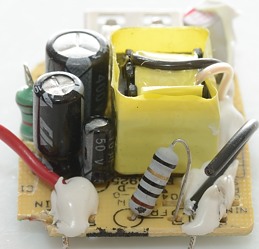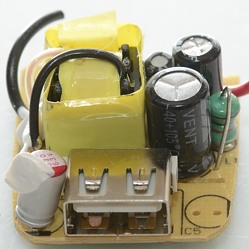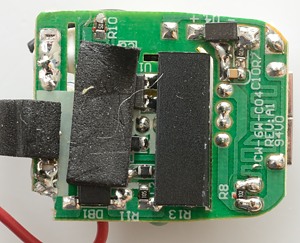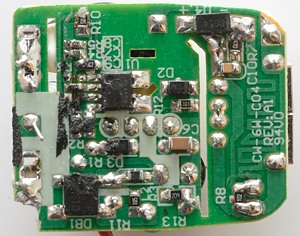 The bridge rectifier (BD1) and the mains switcher (U1) is on this side, notice the slot in the circuit board between some of the pins on the mains switcher.
D4 is the rectifier diode. There is a resistor made with circuit board track and space for a second output capacitor, but they where not needed.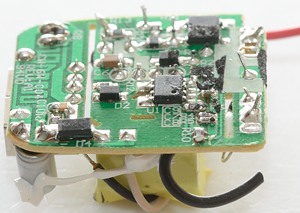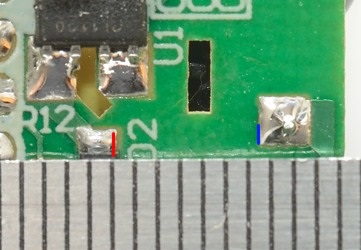 About 6mm isolation distance.


Testing with 2830 volt and 4242 volt between mains and low volt side, did not show any safety problems.





Conclusion



This is a small usb power supply with only 1A output, everything looks good





Notes



Charger was supplied by Pro backup (probackup.nl)
My high voltage test is done with a real HiPot tester allowing me to use the correct voltages for US and EU.

Index of all tested USB power supplies/chargers
Read more about how I test USB power supplies/charger