LDNIO Dual usb charger A2202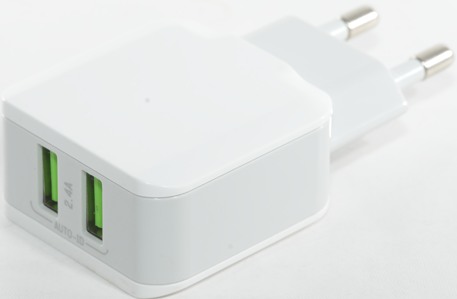 Official specifications:
Input:100-240V, 50-60Hz
Output: 5V/2.4A
Quick & short circuit / overtemperature / overvoltage / overcurrent protection;
I bought it from Aliexpress dealer Worthit Store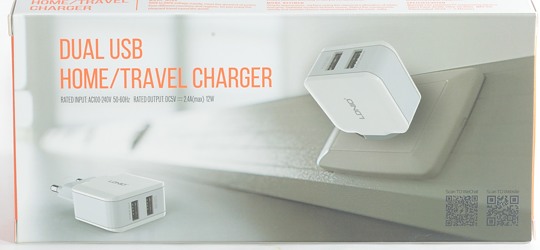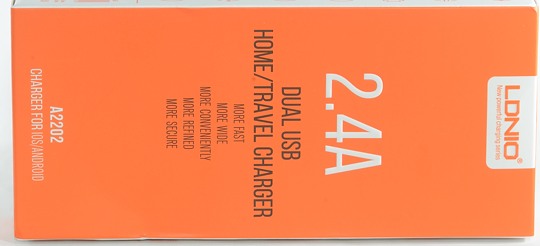 I got it in a card board box, it only contained the charger, no manual or usb cable.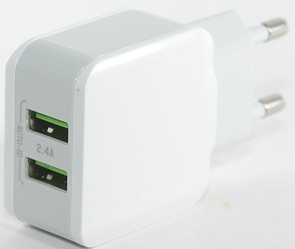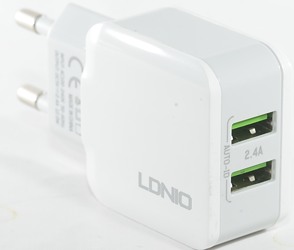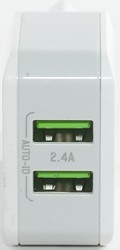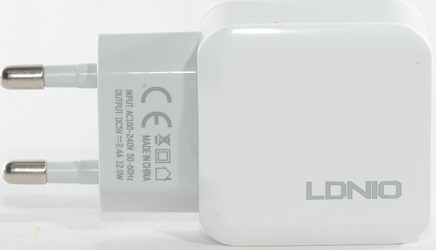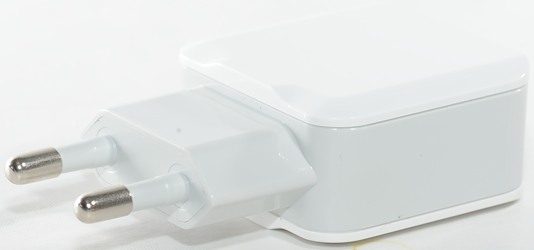 Measurements
Power consumption when idle is 0.13 watt
Both usb output are auto coding with Apple 2.4A as max.
Outputs are in parallel.
Weight: 40.2g
Size: 80.1 x 42.5 x 23.2mm


Overload protection at about 2.6A is fine for a 2.4A charger, it also has a nice high output voltage (This will probably vary between different copies of the charger).




The other usb connector is the same.




And running them in parallel is also the same, the charger can only supply 1x2.4A, not 2.4A on each port.




Both 120VAC and 230VAC works the same.




No problems running one hour at 1A.
The temperature photos below are taken between 30 minutes and 60 minutes into the one hour test.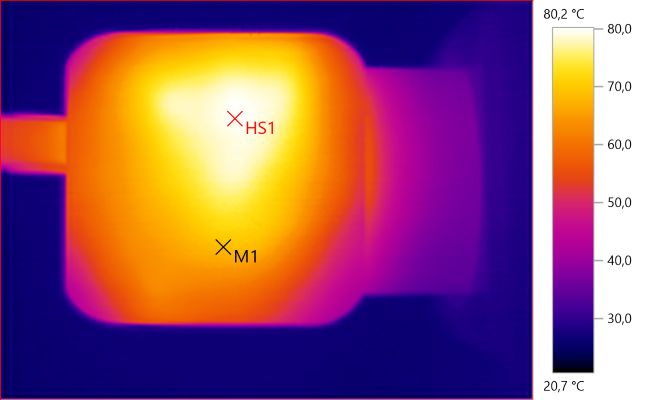 M1: 68,5°C, HS1: 80,2°C
HS1 is the switcher IC heating the circuit board.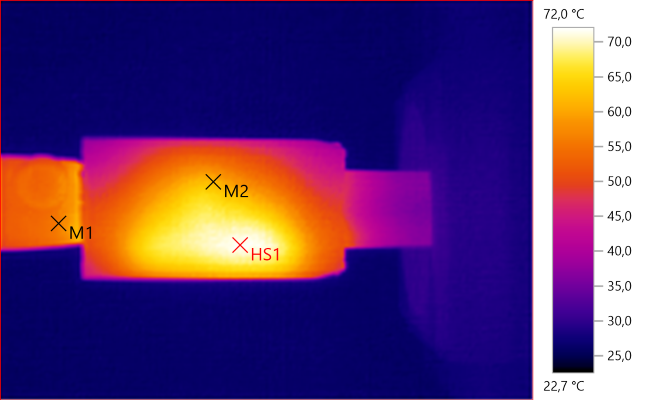 M1: 56,1°C, M2: 61,4°C, HS1: 72,0°C
HS1 is the switcher IC.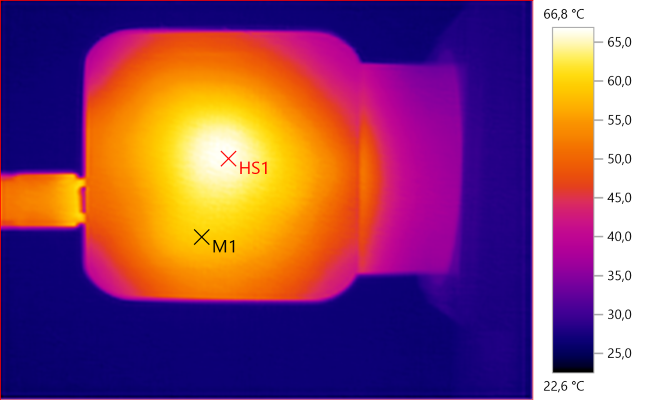 M1: 59,2°C, HS1: 66,8°C
HS1 is the transformer.




M1: 50,1°C, HS1: 69,1°C
HS1 is one of the rectifier diodes.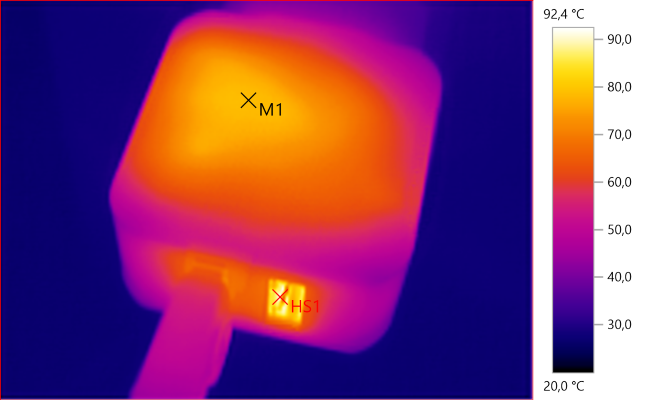 M1: 78,5°C, HS1: 92,4°C




At 0.5A the noise is 35mV rms and 723mVpp.





At 1A the noise is 35mV rms and 688mVpp.





At 2.5A the noise is 55mV rms and 860mVpp, this is rather high.





Tear down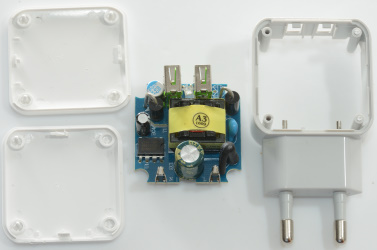 Some pressure from my vice and the two lids popped open (A spudger may have done it).




On this side of the circuit board is a fuse at the L mains entry, a safety capacitor, a switcher IC (U1) and two rectifier diodes (D4 & D5). There is also a led between the usb connectors.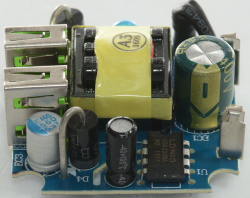 From this side the switcher IS and one of the switcher diodes can be seen.




This is the side with mains input, the fuse is packed into shrink wrap.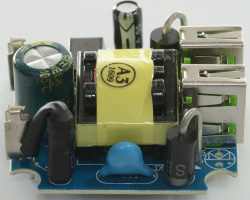 The fuse, the safety capacitor and one of the rectifier diodes.




The led between the usb connectors.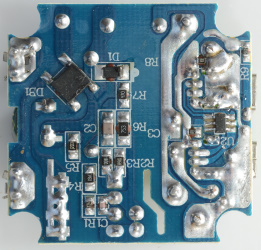 This side has the bridge rectifier (DB1) and the auto coding chip (U2).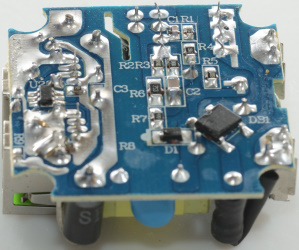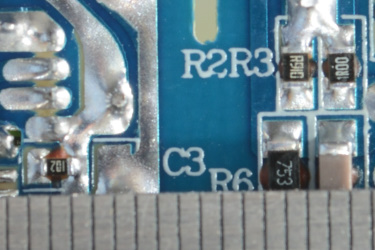 Safety distance is a bit on the low side at about 4.5mm, this is too low for 230VAC, but perfectly acceptable at 120VAC

Testing with 2830 volt and 4242 volt between mains and low volt side, did not show any safety problems.





Conclusion



The auto coding is a good detail, but with two outputs the 2.4A is a bit on the low side, I could also have wished for less noise. The slightly low safety distance do also mean it is slightly dangerous to use on 230VAC.





Notes



Index of all tested USB power supplies/chargers
Read more about how I test USB power supplies/charger
How does a usb charger work?