Linoya 4-Ports 4A USB A16


Official specifications:
4 USB Ports: Charges 4 USB devices simultaneously at full speed, saving your time.
Super Portable Design: Comes with folding plug and is just 8.0 x 5.8 x 2.5 cm.
Wide Range of Compatibility: All USB ports are smart ports. With the smart technology, you can plug every port you want with any 5V devices.
Input: AC 100-240V 50/60Hz 800mA max
Output: DC5V 1A / 2A (Max. 2A)
Totally output: 4A
Model: Linoya A16
Interface: USB2.0
Certificate: SAA, PSE, FCC, CE, CCC
Optional Color: White
Product Weight: 0.108 kg
I got it from gearbest sku:130349701




I got this charger in a cardboard box.




The box only included the charger and a instruction sheet.




The black dot/hole is a blue led (It is not a hole, there is some clear plastic behind it).





Measurements



Power consumption when unloaded is 0.15 watt
All port are in parallel.
Blue led is on when power supply is powered.
USB Output #1 (iPhone) is coded as Apple 1A
USB Output #2 (Android) is coded as USB charger (DCP)
USB Output #3 (Sam) is coded as Samsung
USB Output #4 (Ipad) is coded as Apple 2.1A


Output voltage is fine, but there is no individual port overload protection.




There is a total overload protection at about 4.5A.




No problem running at 4A for one hour.
The temperature photos below are taken between 30 minutes and 60 minutes into the one hour test.




M1: 44,7°C, M2: 59,1°C, M3: 37,3°C, HS1: 65,1°C
HS1 is the transformer.





M1: 34,8°C, M2: 35,7°C, HS1: 50,0°C
HS1 is the mains switch transistor.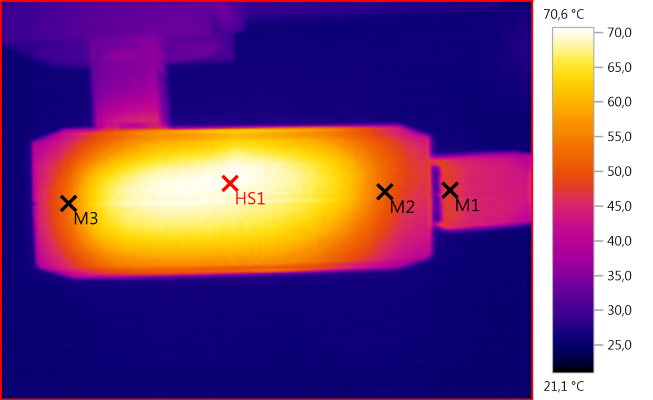 M1: 47,4°C, M2: 51,7°C, M3: 53,8°C, HS1: 70,6°C
HS1 is the rectifier diode.




At 0.5A the noise is 33mV rms and 900mVpp, the is some peak noise.




At 2.5A the noise is 27mV rms and 620mVpp




At 4A the noise is 10mV rms and 210mVpp, at full load the noise is low.





Tear down






I had to help my vice with a mallet to open this one, the glue was a bit strong.




On the mains side there is a fuse, a common mode choke and the mains switch transistor. There is also a safety capacitor and optical feedback chip. The low volt side has a rectifier diodes and an inductor. The led can be seen between the usb connectors.




Here the fuse and the choke can be seen, together with the small heatsink for the mains switch transistor.
The damage to the usb connectors was from my mallet.




The blue capacitors is the safety capacitor (It is marked as a safety capacitor).




The heatsink for the rectifier diode takes up a lot of space here, the inductor can be seen just behind the usb connectors.




On the mains input is a bridge rectifier (DB1). The mains switcher controller is U1 and the controller for the optical feedback is U3.
Below the usb connectors are the coding resistors.




Nice design with a slot, but equipment that can be used on 230VAC must have 4mm between mains and low volt side (when there is a gap). The distance is about acceptable for 120VAC.


The charger passed an isolation test with 2500 volt, but failed a 5000 volt test, this makes the charger acceptable for 120VAC usage, but doubtful for 230VAC usage.




Conclusion



For US it works, but the noise is a bit on the high side.
But it is marked for 240VAC and that is NOT safe.





Notes



The usb power supply was supplied by gearbest for a review.

Index of all tested USB power supplies/chargers
Read more about how I test USB power supplies/charger