MLLSE Universal 18W Quick Charger AR-QC-03


Official specifications:
Input: AC 100~240V 50/60Hz
Output: 5V 4.8A
QC Output: 5V 2.4A, 9V 1.8A, 12V 1.5A
Size: 8.8 x 4.4 x 2.5cm
I got it from Aliexpress dealer Shop4434004 Store




This cheap charger arrived in plastic bag inside a envelope.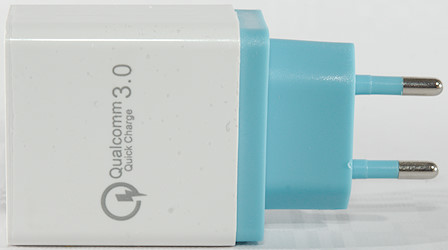 Measurements
Power consumption when idle is 0.33 watt
Normal usb output are coded as usb charger (DCP)
The two normal usb outputs are in parallel.
QC usb output is auto coding with Apple 2.4A, Samsung, DCP, QC3, Samsung-AFC, Huawei-FCP
Minimum QC3 voltage is 4.3V
Weight: 50.1g (45.2 without extra weight, see tear-down)
Size: 86.6 x 45 x 27.5mm


This output is rated 2.4A, but can only deliver 0.9A, not very impressive. Efficiency is rater low.




Using both 2.1A marked output I am supposed to have 4.8A available, but again there is only 0.9A.




At 120VAC there is about 0.1A less available.




The QC port can deliver considerable more current, there the overload kick in at 3.1A




9V has overload protection at 2A




And 12V has the protection at 1.5A




This is the same at 120VAC.




But what happens if I try to draw full rated current for some time. At the 5V output I was only drawing 0.8A, but I was drawing 1.5A at 12V. This worked for about 10 minutes, before the charger started shutting down.




I reduced the draw on 12V to 1.2A, then I could run for 30 minutes.




At 12V 1A and 5V 0.8A I could run for one hour. This is a total output power of 16W instead of the rated 42W.
The temperature photos below are taken between 30 minutes and 60 minutes into the one hour test.




M1: 80.1°C, HS1: 80.7°C
M1 is the QC switcher and HS1 is the normal usb switcher.




M1: 45.2°C, HS1: 84.2°C




M1: 49.6°C, HS1: 54.0°C
The internal weight transfers some heat to the enclosure here.



HS1: 82.3°C




M1: 61.5°C, M2: 77.0°C, HS1: 77.7°C
The heat in the usb connectors is probably from the rectifier diodes.




At 0.5A the noise is 72mV rms and 701mVpp




At 1A the noise is 82mV rms and 772mVpp, there is some noise on the 5V output




At QC 5V 0.5A the noise is 52mV rms and 882mVpp.




At QC 5V 1A the noise is 76mV rms and 1227mVpp.




At QC 5V 2.5A the noise is 112mV rms and 1438mVpp.




At 9V 0.9A the noise is 90mV rms and 1500mVpp.




At 12V 1.2A the noise is 112mV rms and 1827mVpp, the QC output has a lot of noise.






Tear down






Holding it in my vice and whacking it with a mallet broke the top off.




To make the charger feel more substantial it has a added weight inside the enclosure. It adds about 4.9g




The fuse is a fusible resistor, there is a single mains smoothing capacitor (C3), the other two capacitors (C2 & C9) is for local switcher supply. The switcher for QC (U1: DK112 12-18W), there is two transformers, the large one is for QC and small one for normal usb and it must deliver 33% more power according to rating.
Between mains and low volt side is a single opto coupler (U2) for QC and a fake safety capacitor (CY1: Usual 1KV type), it is shared between the two transformers.
The low volt side has a large diode (D2) for QC and a smaller diode (D5) for normal output and two smoothing capacitors (C5 & C10).




On this side is the bridge rectifier (B1), the normal usb power switcher (U1). On the low volt side is the QC circuit with the QC controller (U3) and reference (Q1: 431).




The circuit board uses slots to improve isolation, but the distance is still too low. Here is about 2.5mm and there is supposed to be about 6mm.

The charger passed the 2830 volt test, but failed the 4242 volt test between mains and low volt side, this makes it unsafe for 230VAC countries.





Conclusion



The normal usb output is nowhere near rated current and was never designed for it, the QC output can deliver rated power for a short time and has a lot of noise. In addition the safety is bad.


Stay away.





Notes



Index of all tested USB power supplies/chargers
Read more about how I test USB power supplies/charger
How does a usb charger work?