Magcle QC3.0 usb charger QC-008


Official specifications:
Compatible with QC 3.0 / 2.0 supported smart phones
QC 3.0 quick charger, max 3A rapid charging, powerful and effective
Made of high-flame retardant ABS material, durable in use
Equips with 1m high-quality Micro USB charging cable, cost-effective
The product has passed the safety certificate of CE, FCC and RoHS, which must be rigorously ensured a solid quality
Input: 100 - 240V, 50 - 60Hz, 0.35A
Output: 5V / 2.4A, 9V / 2A, 12V / 1.2A
Plug type: EU/US Optional
Color: White/Black
I got it from a Aliexpress dealer: PERZEN Electronic(SHENZHEN) CO.,LTD




It was in a plastic bag and shipped in a envelope. There was no manual or usb cables included.


Measurements
Output is auto coded as DCP, Apple 2.4A, QC2, QC3, FCP, AFC
Power consumption when idle is 0.1 watt
Minimum QC3 voltage is 3.9 volt.
Weight: 51.2g
Size: 84 x 47.3 x 25.3mm


Output is rated for 3A and can deliver about 3.8A before overload protection kicks in.




At 9V output it can deliver 2.5A, before getting into trouble.




At 12V output the limits is 1.8A.




At 120VAC the output is slightly less.




At 12V the output is about the same.




Drawing the rated 1.6A at 12V did not work for more than about 27 minutes.




Reducing the load to 1.4A and I could run for one hour.
The temperature photos below are taken between 30 minutes and 60 minutes into the one hour test.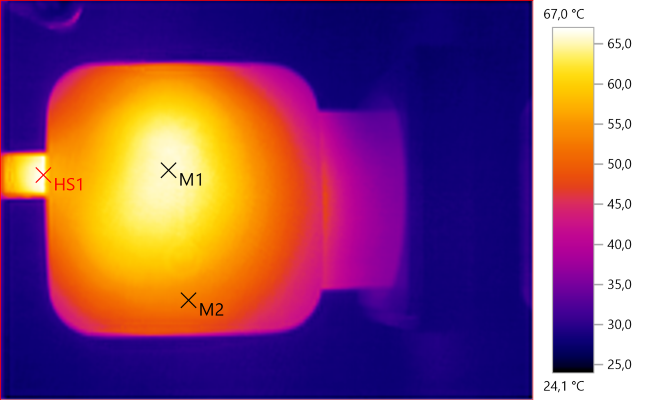 M1: 65,7°C, M2: 52,9°C, HS1: 67,0°C
HS1 is the rectifier diode and M1 is the transformer.




M1: 51,8°C, HS1: 61,7°C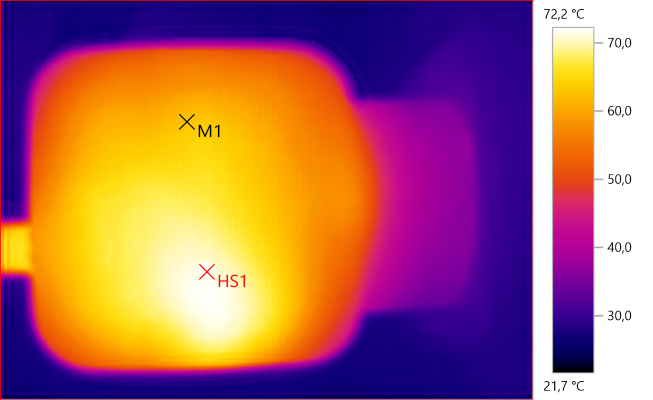 M1: 62,9°C, HS1: 72,2°C
HS1 is again the transformer.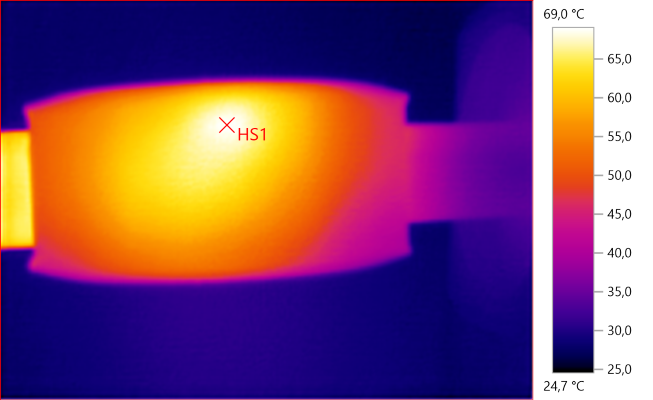 HS1: 69,0°C




M1: 63,7°C, HS1: 70,7°C




At 0.5A the noise is 61mV rms and 1244mVpp




At 1A the noise is 79mV rms and 1235mVpp




At 2.5A the noise is 96mV rms and 1253mVpp.




At 0.9A the noise is 82mV rms and 1218mVpp.




At 1.2A the noise is 108mV rms and 1491mVpp, the noise is very high side.





Tear down






Pressing the sides a bit with my vice made it pop mostly open, a screwdriver did the rest.




All the electronic is on this side of the circuit board. At the mains input is a fuse (F1) in the form of a fusible resistor, followed by a bridge rectifier (DB1). The mains switcher IC (IC1: DS3220).
There is opto feedback (IC2) and a safety capacitor (CY1).
On the low volt side there is a large rectifier diode, the code handling IC (U1: Marked PT4RUP) and the reference (Q2: 431).




Look at the transformer, the yellow tape is only at the outside and do not cover the core fully.




There is nothing on this side of the circuit board.




But the creepage distance is too low, it must be about 6mm, but this is not enough to fail the high voltage test.




I removed the safety capacitor and tested it separately, it was fine.




Testing a bit more and the problem showed up, the transformer core is not isolated and it is very low safety distances, when applying high voltage there was a spark between it and the rectifier diode.

The charger passed the 2830 volt test, but failed the 4242 volt test, this makes it unfit for 230VAC mains voltage.




Conclusion



The support for more codes is fine, but the safety is not good enough on this charger and it have very high noise. I cannot recommend it.





Notes



Index of all tested USB power supplies/chargers
Read more about how I test USB power supplies/charger
How does a usb charger work?