Mean Well GS05E-USB


Official specifications:
DC voltage: 5 volt
Rated current: 1.00A
Current range: 0 ~ 1.00A
Rated power: 5W
Ripple & Noise (max): 80mVpp 20Mhz bandwidth, terminated with a 0.1uf & 47uf cap
Voltage tolerance: 4.0%
Line regulation: 1.0%
Load regulation: 4%
Input voltage range: 90 ~ 264VAC
Frequency range: 47 ~ 63Hz
Efficiency (typ): 71%
AC current: 0.15A / 100VAC
Inrush current: 30A / 230VAC
Overload protection: 105 ~ 135% rated current
Over voltage: 105 ~ 200% rated voltage
Environment temperature: -20 - 50°C
I got it from tme.eu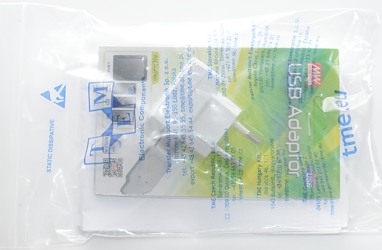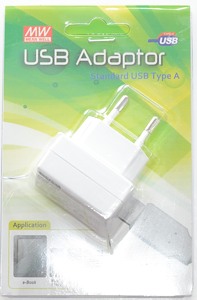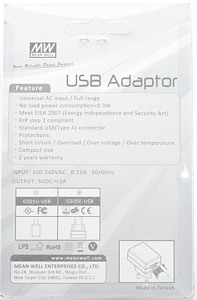 I got this charger in a blister pack.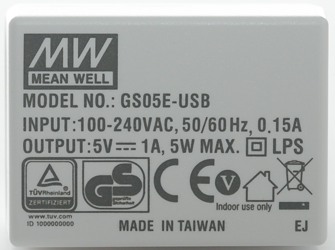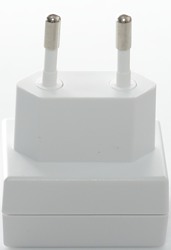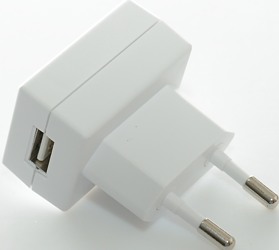 Measurements
Power consumption when idle is 0.12 watt
Turns off output when overloaded
Usb coding is USB charger (DCP).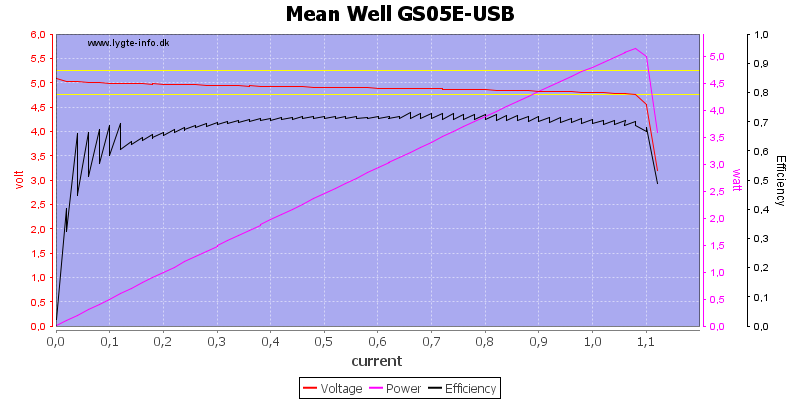 Output voltage do drop with load, but stays within usb tolerances. The overload protection kick in at 1.1A, this is very nice for a 1A charger.




There where no problems running for on hour at 1A load.
The temperature photos below are taken between 30 minutes and 60 minutes into the one hour test.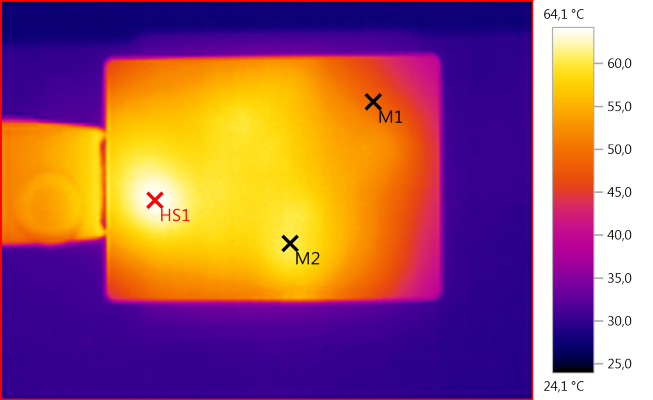 M1: 48,8°C, M2: 60,5°C, HS1: 64,1°C
HS1 is the rectifier diode and M2 is the transformer.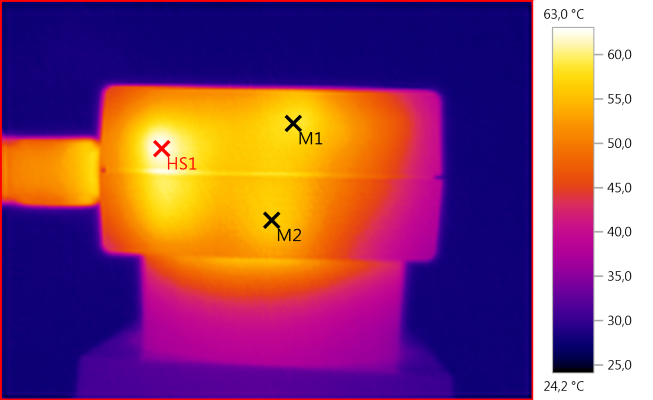 M1: 58,3°C, M2: 56,3°C, HS1: 63,0°C
HS1 is the rectifier diode and M2 the transformer.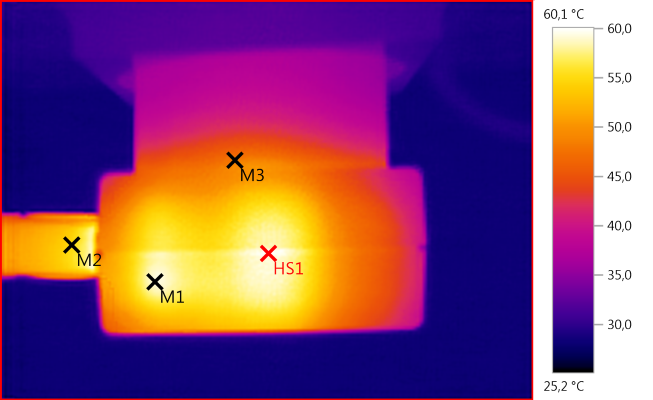 M1: 59,2°C, M2: 55,0°C, M3: 48,2°C, HS1: 60,1°C
HS1 is the mains switcher transistor.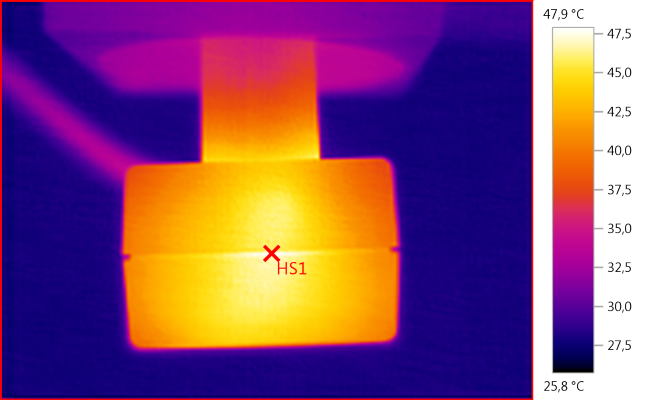 HS1: 47,9°C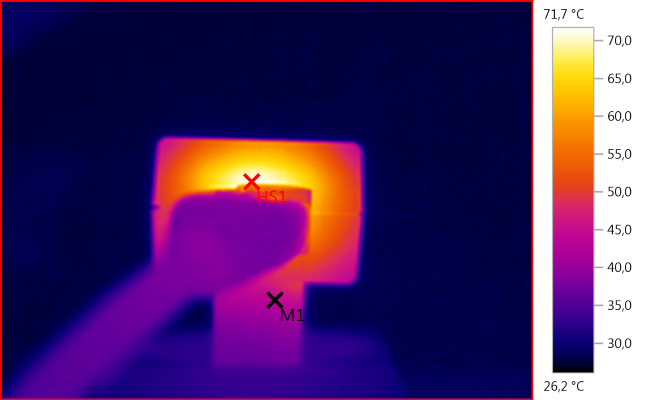 M1: 43,9°C, HS1: 71,7°C
The rectifier diode heats the usb connector.




Fairly good output: 14mV rms and 430mVpp





Noise stay fairly constant with load: 16mV rms and 440mVpp





Tear down






The vice could not open this power supply, but some supplement with a mallet got it open.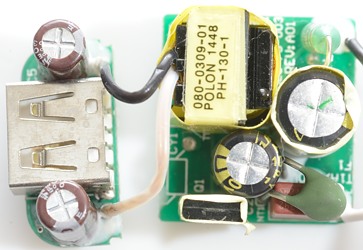 This adapter uses separate circuit boards, one for mains and one for low voltage side.
The brown box below the green MOV is a fuse.Q1 is the switcher transistor. There is also an inductor at the input.
The circuit board has markings for a safety capacitor (CY1), but it is not mounted.




On the other side is the bridge rectifier (BD1), the switcher controller (U1) and on the small circuit board the rectifier diode (D3).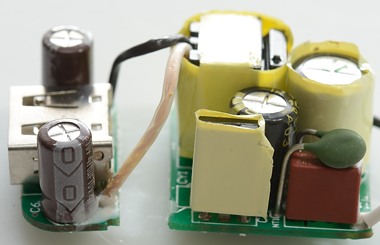 One one side the inductor can be seen (Green with 3 brown and one silver ring), from the other side the switcher transistor (Wrapped in yellow tape), the fuse and the MOV can be seen.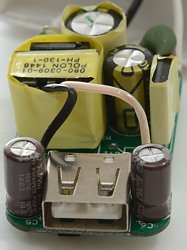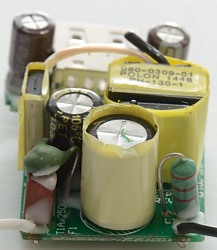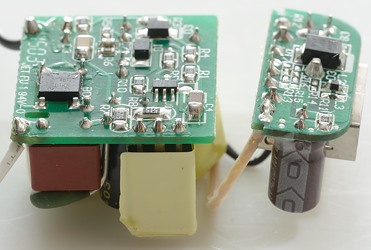 The ridge in the plastic is an important safety feature, it is used to imcrease the clearance distance between the mains circuit board and the low volt circuit board.


Testing with 2500 volt and 5000 volt between mains and low volt side, did not show any safety problems.





Conclusion



This is a small usb power supply with good safety. The noise is a bit high, but it will usual be acceptable.





Notes



Index of all tested USB power supplies/chargers
Read more about how I test USB power supplies/charger