Monie 1.5A usb charger XH-20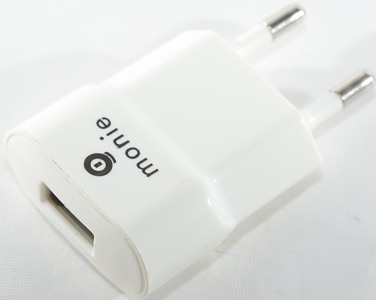 Official specifications:
Current Output: 1.5 A
Input Type: AC 110-240V
Output Type: DC 5V
Plug Type: EU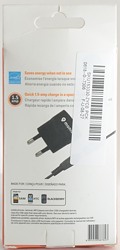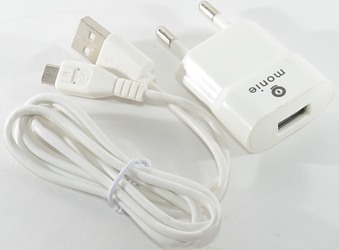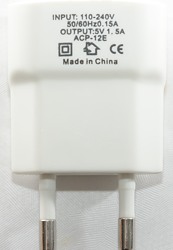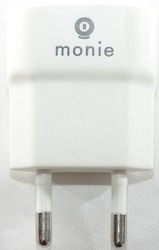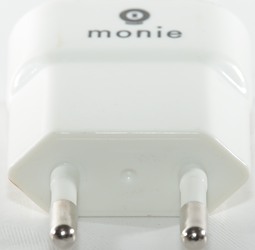 Measurements
Power consumption when idle is 0.12 watt
Usb output is coded as Apple 1A
Weight: 19.9g
Size: 59.2 x 36.6 x 17.1mm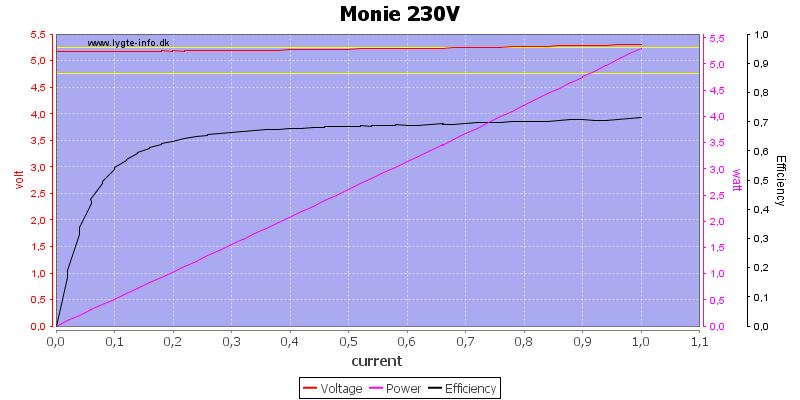 The charger do not live up to the 1.5A rating, it can barely deliver 1A.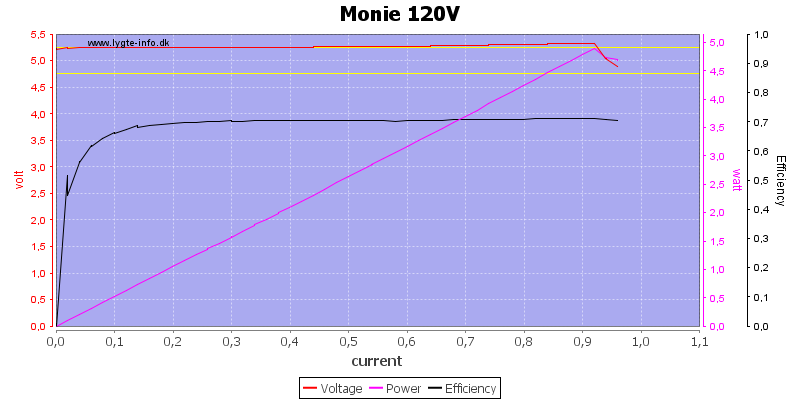 At 120VAC the maximum current is 0.95A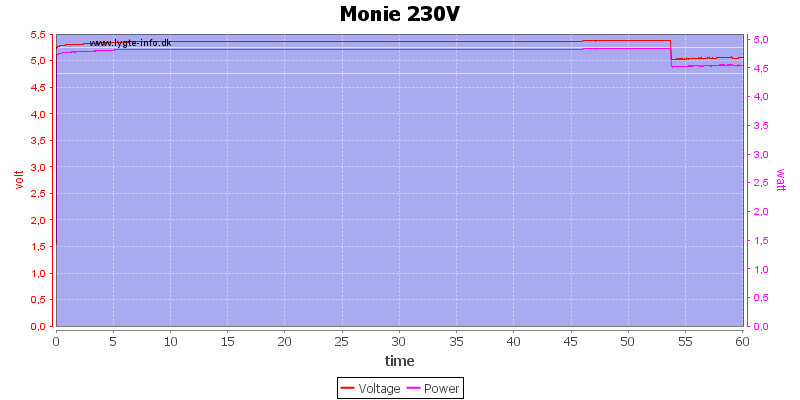 I did the 1 hour test at 0.9A at it could handle that.
The temperature photos below are taken between 30 minutes and 60 minutes into the one hour test.




M1: 56,4°C, M2: 49,2°C, HS1: 66,3°C
It looks like the hot part in this supply is the transformer.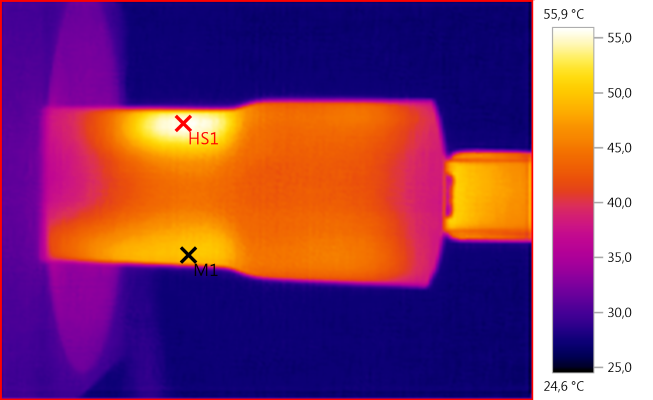 M1: 49,7°C, HS1: 55,9°C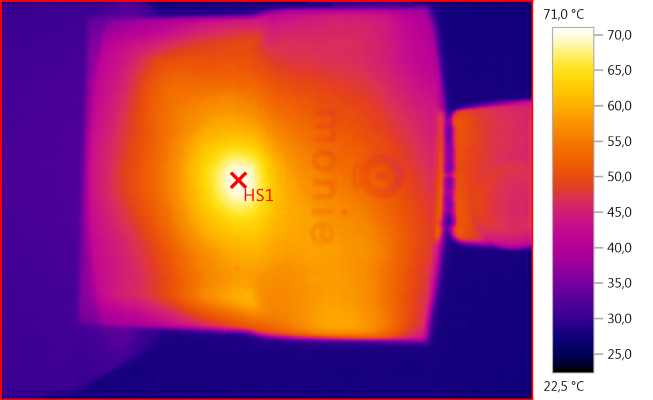 HS1: 71,0°C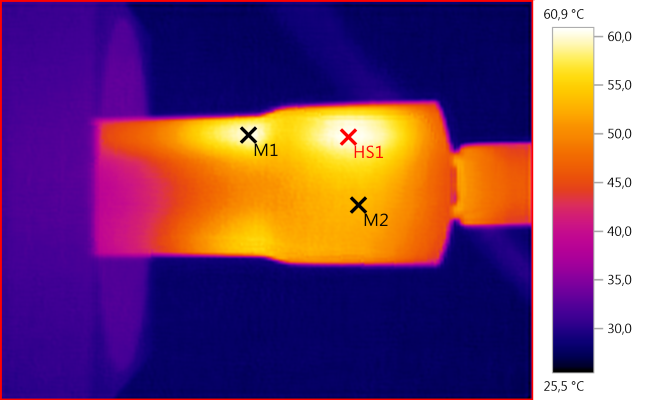 M1: 60,0°C, M2: 53,1°C, HS1: 60,9°C
The rectifier diode do also generate heat (HS1).




M1: 49,6°C, HS1: 66,6°C




Noise at 0.5A load is: 224mV rms and 1500mVpp.





Noise at 1A load is: 260mV rms and 2690mVpp.





Tear down






A bit pressure from my vice and the lid popped open and could be removed.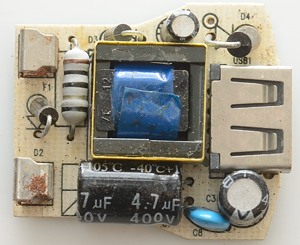 At the input is a fusible resistor. There is no safety capacitor, but a 1kV capacitor (Very bad).
The output is rectified with a round leaded diode (D4).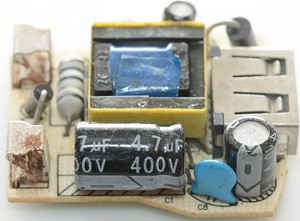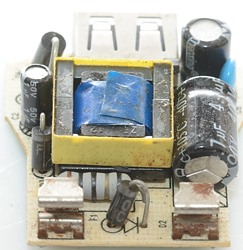 I checked the blue capacitor on the other side and it did say 1kV. The mains input connectors looks very corroded.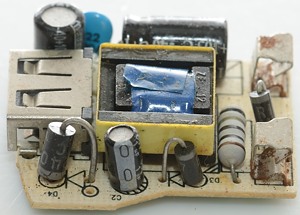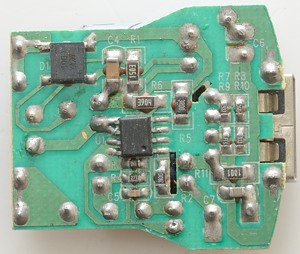 The bridge rectifier (D1) is placed here, together with a switcher chip (U1)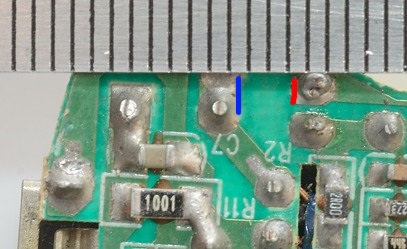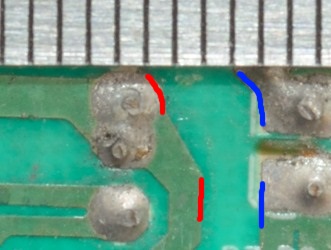 Isolation distance is rather low with about 2 to 2.5mm (It has to be around 6mm).

It passed the 2830 volt, but failed 4242 volt test and shorted between mains and low volt side.





Conclusion



The power supply has lot of noise, cannot deliver rated current and is dangerous.

Stay away.





Notes



My high voltage test is done with a real HiPot tester allowing me to use the correct voltages for US and EU.

Index of all tested USB power supplies/chargers
Read more about how I test USB power supplies/charger