Nillkin 2.0 fast usb charger SAPA05010EUU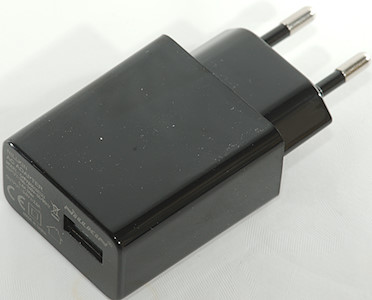 Official specifications:
Brand: Nillkin
Material (Cable&Adapter): ABS
Color: Black,White
Plug: EU plug
Input: 100 - 240V, 50 / 60Hz, 0.6A
Output: 5V 2A
Product size (L x W x H): 8.30 x 3.90 x 2.20 cm / 3.27 x 1.54 x 0.87 inches
I got it from Gearbest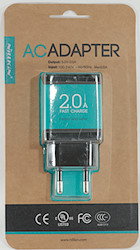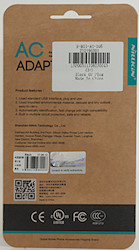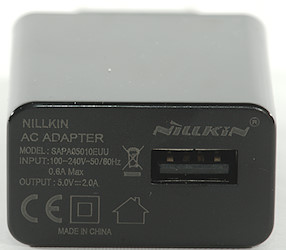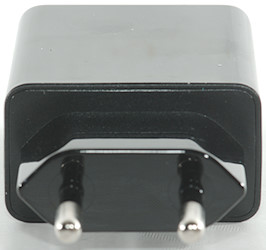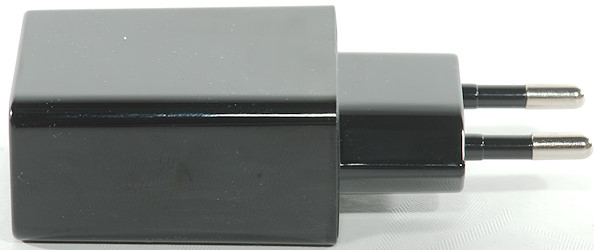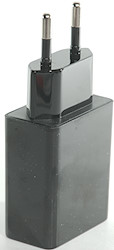 Measurements
Usb output is coded as DCP
Power consumption when idle is 0.12 watt
Weight: 44.8g
Size: 84 x 40 x 23mm


The charger can deliver a bit above 3A before the output voltage starts to drop significantly, at 3.8A the overload protection kicks in.




At 120VAC the output is slightly less.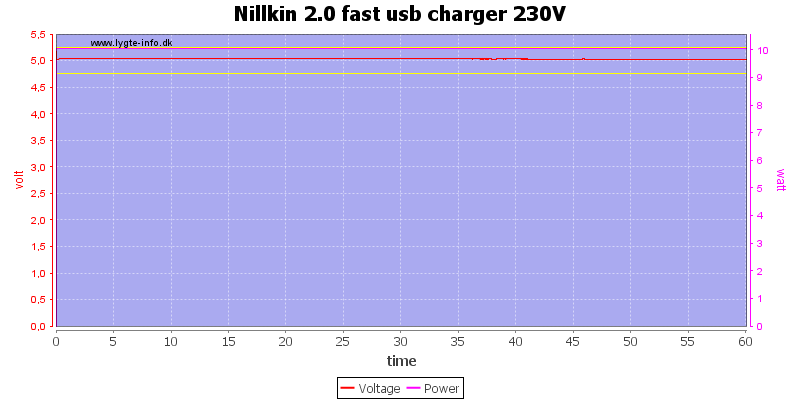 No problems running one hour at 5V 2A.
The temperature photos below are taken between 30 minutes and 60 minutes into the one hour test.




M1: 69,4°C, HS1: 72,2°C
HS1 is the transformer and M1 is the rectifier diode.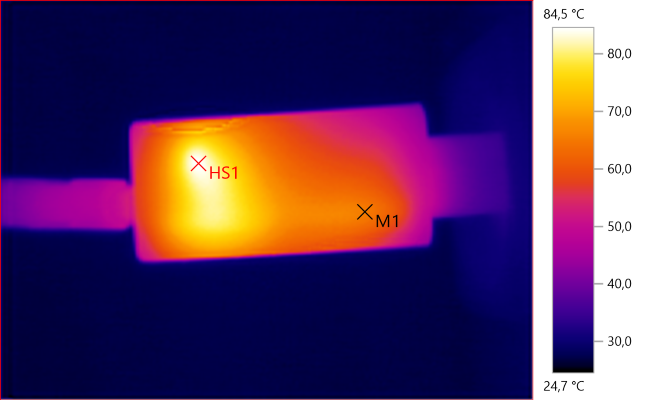 M1: 65,3°C, HS1: 84,5°C
The rectifier diode is close to the side and shows a larger heat signature.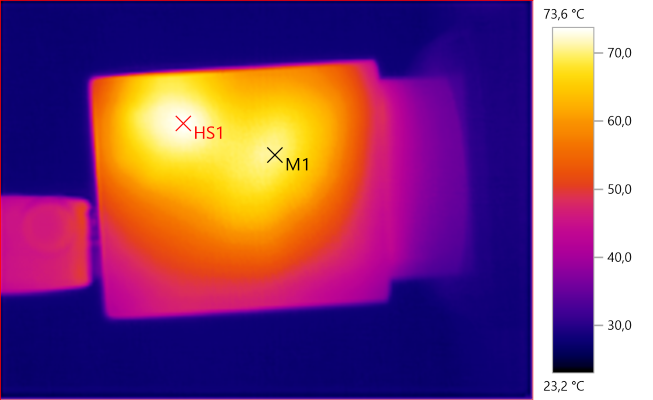 M1: 70,5°C, HS1: 73,6°C
Again the transformer and rectifier diode.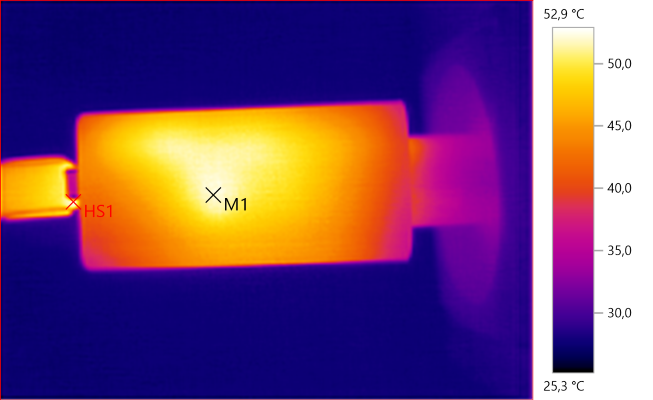 M1: 51,8°C, HS1: 52,9°C
The transformer is close to this side and shows a heat signature.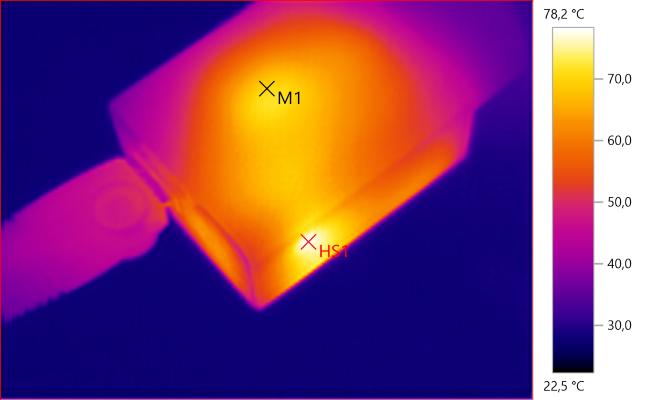 M1: 69,9°C, HS1: 78,2°C




At 0.5A the noise is 7mV rms and 58mVpp






At 1A the noise is 8mV rms and 92mVpp





At 2.5A the noise is 8mV rms and 90mVpp, this is very low noise.






Tear down






Using my vice and a few whacks with my mallet was enough, but the whacks had to be very hard, some of the plastic broke.




At the input is a fusible resistor with shrinkwrap around. There is also a inductor (L1) near the safety capacitor. The 8 pin chip (U1: LY2117) is the mains switcher with opto feedback (U2).
On the output is a big leaded diode and a inductor between the two output capacitors.
The transformer uses flying leads at the low volt side.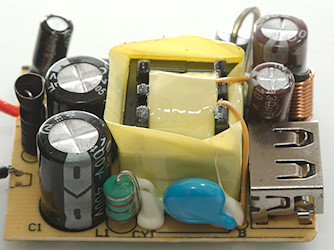 The input inductor and the safety capacitors is on this side.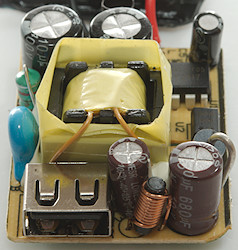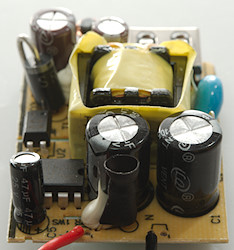 On the first picture is the output inductor.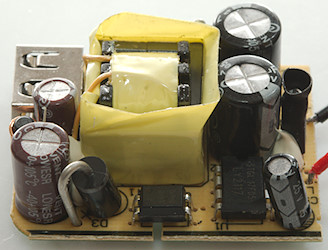 Here is the rectifier diode and the opto coupler with a slot in the circuit board.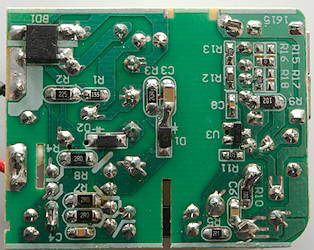 There is a bridge rectifier at the mains input. At the output side is the usual reference IC (U3: 431).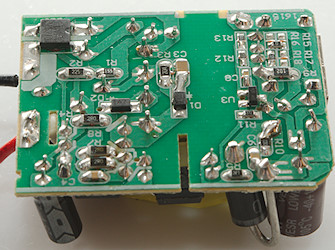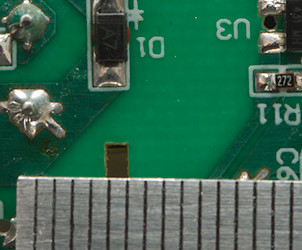 The isolation distance is fine.


Testing with 2830 volt and 4242 volt between mains and low volt side, did not show any safety problems.





Conclusion



The charger can deliver lots of current and has low noise. The DCP coding may limit the charge current for some devices. Safety looks good.

I will call it a good charger.





Notes



Index of all tested USB power supplies/chargers
Read more about how I test USB power supplies/charger
How does a usb charger work?