Philips USB 5V 0.5A HX9200


Official specifications:
Input 100-240V 50/60Hz
Output 5V 2.5W
This charger is designed for charging a toothbrush, but being a usb charger it will be tested as any other usb charger.




Embossing text in the white plastic is not very readable.


Measurements
Power consumption when idle is 0.1 watt
USB output is coded as USB charger (DCP)
Weight: 43.5g
Size: 87.4 x 41.9 x 25.4 mm


The 0.5A (or 2.5W) rating matches fine with the 0.6A the charger can deliver.




It can deliver slightly less at 120VAC, but still lives up to its rating.




Running at full load for one hour was no problem.
The temperature photos below are taken between 30 minutes and 60 minutes into the one hour test.




M1: 42.5°C, HS1: 46.5°C
The temperature is very moderate, not that surprising with the low power output.




HS1: 39.8°C




HS1: 49.9°C




HS1: 38.9°C




HS1: 44.3°C





At 0.5A the noise is 47mV rms and 324mVpp.





Tear down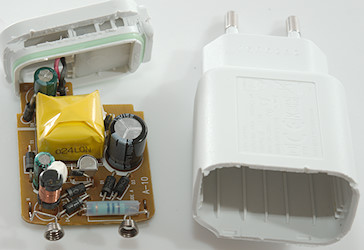 Not surprisingly I had to cut this charger open.




There is some sort of green seal ring around the lid.




The USB connector is also enclosed.




It looks like a waterproof USB connector, nice detail for a toothbrush charger.




At the mains input is a fusible resistor (R1) in a plastic tube, the bridge rectifier is made from four diodes (D1..D4), there is a inductor (L1) from the diodes to the smoothing capacitor (C8). The main switcher transistor (T1) is fairly small, and has a small heatsink (H1). The rectifier diode (D8) is also fairly small as expected on a low current charger.




An interesting detail: the output wires are soldered directly into the circuit board, but has some heat shrink to secure the isolation (Standard plastic isolation often melt when soldering).




On this side is the mains switcher controller (U1).




The isolation distance is good and more than required.


Testing with 2830 volt and 4242 volt between mains and low volt side, did not show any safety problems.





Conclusion



The charger is not very powerful, but fairly waterproof, i.e. if it is dropped into water it can be taken up, shaken dry and plugged in. Safety looks good.
As a general charger it is not very interesting, but if you need a charger that can handle water and can live with the low charge current it is perfect.





Notes



The charger was supplied by a reader for review.

Index of all tested USB power supplies/chargers
Read more about how I test USB power supplies/charger
How does a usb charger work?