Power cube


Official specifications:
Four mains outlets
Dual USB Ports: 2A 5V
Product weight : 0.612 kg
Product size (L x W x H) : 7.4 x 7.4 x 7.4 cm / 2.91 x 2.91 x 2.91 inches
I got it from gearbest.com, but I could also have got it locally.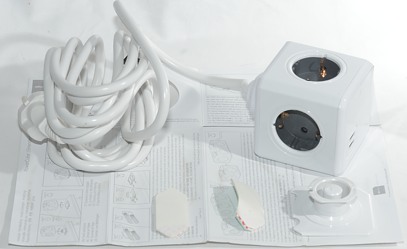 The pack contains the power cube, a mounting bracket with double-sided sticky tape and a multilingual instruction sheet.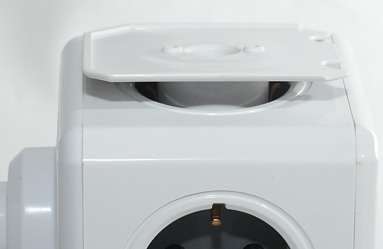 Mounting bracket uses one of the sockets.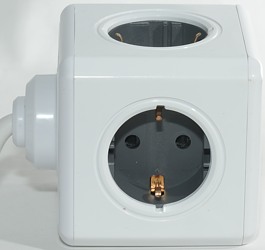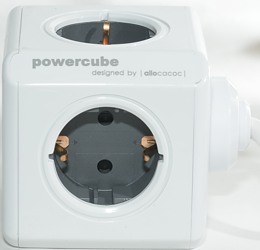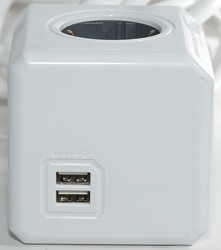 The power cube exist in multiple versions, both with and without extension cord and with or without usb output.





Measurements



Power consumption when idle is 0.15 watt
Usb output is coded as Apple 2.1A
All outputs are in parallel.
Earth is not connected to usb shield.


About 2.5A on each output, this looks fine for a 2.1A rated device.




Sadly the outputs are in parallel and the 2.1A is for both outputs together.




I could draw 2.1A for 1 hour without problems.
The temperature photos below are taken between 30 minutes and 60 minutes into the one hour test.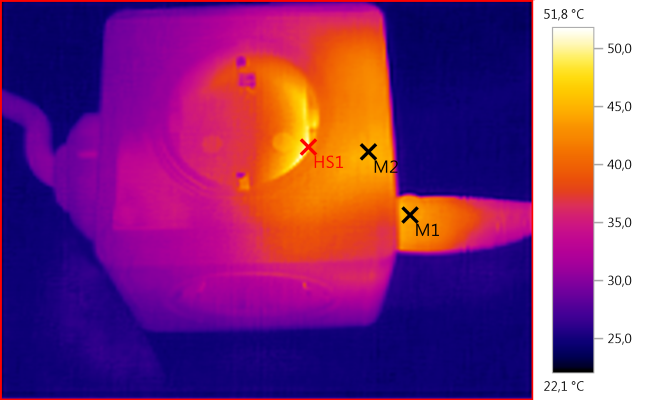 M1: 43,7°C, M2: 44,3°C, HS1: 51,8°C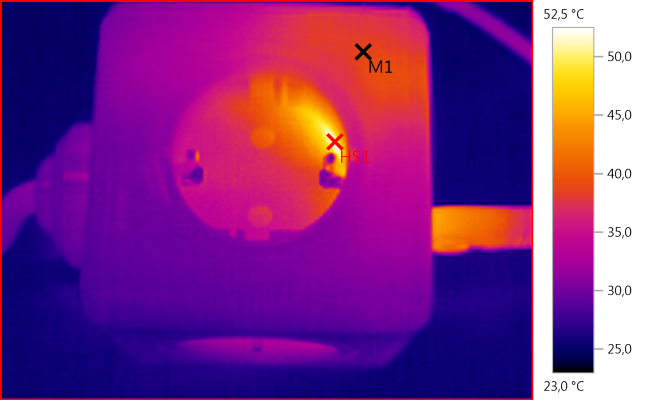 M1: 38,6°C, HS1: 52,5°C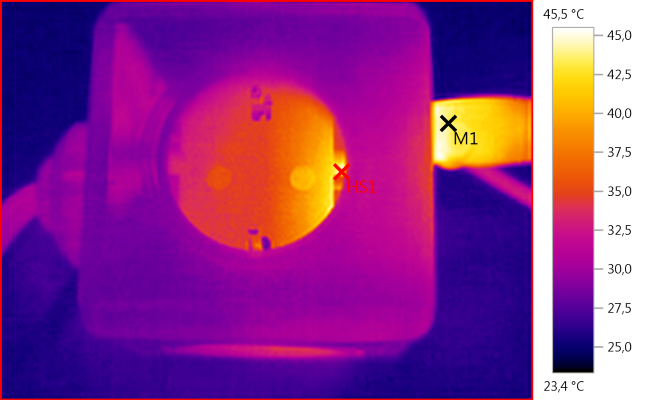 M1: 43,5°C, HS1: 45,5°C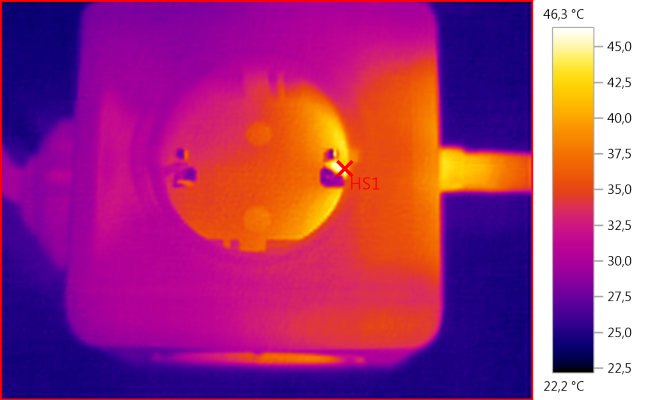 HS1: 46,3°C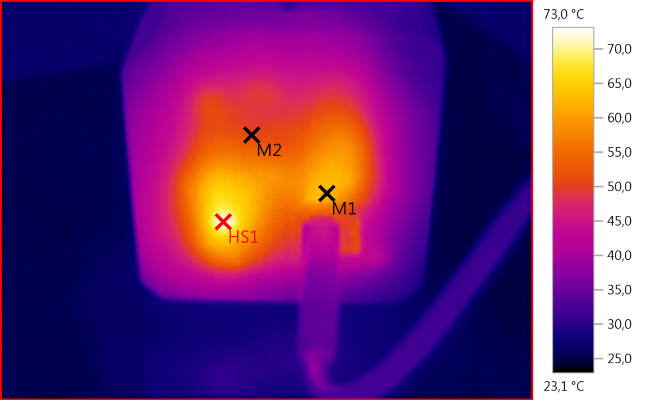 M1: 62,8°C, M2: 51,1°C, HS1: 73,0°C
HS1 is the transformer getting hot. M1 is the rectifier diode.




Noise at 0.5A load is 55mV rms and 714mVpp, generally a lot of peak noise.





Noise at 1A load is 78mV rms and 661mVpp





Noise at 2A load is 107mV rms and 803mVpp





Tear down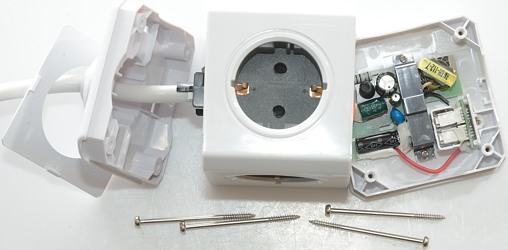 The plate covering the screws could be removed, it used clips.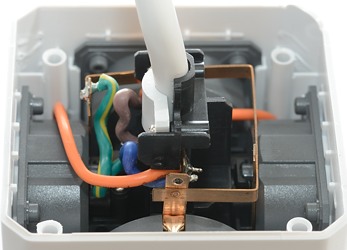 The sockets and wire assembly can slide out (with some pressure) when the cube is open, But I would have to desolder the orange wires to do it.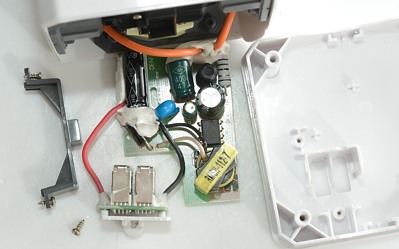 There is a resistor as fuse at the input, a inductor between the two mains capacitors. U1 is the switcher. The blue capacitor is the safety capacitor and D7 is the rectifier diode.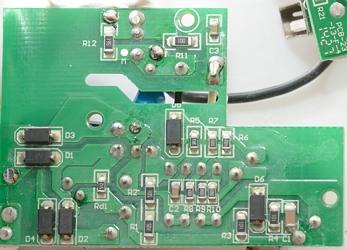 D1 to D4 is the mains bridge rectifier build with diodes.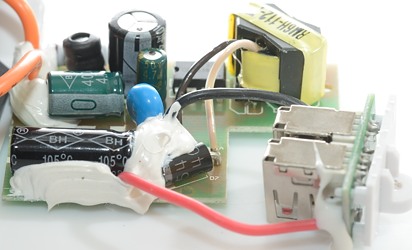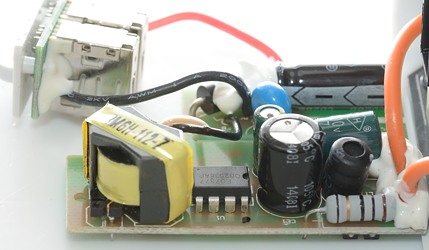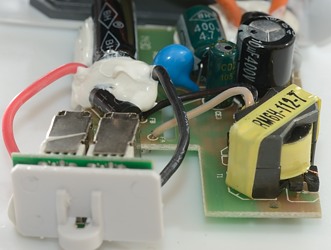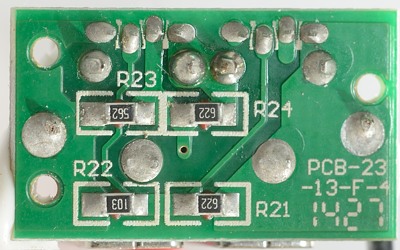 The small circuit board with usb connectors has 4 coding resistors, the two usb connectors shares them.




The distance between mains and low volt side is very good with the slot (Distance must be minimum 4mm).

Testing with 2500 volt and 5000 volt between mains and low volt side, did not show any safety problems.





Conclusion



I am not that impressed with the power cube concept, I do not like wires in all directions.
I am even less impressed with the usb output, it has a lot of noise, fixed Apple coding and only power enough for one (high current) device at a time.
The usb output is safe and works acceptable, but gets fairly hot when fully loaded.





Notes



Index of all tested USB power supplies/chargers
Read more about how I test USB power supplies/charger