Qihang QC3.0 Quick Charger Z05 or Z06


Official specifications:
Input voltage: 100-240V
Output: 5V 3A, 9V 2A, 12V 1.5A
Charger is marked: QH-Z06


It arrived in a partial transparent plastic box.


Measurements
Power consumption when idle is 0.06 Watt
USB output is auto coding with Apple 2.4A, Samsung, DCP
Minimum QC3 voltage is 3.8V
Weight: 46.3g
Size: 80.4 x 39.1 x 27.1mm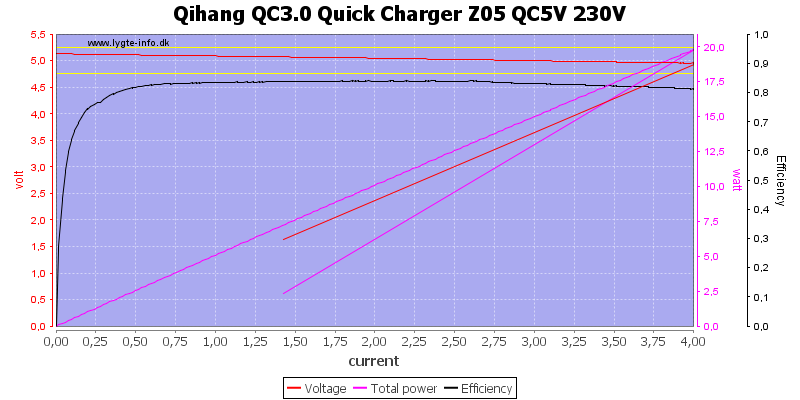 The overload protection at 5V trips at 4A, this is well above the rated 3A




At 9V it is down to 2.6A




And at 12V it is about 1.9A




At 120VAC is can deliver slight more current.




The charger could deliver 9V at 2A for one hour.
The temperature photos below are taken between 30 minutes and 60 minutes into the one hour test.




M1: 52.7°C, HS1: 71.2°C
HS1 is transformer.




HS1: 57.2°C




HS1: 65.4°C




M1: 74.4°C, HS1: 76.0°C




M1: 51.2°C, HS1: 71.7°C





At 0.5A the noise is 46mV rms and 1200mVpp.




At 1A the noise is 197mV rms and 1262mVpp.




At 2.5A the noise is 80mV rms and 1332mVpp.




At 0.9A the noise is 75mV rms and 1456mVpp.




At 1.2A the noise is 97mV rms and 1553mVpp.





Tear down






Mounting the base in my vice I could break the top off with my mallet.




At the input is a fusible resistor (FR1), it has the usually safety capacitor (CY1) between mains and low volt side and it has opto feedback (Placed below CY1).




On this side is the bridge rectifier (BD1), the mains switcher (ATC9560) and on the low volt side a large rectifier diode (D3: DK5V100R25C), the QC controller (U4: LP103S) and the voltage reference (U3).




The diode is not really a diode, but a synchronous rectifier




The distance between mains and low volt must be 4mm over a slot and above 6mm on the circuit board, this charger is below on both counts.


The charger passed the 2830 volt test, but failed the 4242 volt test between mains and low volt side, this makes it unsafe for 230VAC countries.






Conclusion



The charger is a fairly standard QC3 charger with enough output power and good efficiency, but there is a safety problem, the isolation between mains and low volt side is not good enough.






Notes



The USB charger was supplied by a reader for review.

Index of all tested USB power supplies/chargers
Read more about how I test USB power supplies/charger
How does a usb charger work?