Samsung USB 5V 2A GB4943-2001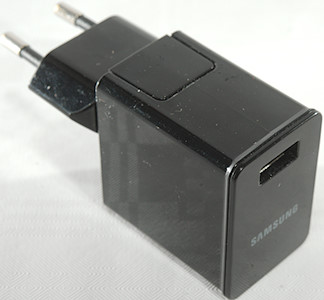 Official specifications:
Input: 100-240V 50/60Hz 0.35A
Output: 5V 2A
A reader got this charger with his phone, i.e. it is a original, this also means it is a bit old, but it is interesting to see performance and construction.




Lot of text on this charger.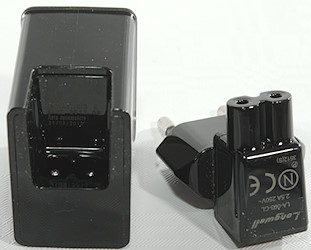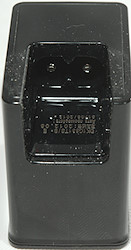 The mains plug can be replaced.





Measurements



Power consumption when idle is 0.1 watt
USB output is coded as Samsung
Weight: 32.7g
Size: 72.0 x 40.0 x 25.0 mm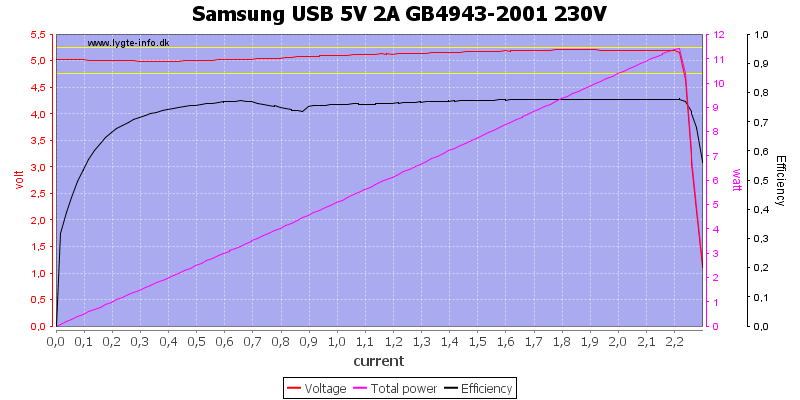 The charger can deliver 2.2A, this is fine for a 2A rated charger.




Using it at 120VAC do not change anything.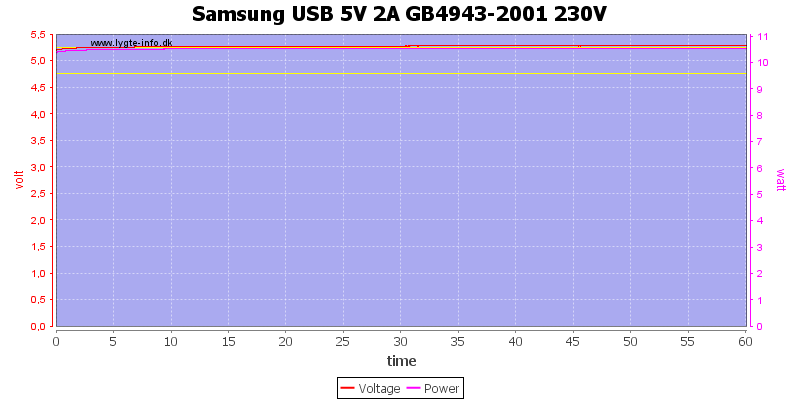 And the charger has no problem delivering rated current for one hour.
The temperature photos below are taken between 30 minutes and 60 minutes into the one hour test.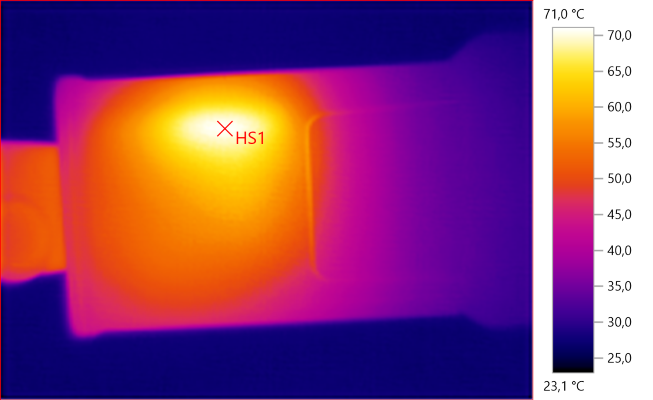 HS1: 71.0°C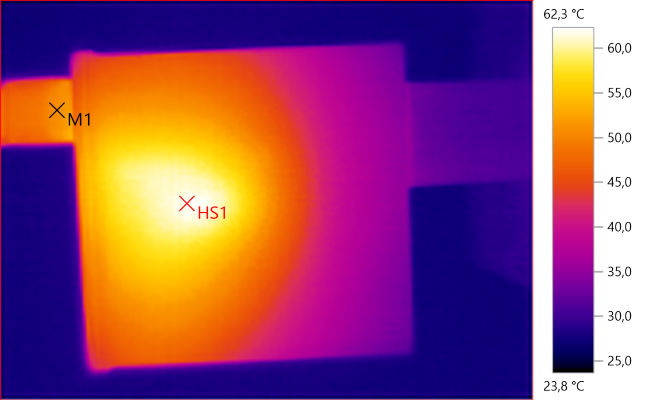 M1: 51.0°C, HS1: 62.3°C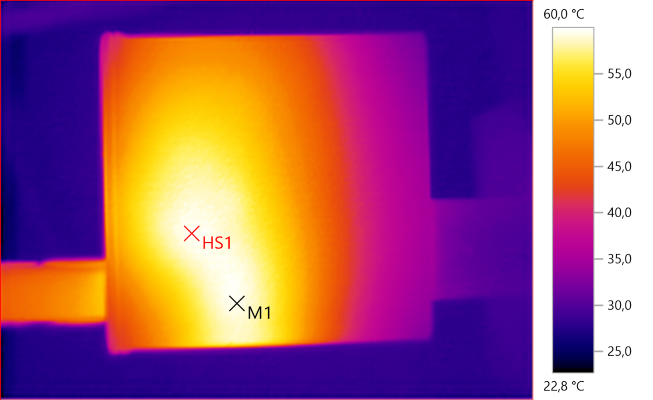 M1: 59.4°C, HS1: 60.0°C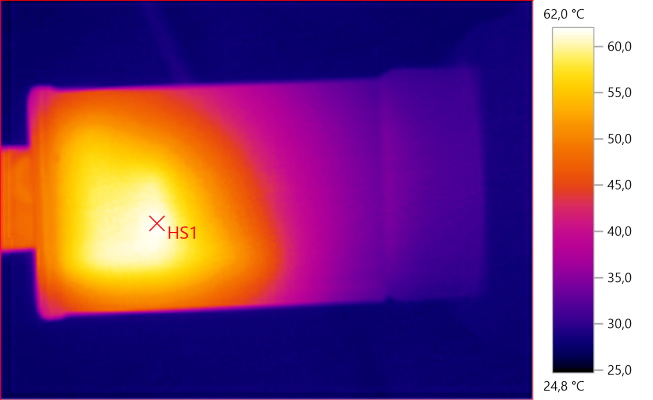 HS1: 62.0°C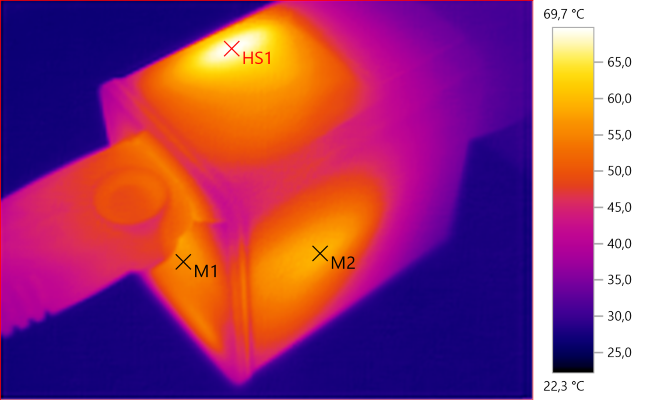 M1: 55.9°C, M2: 59.2°C, HS1: 69.7°C




At 0.5A the noise is 16mV rms and 534mVpp.





At 1A the noise is 24mV rms and 534mVpp.




At 2A the noise is 24mV rms and 490mVpp.





Tear down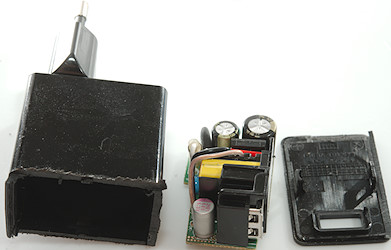 I could not break this charger open and had to cut.




Very compact looking electronic. At the bottom of the picture I can see a fuse (F1), a inrush current limiter (NTC) and a safety capacitor. Between the two capacitors on the left is a inductor (L1).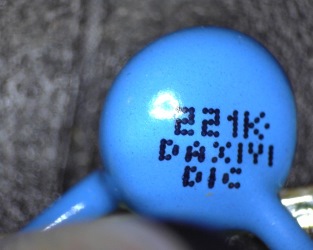 Or is it a safety capacitor, it do not have all the usual markings.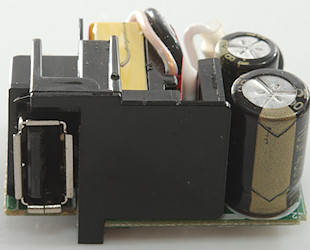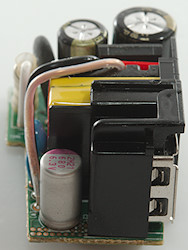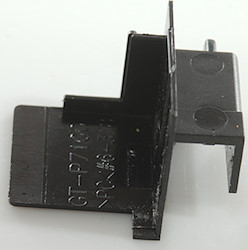 The plastic shield can be removed. It secures enough isolation between the low and high volt side and is often required in compact chargers.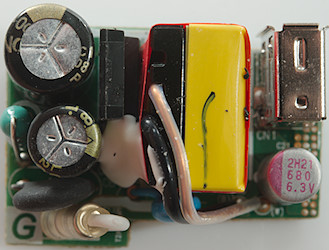 Between the two input capacitors and the transformer is the switching transistor.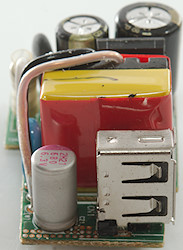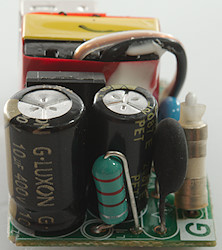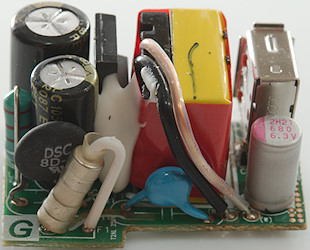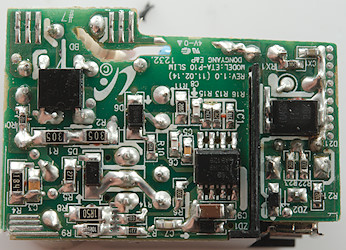 On this side is the bridge rectifier (BD) and the mains switcher controller (IC1), on the low volt side is a large rectifier diode.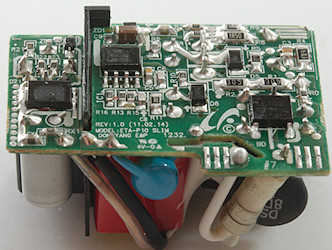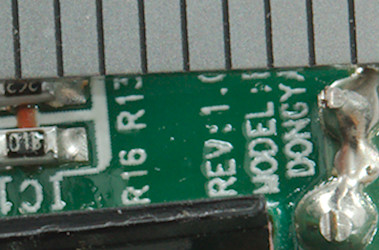 The isolation distance looks like 5.5mm, this is slightly on the low side.


Testing with 2830 volt and 4242 volt between mains and low volt side, did not show any safety problems.





Conclusion



The charger is a rather square design, but works fine and very unsurprisingly it uses Samsung coding. There is done a lot to make the charger safe, but it looks like they may have missed a few details.





Notes



The charger was supplied by a reader for review.

Index of all tested USB power supplies/chargers
Read more about how I test USB power supplies/charger
How does a usb charger work?