Scorpio (IGUGIG) 3 USB Power Strip TX-USB03


Official specifications:
Material: Fire-resistance PC shell, PVC copper wire
USB Charger Input: 100-240VAC 50/60 Hz
USB Charger Output: 5V==2.4A*3(Max 3.1A)
Outlet Quantity: 3 AC plugs+ 3 USB outlets
Cord Length: 1.5M
It is sold by amazon.com.au




It arrived in cardboard box with specification on it, but they are in Chinese.




The box contained the power strip with usb charger, nothing else.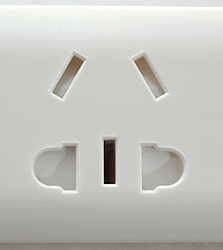 The outputs are on when the side with the ridge is pushed down, there is a white led on the opposite end of the switch behind the plastic.



Measurements
Power consumption when idle is 0.13 watt and 0 watt when switched off.
Cable resistance is about 50 to 55mOhm for live/neutral wire, earth is 1.5ohm.
Cable is 170cm long.
USB outputs is coded as USB charger (DCP)
USB output is not connected to earth.
All USB outputs are in parallel
The shutters on the mains outlets works.
Weight: 280g
Size: 260 x 41 x 28mm


The USB output can deliver 2.1A.




The same on another output.




All outputs used together is also 2.1A




And slightly lower at 120VAC.




Running the charger with 2A total output current for 1 hour worked, but the output voltage drops when the charger warms up.
The temperature photos below are taken between 30 minutes and 60 minutes into the one hour test.




M1: 37.5°C, HS1: 62.4°C
HS1 is the transformer.




M1: 51.4°C, HS1: 56.5°C




HS1: 56.3°C




HS1: 55.4°C




HS1: 62.0°C




At 0.5A the noise is 42mV rms and 587mVpp.




At 1A the noise is 53mV rms and 693mVpp.




At 2A the noise is 88mV rms and 856mVpp, there is generally a lot of noise.




The switch looked like it might have some sort of overload cutout, but testing with 25A did not activate it, instead it damaged the switch.





Tear down






I had to remove 6 screws from under the feet to open it.




The bottom has mouldings to keep the mains part in place, but nothing for the USB part.




It looks like there has been some heat around the input switch, probably during my 25A test. The switch do not work anymore, it was probably damaged by the heat.




A look at the cable, the earth wire is very thin compared to the live/neutral wires.




On this side is a glass input fuse next to a bridge rectifier and a safety capacitor (CY1). The mains switcher is a single chip (CSC7318). On the low volt side is a rectifier diode (D3).




Across a slot in the circuit board there must be 4mm between mains and low volt side, here it is around 2.5mm.
On a circuit board the distance must be above 6mm, here is about 2mm!

The charger passed the 2830 volt test and failed 4242 volt test between mains and low volt side, this makes it unsafe in 230VAC countries.





Conclusion



This is not a good USB charger, the output power is only enough for one device and the design it not very safe.
As a power strip it can be used, but it is not good for high power devices, the switch is too weak and the cable slightly thin, except the earth connection that is very thin.





Notes



The device was supplied by a reader for review.

Index of all tested USB power supplies/chargers
Read more about how I test USB power supplies/charger
How does a usb charger work?