Travel Dual USB 2.1A Charger


Official specifications:
Small size ?easy to carry
Dual USB charge output ports.
Input: AC 100-240V, 50/60Hz
Output 1: DC 5V 2.1A(2100mA)
Output 2: DC 5V 1A(1000mA)
Plug Type: US Plug
Color: Bule
size: 51*44*35mm
I got it from ebay dealer tianxingjian-tech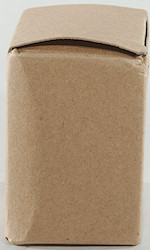 I got it in a brown cardboard box, with specification on it, the box only contained the charger, no instruction sheet or usb cable.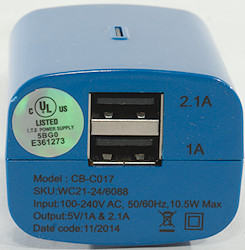 Rated input power would mean 5V 2.1A output with 100% efficiency, this is not possible.
The UL number match a product with this model number.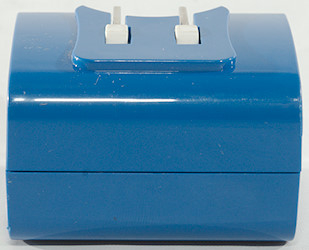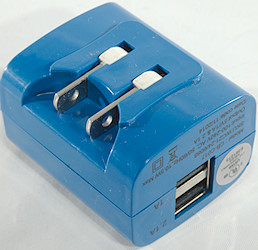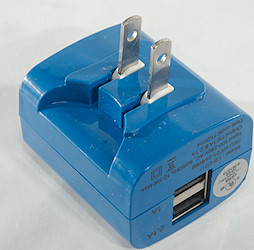 There is a blue led on the charger.





Measurements



Power consumption when idle is 0.1 watt at 120V & 230V
Both USB outputs is coded with Apple 2.1A
Both USB outputs are in parallel
Weight: 48.2g
Size: 50.7 x 43.9 x 36mm

The current limit is a bit above 2.2A on the 2.1A port, this looks fines.




The current limit is the same on the 1A port.




And also when both ports are used together.




Using 230VAC do not change anything.




Running the charger with 2.3A total output worked fine. Compared to rated power this is to much, but compare to specified output current this is way to low.
The temperature photos below are taken between 30 minutes and 60 minutes into the one hour test.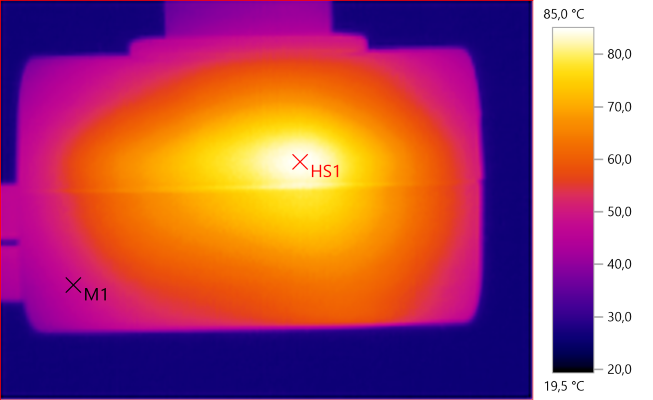 M1: 47.6°C, HS1: 85.0°C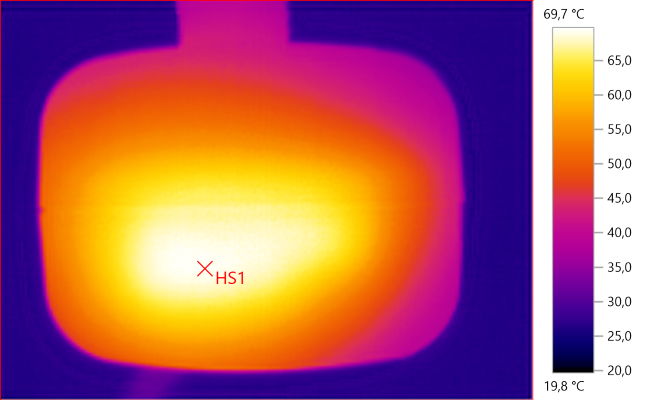 HS1: 69.7°C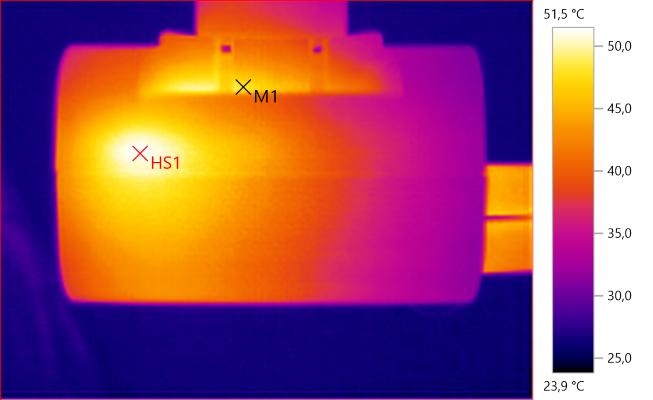 M1: 48.1°C, HS1: 51.5°C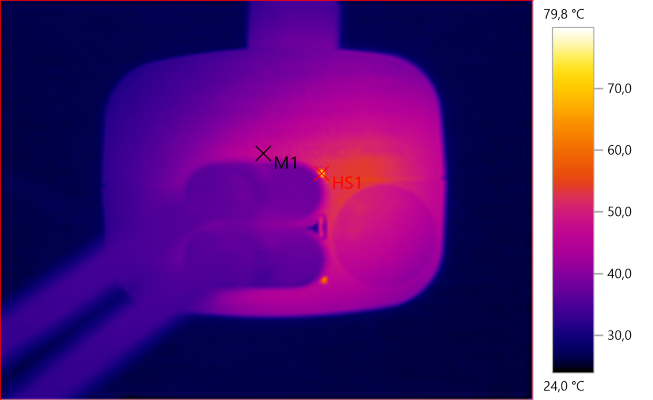 M1: 47.2°C, HS1: 79.8°C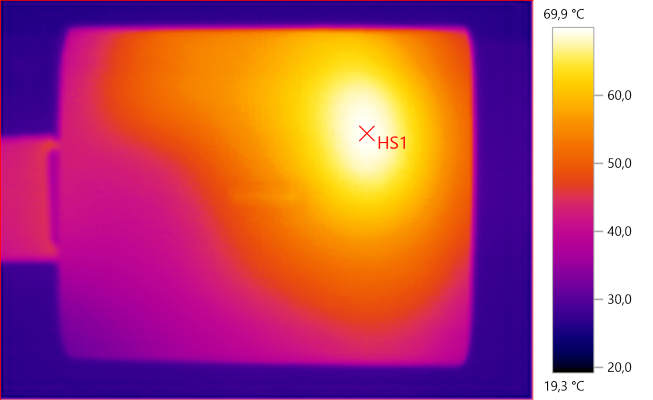 HS1: 69.9°C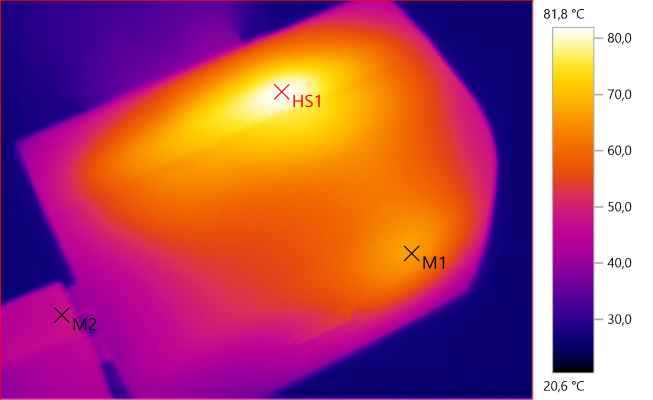 M1: 66.6°C, M2: 46.8°C, HS1: 81.8°C




At 0.5A the noise is 62mV rms and 1191mVpp.





At 1A the noise is 167mV rms and 1262mVpp.





At 2A the noise is 112mV rms and 1297mVpp.





Tear down







With some pressure in my vice I could break it open. I had to desolder the mains input connections.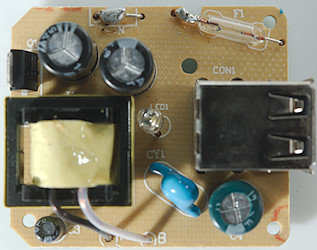 There is a input fuse (F1) and a mains switcher transistor (Q1). The blue led is between the transformer and the usb connector.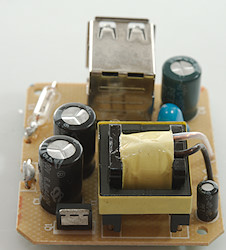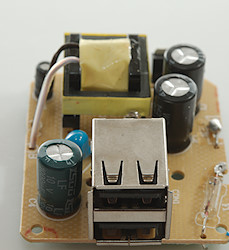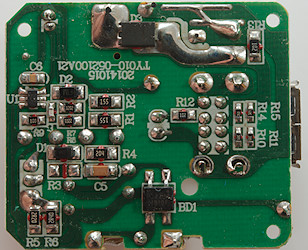 On this side is the bridge rectifier (BD1), the mains switcher controller (U1) and the rectifier diode (D3).
There is also coding resistor (R10, R11, R14, R15) for the usb connector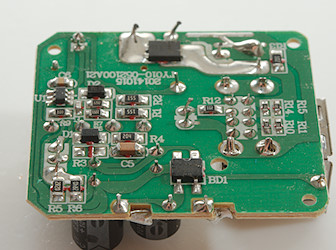 The distance between mains and low volt side is a bit above 3mm, this is not enough (I wonder about the UL marking).

Testing with 2830 volt and 4242 volt between mains and low volt side, did not show any safety problems.





Conclusion



The supply can deliver rated current on one output, but the coding is not optimal and the marking of the outputs are misleading. The noise is a bit high.
With a UL listing this is supposed to be a safe supply, but it is not.





Notes



The charger was supplied by a reader for review.

Index of all tested USB power supplies/chargers
Read more about how I test USB power supplies/charger
How does a usb charger work?