Tronsmart 4 port car charger QC TS-CC4PC


Official specifications:
Brand: Tronsmart
Model: TS - CC4PC
Material: PC + ABS
Color: Black
Input: DC 12V - 24V, 5.5A (Max)
USB: 4 ports
Power: 54W
Charging Output & Power(VoltIQ ): DC 5V/7.2A (3x 2.4A Max) 36W
Charging Output & Power(Quick Charge ): DC 5V/2A, 9V/2A, 12V/1.5A & 10W/18W(Max)
Item size: Approx. 9.5 * 5 * 2cm / 3.7 * 1.97 * 0.8in ?L * W * H?
Item weight: Approx. 43g / 1.51oz
I got it from ebay dealer: wisenutpoo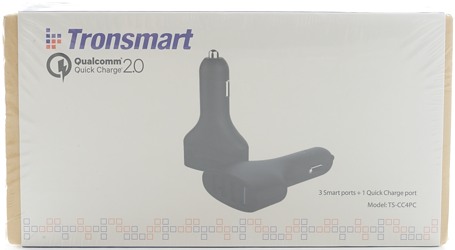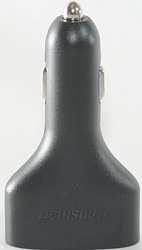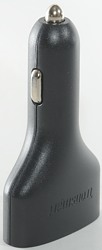 Measurements
Power consumption when idle is 0.14 watt at 12V and 0.2 watt at 24V
All normal usb outputs are in parallel.
No individual port overload protection.
Usb port coding is automatic selected (Up to Apple 2.5A).
QuickCharge port is coded as DCP, and will switch when voltage when connected device sends a QC request.


The usb outputs works fine at both high and low battery voltage, but there is no individual overload protection.




The adapter works fine with 24 volt input voltage.




QuickCharge is different, here is an overload protection at 2.3A.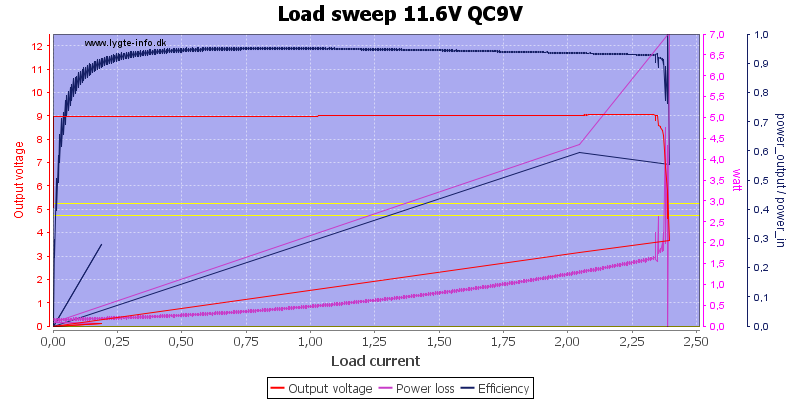 9V looks fine and also have a overload protection around 2.3A.




With 12V QuickCharge the current limit is still 2.3A (The rating is only 1.5A).




Using all 3 usb outputs at the same time I could get nearly 9A before it shuts down.




The charger needs about 11mA for idle current.




At full usb load the charger uses a bit above 3A from 12V and turns off around 7 volt.




The output voltage is fairly stable with changing input voltage.




12V QuickCharge works down to about 11 volt, then the output drops out of QuickCharge mode. The jumping voltage is because I try to reengage QuickCharge.
As can be seen the QuickCharge voltage will not stay at 12V when the input voltage is low, this is as expected.




Running a load test with all usb ports at full load and QuickCharge at 12V/1.5A for one hour is no problem.
The temperature photos below are taken between 30 minutes and 60 minutes into the one hour test.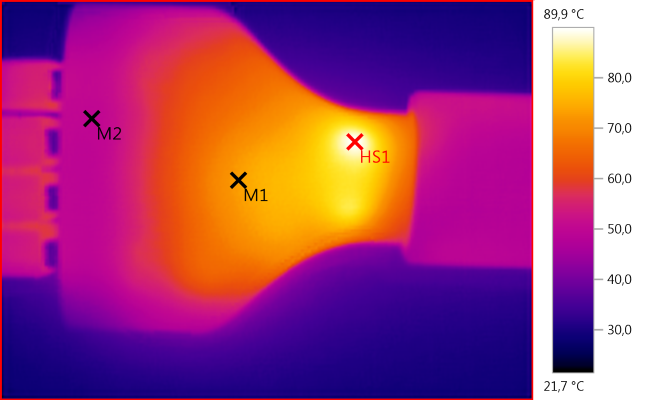 M1: 73,1°C, M2: 50,1°C, HS1: 89,9°C





M1: 56,4°C, M2: 68,0°C, HS1: 83,7°C





The noise is very low with 5mV rms and 135mVpp





And stays low with increasing load, noise 7mV rms and 152mVpp




Running all outputs at full load do not give much noise: 7mV rms and 120mVpp





Quick charge also has very low noise at 9 volt: 6mV rms and 83mVpp




And at 12 volt: 3.4mV rms and 62mVpp





Tear down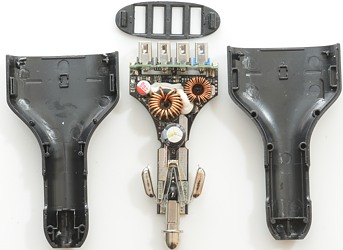 Some pressure in my vice and I could break it open.




Two inductors as expected for a QC+normal usb adapter. It is nice to see a big capacitor at the input (C2). Notice the two current sense resistor (R14) marked R030 behind the usb usb connectors.
There is a input fuse placed at the input and wrapped in heat shrink.




There is some isolation paper under the inductors.




Just behind the inductor a huge diode can be seen (D1), it is probably the rectifier diode for the QC output.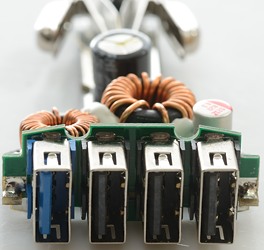 Here there is some big transistors (Q1 and Q2) and a switch controller for QC (U2, 5258).
There is also some more current sense resistors one is marked R030 (R16) and the other is marked R047 (R21).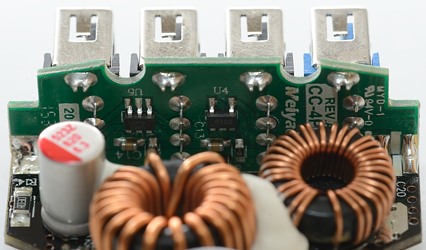 Behind the usb connectors is the auto coding chips.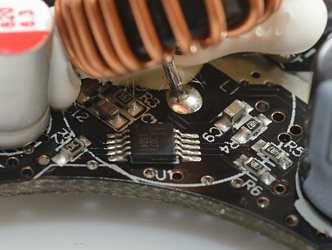 Below one of the inductors is the switcher for the 3 usb outputs (U1, AX3071), it uses the transistors on the other side to handle the current.
Below the other inductor is the QC handling chip (CHY100).


Being a 12V device there is no need to test with high voltages.





Conclusion



This is a car charger with four high power usb ports that will charger just about any usb device as fast as possible. With one port supporting QuickCharge it can charge some pads and phones extra fast. The only negative detail is that all ports are in parallel without any individual protection.

I will call it a good charger (If each output had been limited to about 3A I would have called it very good).





Notes



Index of all tested USB power supplies/chargers
Read more about how I test USB power supplies/charger