UK A1299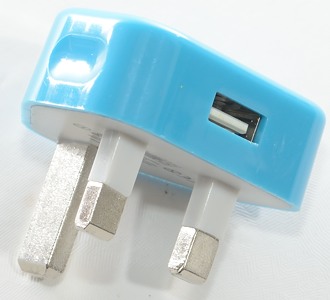 Official specifications:
100% New and high quality
Compatible with all iPod and iPhone models, except iPod Shuffle
Charger: Input: 100V - 240V (U.S. & World Standard). Best replacement for original charger.
Wall charger chargers your iphone/ipod quickly.
IC chip inside recognizes a fully charged battery and automatically switches to a saver mode
iPod / iPhone can still be used during charging
3rd Party Products, Not an Apple product.
I got it from Ebay dealer vivaxu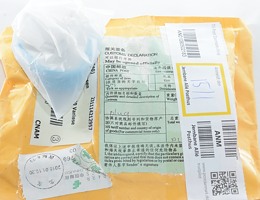 No retail package for this charger, I got it in a envelope.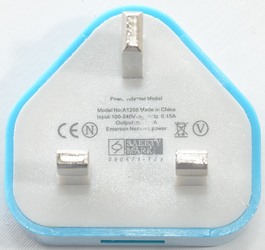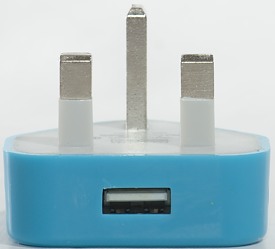 With the large plug size UK uses, the charger fits inside it.




Measurements



USB output is coded as USB charger (DCP).
Power consumption when unloaded 0.05 watt
Failed 2500 volt test and is permanently shorted between low volt and mains!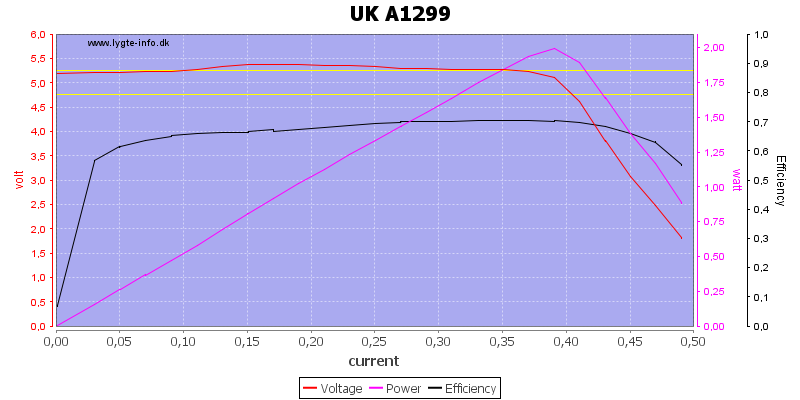 These adapters are often rated at 1A, but on my copy it is not possible to read the rating and the test shows that it can only supply 0.4A.
The circuit does not have any overload protection.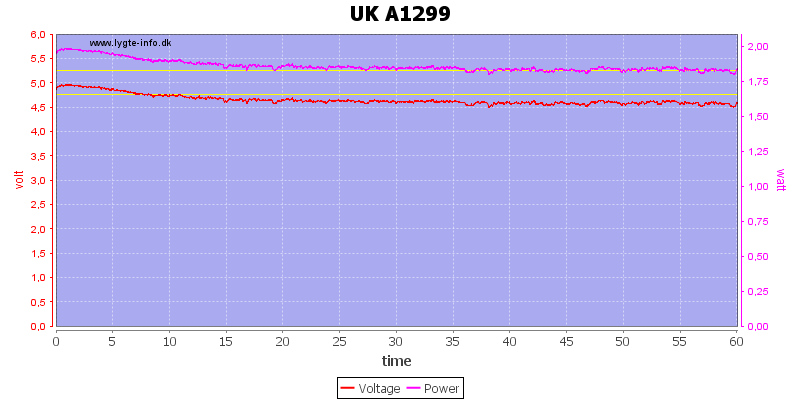 It could supply 0.4A for one hour, but the voltage was a bit low.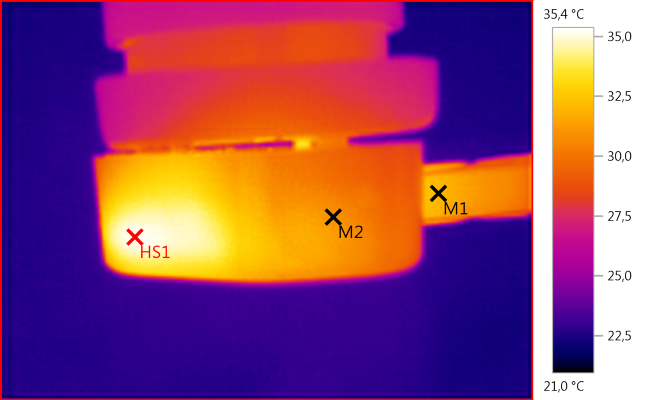 M1: 32,1°C, M2: 30,9°C, HS1: 35,4°C
With this low output current the temperature is fairly moderate.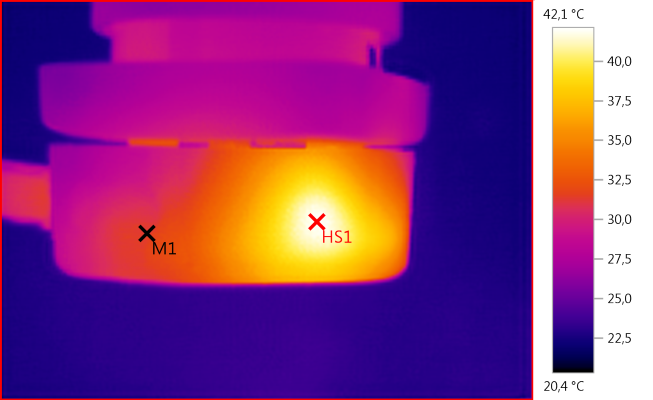 M1: 31,4°C, HS1: 42,1°C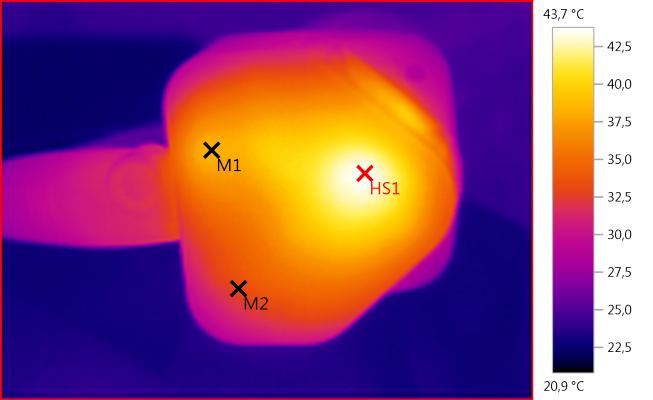 M1: 38,4°C, M2: 33,0°C, HS1: 43,7°C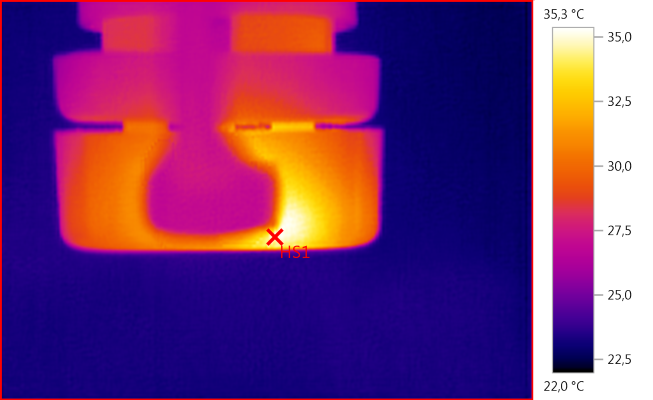 HS1: 35,3°C





The noise is not moderate, but very bad. At 0.35A I got 190mV rms and 1.2Vpp.





Even without any load, there is a lot of noise: 86mV rms and 1.2Vpp





Tear down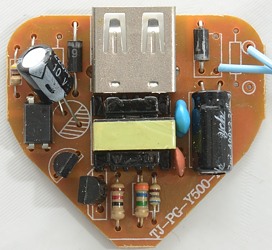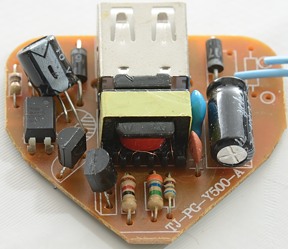 A simple design on the mains input with only one diode and a capacitor, no fuses or filters.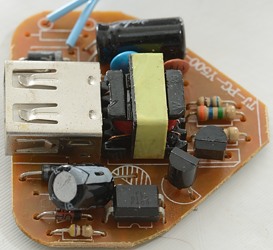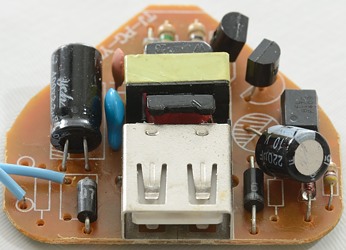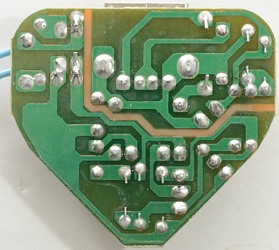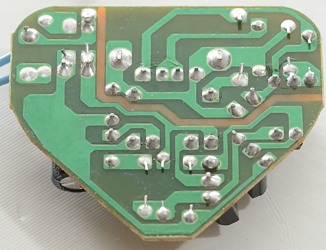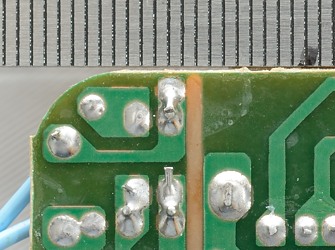 The isolation is rather bad it is supposed to be over 6 mm on the circuit board, but here it is only 1mm


The charger failed a isolation test with 2500 volt, this makes it doubtful to use with 120VAC mains. The fail made a shorted between mains and low voltage side (Very bad)!





Conclusion



Low output current, lots of noise and bad isolation (I will rate the isolation dead trap).

Stay away from this one!





Notes



Index of all tested USB power supplies/chargers
Read more about how I test USB power supplies/charger