USB Wall charger 5V 2.1A US ZYBB-1516


Official specifications:
input voltage range: 100-240V
input voltage frequency: 50-60Hz
output voltage: 5V
the output current: 2300mA Charger marked as 2100mA
output interface: Standard USB interface
there is an indicator light
I got it from ebay dealer barbie_dolls_1959




This charger arrived in a plastic bag inside a plastic envelope.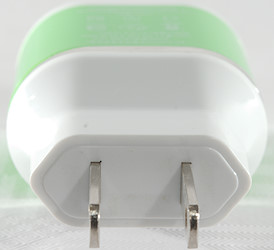 Measurements
Power consumption when idle is 0.12 watt
USB output 1 is coded as Samsung
USB output 2 is coded as Apple 1A
The two outputs are in parallel.
Weight: 32.7g
Size: 72.0 x 40.0 x 25.0 mm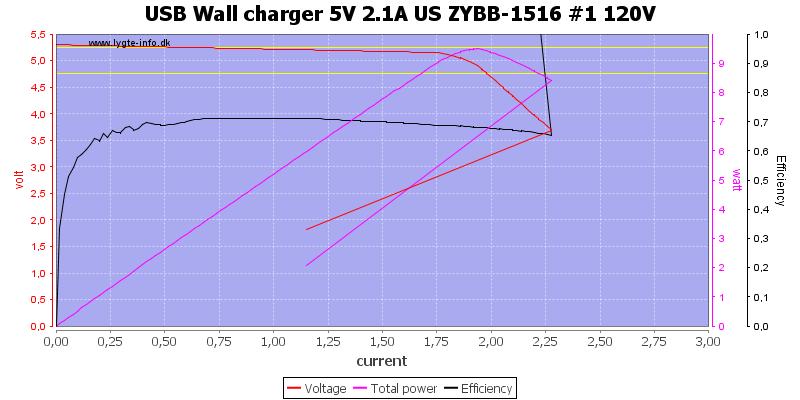 The charger cannot deliver the rated 2100/2300mA, but only about 1700mA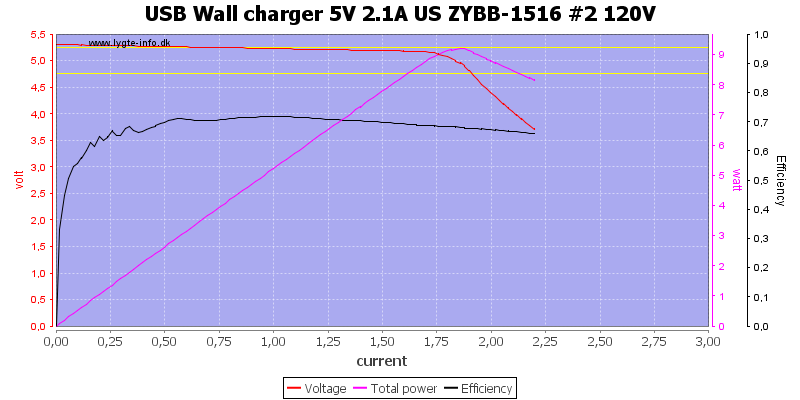 The second output is the same.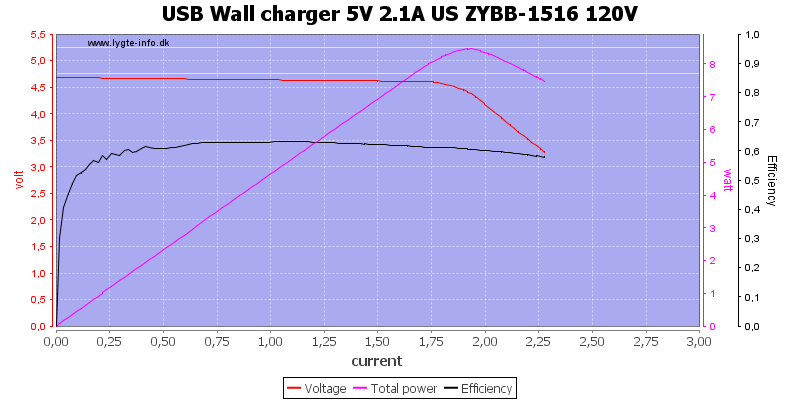 And using both outputs together do not change anything.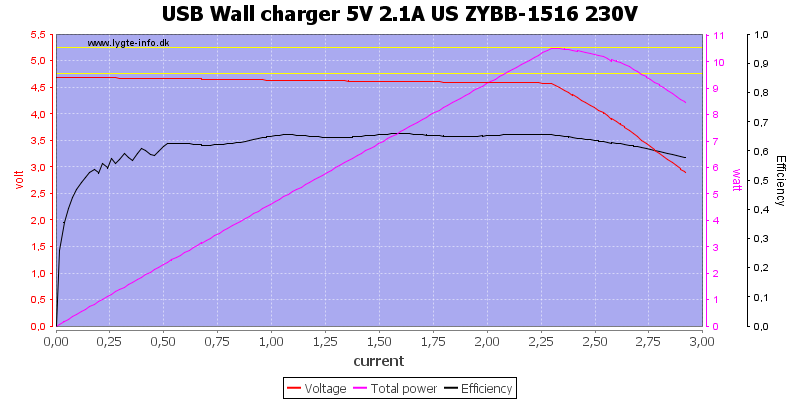 With 230VAC input the charger can deliver more current, here it is up to 2200mA.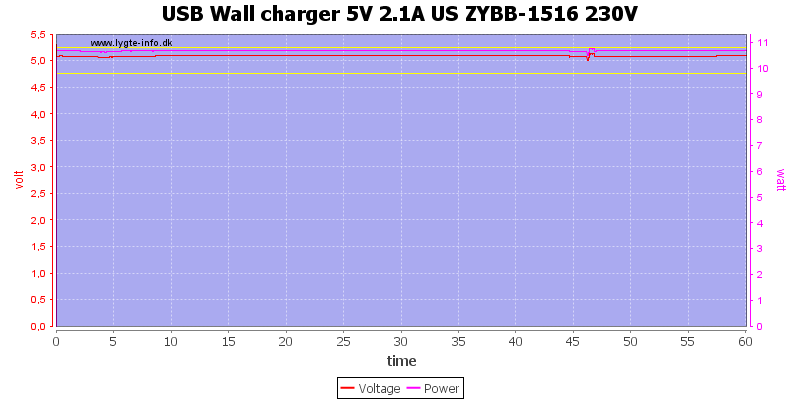 For the one hour test I used 230VAC and 2.1A current, the charger could handle that.
The temperature photos below are taken between 30 minutes and 60 minutes into the one hour test.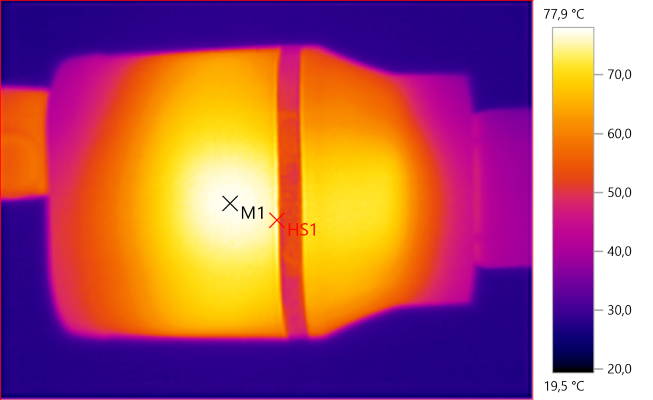 M1: 77.7°C, HS1: 77.9°C
HS1 and M1 is the transformer.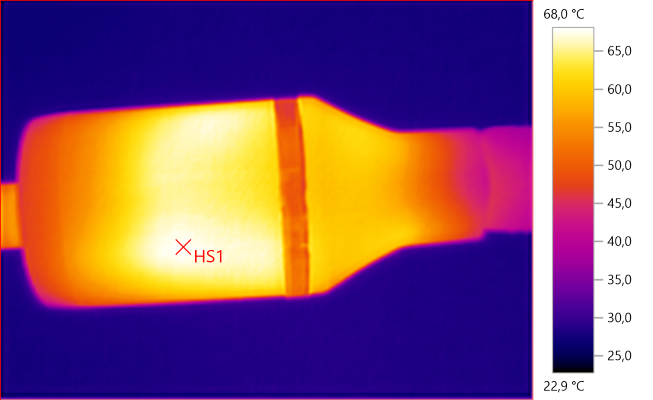 HS1: 68.0°C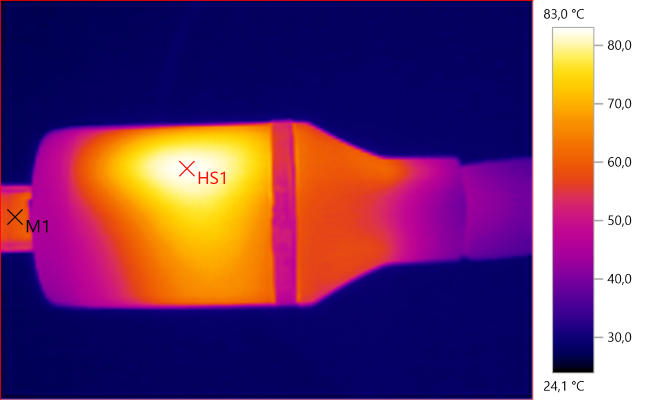 M1: 59.0°C, HS1: 83.0°C
Here HS1 is the rectifier diode.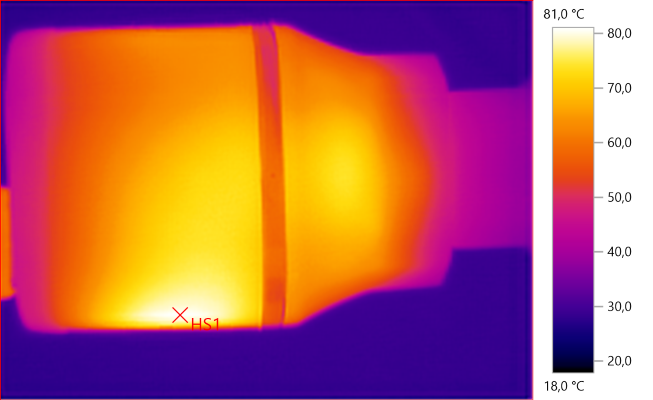 HS1: 81.0°C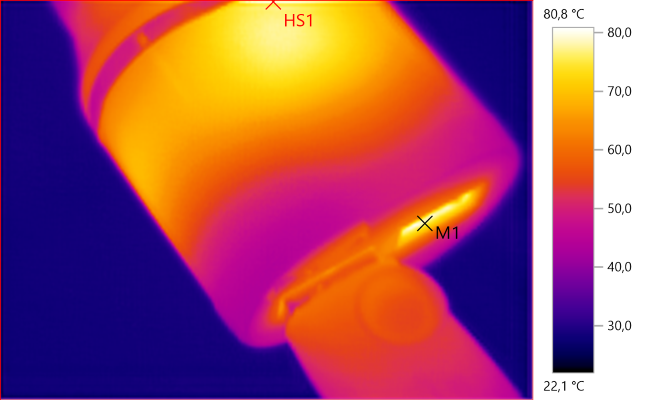 M1: 76.7°C, HS1: 80.8°C





At 0.5A the noise is 89mV rms and 640mVpp.





At 1A the noise is 145mV rms and 814mVpp.





At 2A the noise is 193mV rms and 1825mVpp, generally the noise is rather high.





Tear down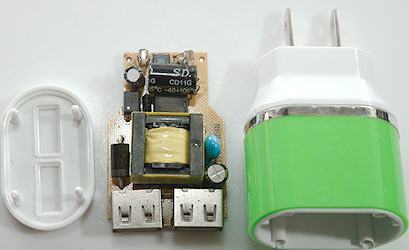 Some pressure in my vice and the lid popped open.




At the mains input is a fusible resistor as fuse followed by a bridge rectifier, the main switcher IC (Hotchip HT204) is next to the opto coupler for feedback (This looks bad for isolation distances). There is a blue safety capacitor (It looks real) and a large rectifier diode.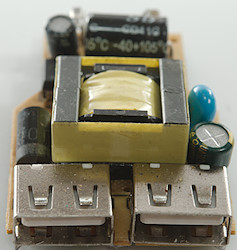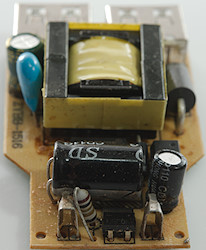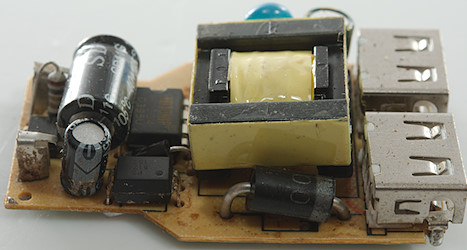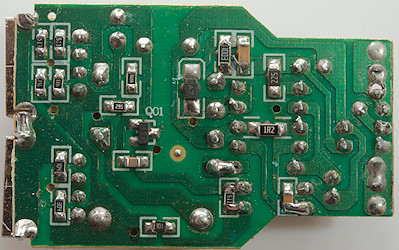 At the low volt side is the usual reference (Q01: 431) and the coding resistors for the usb outputs. The soldering do not exactly look safe.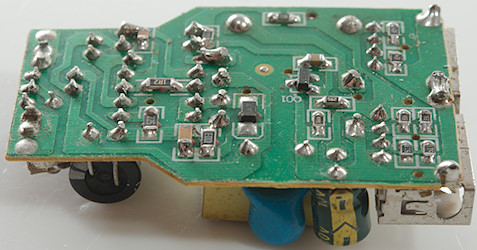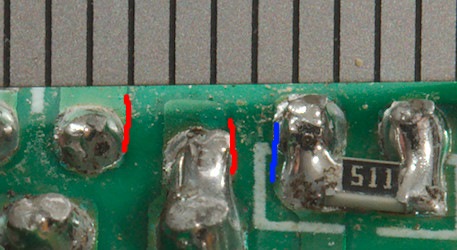 It is no wonder the charger failed the high voltage tests, from the blue to the red markings must be above 6mm, there is around 1mm

The charger passed the 2830 volt test, but failed the 4242 volt test between mains and low volt side, this makes it unsafe for 230VAC countries.





Conclusion



The charger cannot deliver rated current, has lot of noise and is very unsafe. I did not see the promised indicator light.
Stay away from it.





Notes



The charger was supplied by a reader for review.

Index of all tested USB power supplies/chargers
Read more about how I test USB power supplies/charger
How does a usb charger work?