Ugreen Power Adapter CD101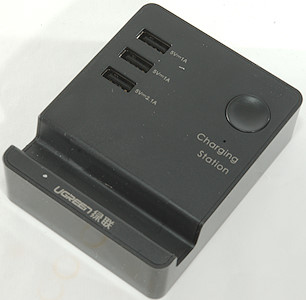 Official specifications:
Brand Name: Ugreen
Quality Certification: CE,CCC,UL,RoHS
Type: Desktop
USB Ports: 3
Compatible Brand: Universal
Model Number: CD101
Output: 5V/4A
Input: 100-240V/1.2A
Power Source: A.C. Source
Output Interface: USB
Support Quick Charge Technology: No
Product Name: 3 ports usb charger
Type: desktop usb charger
Plug Type: EU Plug
I got it from a Aliexpress dealer: : Ugreen Official Store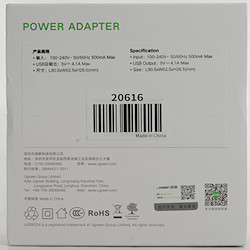 The charger arrived in a white cardboard box with a few specifications on the outside.




The box contained the charger and a instruction sheet.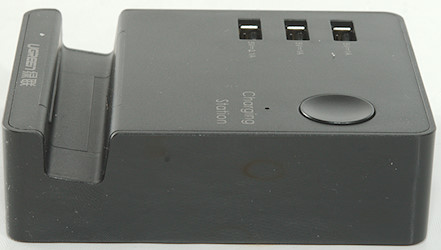 The button is a power switch for the charger.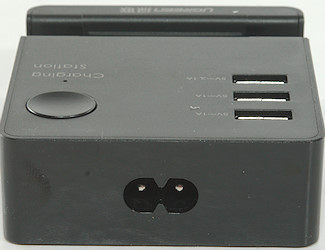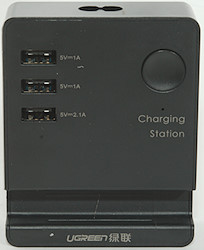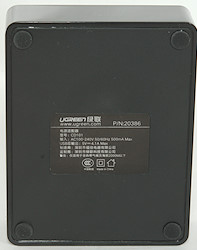 The charger has space for one phone.





Measurements



Power consumption when idle is 0.13 watt, but it can be turned completely off on the power switch.
2.1A usb port is auto coding with DCP, Samsung and Apple 2.4A (It is marked Apple 2.1A)
1A usb port is auto coding with DCP, Samsung and Apple 1A
All usb outputs are in parallel.
There is a small hole under the on/off switch with a blue led.
No individual port protection
Weight: 134.2g
Size: 91.2 x 72.7 x 28mm


The output can deliver more than 4A, it is a bit much for a 1A output.




it is the same with the other 1A output




And the 2.1A output.




With all output in parallel I can draw about 5A at 120VAC




And 5.5A at 230VAC.




The charger has no problem delivering 4A for one hour.
The temperature photos below are taken between 30 minutes and 60 minutes into the one hour test.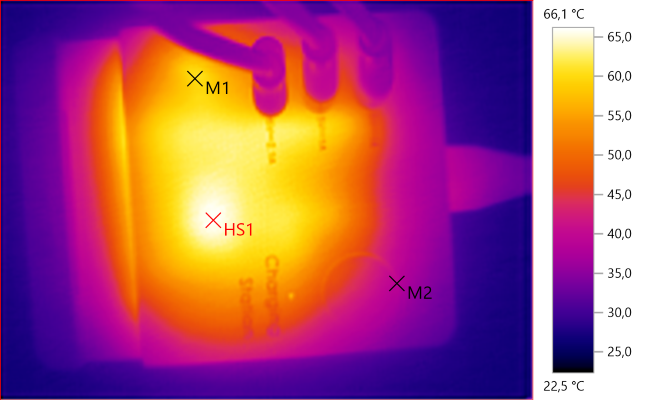 M1: 60.2°C, M2: 39.2°C, HS1: 66.1°C




M1: 49.8°C, HS1: 64.5°C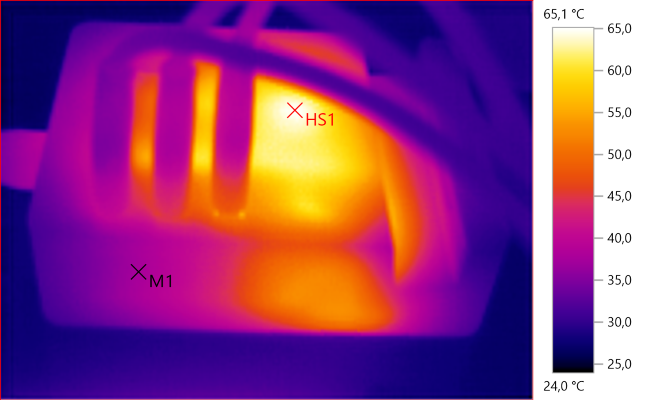 M1: 37.6°C, HS1: 65.1°C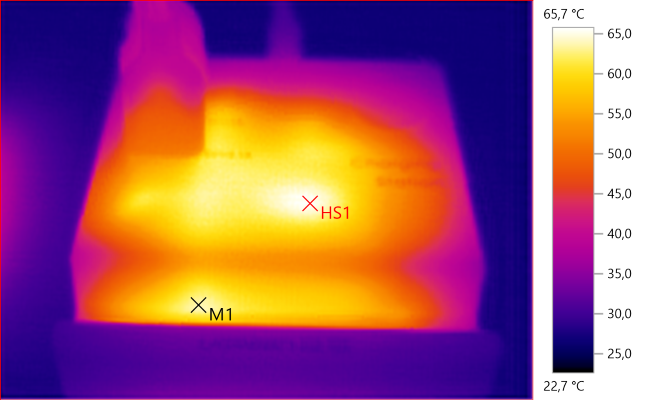 M1: 63.6°C, HS1: 65.7°C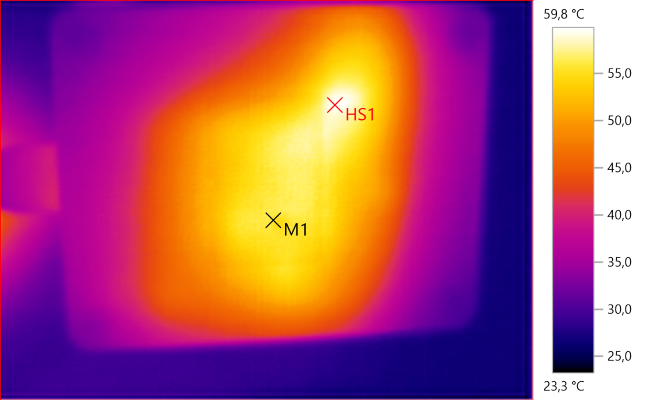 M1: 55.5°C, HS1: 59.8°C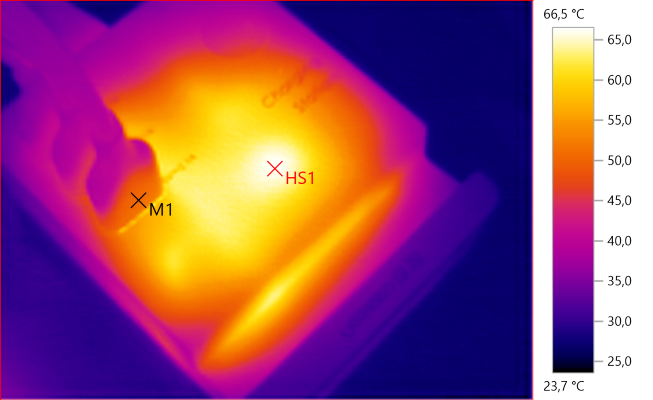 M1: 50.7°C, HS1: 66.5°C




Noise at 0.5A load is: 14mV rms and 388mVpp.





Noise at 1A load is: 17mV rms and 353mVpp.




Noise at 2.5A load is: 28mV rms and 264mVpp.




Noise at 5A load is: 19mV rms and 291mVpp.






Tear down






There where 4 screws hidden under the rubber feet, but I could not remove the bottom, even after removing the screws.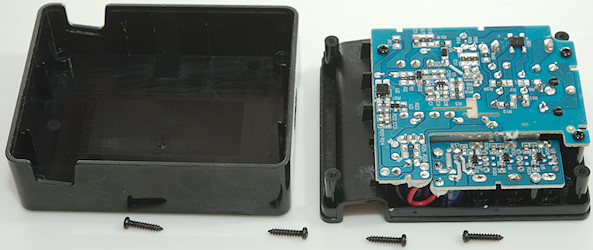 That was because I had to remove the top.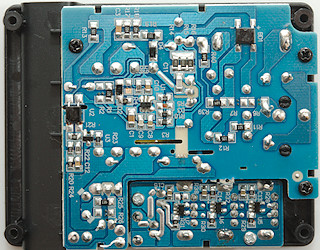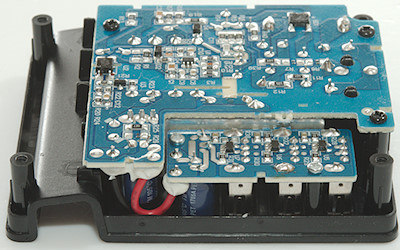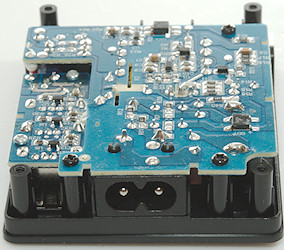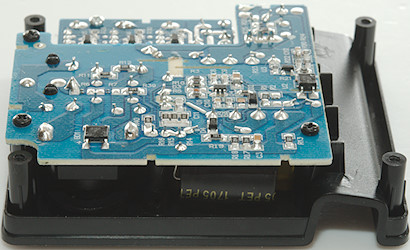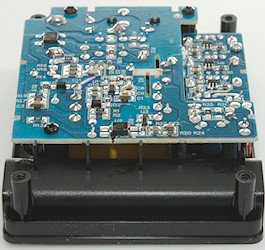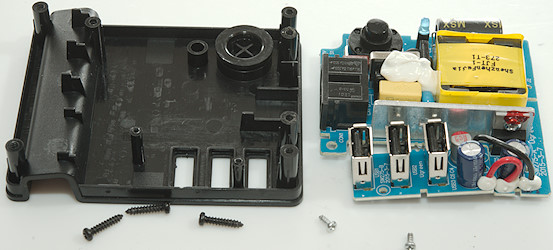 Some more screws and I could remove the two circuit boards.




At the mains input is the a fuse (F1) , a , a inrush current limiter (RT1) and a common mode coil (LF1). Besides the transformer is the switching transistor (Q1) and the safety capacitor (Blue). The LED is powered from the mains side, this is a bit uncommon.
On the low volt side is the rectifier diode on a heatsink, there are two wires to the usb circuit board.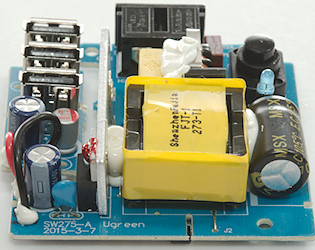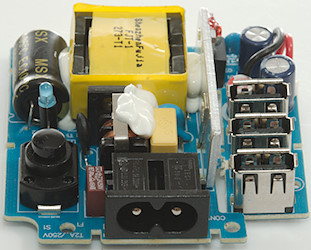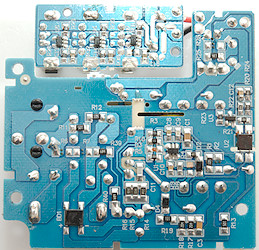 On this side is the bridge rectifier (BD1) and the switcher controller (U1). the feedback with the optocoupler (U2) and the reference (U3).
On the usb board is the 3 auto coding chips (U5, U6, U7).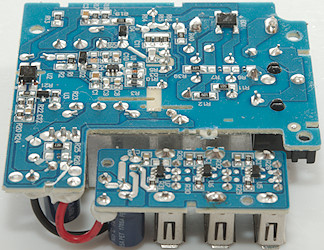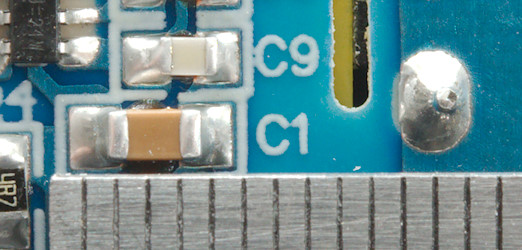 Here Ugreen has made a mistake on the circuit board, the slot is too short. The distance from C1 to the low volt side is only about 5mm, that is more than enough if there is a slot, but without a slot it is too short!


Testing with 2830 volt and 4242 volt between mains and low volt side, did not show any safety problems.





Conclusion



This charger is fairly low on power for a 3 plug charger, the marking on it also shows that. It works fine for charging one high power device and two low power devices and the stand for one phone may be practical. The auto coding is fine and the power switch is a nice feature. Safety looks acceptable.





Notes



Index of all tested USB power supplies/chargers
Read more about how I test USB power supplies/charger
How does a usb charger work?