AW IMR 16340 550mAh (Red)


Official specifications:
Nominal Voltage : 3.7V
Capacity : 550mAH
Lowest Discharge Voltage : 2.50V
Standard Charge : CC/CV ( max. charging rate 1.5A )
Cycle Life : > 500 cycles
Max. continuous discharge rate : 4A
Operating Discharge Temperature : -10 - 60 Degree Celsius


This battery is a high current battery.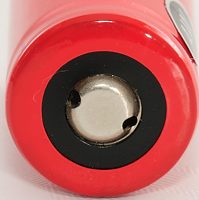 The battery works fine up to 2A, but is not that impressive with a 3A load.




In this test I do overload the battery and one of the cells looks like it is running out of power.
When calculating the internal resistance I used the voltage drop between 2A and 4A.








Conclusion



I am not that impressed with the high current capabilites of this cell, but because it is better than most ICR batteries, in the same size, I will rate it as a good cell.





Notes and links



How is the test done and how to read the charts
How is a protected LiIon battery constructed
More about button top and flat top batteries
Comparison to other LiIon batteries